If an engagement is in your near future, you're about to be bombarded with a bunch of traditions dictating what to do and how you should spend the rest of your married lives together. And one of the first is how much to spend on an engagement ring.
Getting married is probably going to be the most significant thing that happens in your lives, and having a ring to symbolize your commitment to one another makes sense. But, let's just get this out of the way – no one needs an engagement ring.
If it's important to you and your partner, awesome… buy one! I bought one because it was important to my wife; she guards it like Smeagol from Lord of the Rings.
One of the first things I heard while ring shopping was that I was supposed to spend two months salary on an engagement ring. Was this a thing?
Apparently. And it's still the standard according to many people.
But, should you abide by that rule?
No, not at all. And before I help you decide how much to spend on an engagement ring, I want to start by explaining that two-month rule.
The two-month salary rule is just a really successful ad campaign
Back in the 1980s, jewelry company De Beers launched a series of ads that changed the way people shopped for engagement rings.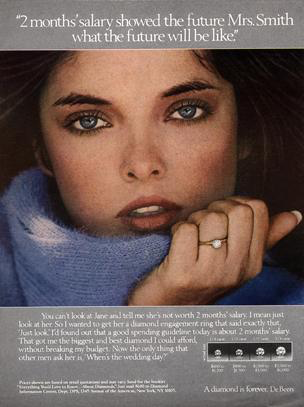 This is an invented tradition. It was supposed to show your loved one just how amazing your life would be together based on what you made in two months. Another popular ad in the campaign asked, "How can you make two months salary last forever?"
The effect of this campaign has been huge, and I can't say that it really surprises me. It doesn't just pull on your emotions, it also sets you up for a life where society is always dictating your relationship. Only you get to dictate that.
I've even heard of a three-month salary rule, but don't buy into that noise either.
So, how much should you spend on an engagement ring?
While that De Beers campaign made it really easy to set a price on an engagement ring, there are way more factors you should actually think about.
1. How much you can afford to spend on an engagement ring
For some people, this is where a hard reality sets in about how much you'd like to spend vs. how much you should spend. Your finances should dictate what you can spend on a ring and include:
Your current income
Your expenses
How much you can save for a ring
Using that information, set a realistic budget for how much to spend on an engagement ring. Include your timeline too, so you know how much to save every month. While that doesn't give you an exact dollar amount, it tells you how this very large purchase will affect your current and future financial picture.
Speaking of financial picture…
Getting engaged means you're about to share your financial life with one another, so financial decisions you make now will affect your partner in the very near future.
I don't want to tell anyone what to do in their relationship. BUT if you're thinking about marriage, then your partner should probably know about your debt, income, assets, etc. You should know the same things about them.
Early money talks should clear up any expectations they might have on an engagement ring. Like, if they are expecting a 10-carat diamond and you have $80,000 in student loans and are only making $60,000 a year, well… that's going to be tough. And this stuff does happen.
You are building a life together. If you aren't sharing financial information in those foundational years, you can wind up with a lot of cracks.
Finding a budgeting app that helps the two of you manage your money together is a good way to get on the same page with your finances. Here are some articles on the best budgeting apps and money tracking tools out there:
2. What does your partner want in an engagement ring?
If your partner is going to walk around for the rest of their life with a ring on their finger, you want them to love it. Think about hints they've dropped, like what kind of stone and metal they want. At the very least, pay attention to things they don't like.
Chances are, they are going to love whatever you buy.
But, what happened to blogger Stephanie O'Connell after her fiance proposed is a good reminder that your partner might have some unexpected financial expectations – O'Connell said "yes" to the proposal and "no" to the ring.
It wasn't because the ring looked cheap… it was because the ring was a little too much for her.
O'Connell realized that they could have a kick-ass wedding if they applied some of that money to their wedding budget instead of spending so much on a ring. She's a personal finance blogger, and this is the kind of stuff we think about.
I seriously admire what she did. An engagement kicks off the rest of your life together. And that's your financial life too.
Here are some more factors to consider when deciding how much to spend on an engagement ring:
If your partner could choose, would they want to be able to spend more on the wedding, honeymoon, down payment on a house, etc?
Will they want to be part of the ring buying process?
Do they want something non-traditional?
I bet you know the answers to some of these questions. It's also okay to ask around a bit. Talk to their friends and maybe their mom or dad.
3. Ignore average engagement ring costs
According to the wedding website The Knot, $5,680 was the average cost of an engagement ring in 2019. While some people will look at that number and think of it as a guideline… don't.
What I find is that people often use those kinds of statistics to justify purchases or situations that can actually be harmful to their finances. So, don't spend the average amount on a ring unless you:
It's just that simple. Pay attention to your finances only, and don't focus on averages.
4. Should you finance an engagement ring?
This one is tricky. While I have feelings on financing something like a car, I also realize that an engagement ring isn't a car. It's also not something you'd ever want to sell someday to turn a profit.
I will say this – financing a ring can be dangerous. When you finance a ring, or anything, you are increasing your debt.
There are literally dozens of ideas for how you can make extra money to set aside for that purchase that alleviate the need for financing. This is way smarter in my opinion.
Need to find a few ways to save up for an engagement ring, here's a list of my top picks: Best Side Hustles to Make an Extra $1,000-$2,000 Per Month.
5. How to save money on an engagement ring
I learned A LOT about the ring business from the jeweler who sold me my wife's engagement ring. He ended up being my first and largest digital marketing client, and I got to watch the ring building process and sit in on client meetings.
What I learned about rings can save you money on your engagement ring.
Here are my tips:
Don't shop at mall chains. These shops sell lower quality stones at a highly marked up price. They also don't have any negotiating power.
Find a small family owned jewelry store. Smaller markups, more room to negotiate on price, usually higher quality stones, and you often can help design your ring.
Learn more about gemstones before shopping online. When you can't see stones in person or speak with a human being, you're at a bit of a disadvantage. Do your research so you know what to shop for.
Don't fall in love with specific carat weights. A .99 carat diamond looks really similar and sometimes even larger than 1-carat stones. But, a 1 carat will always cost more because the demand is high for whole carat weights.
Flawless stones aren't the be all end all. Jewelers buy stones for their loved ones that contain flaws or inclusions. Focus more on how the stone looks.
Only buy stones that are GIA certified. The Gemological Institute of America (GIA) is a nonprofit institute that grades stones.
What happens to most people is that they know what their SO wants and have narrowed it down to two different rings or stones that are really similar to one another. If you get to this point, I honestly recommend buying the one that's less expensive.
6. Alternatives to traditional engagement rings
Diamonds are on the list of things millennials have killed, and part of the reason is that many of us have crippling student loan debt. We're getting married later. We've also found alternatives to the traditional diamond solitaire. These alternatives often cost way less, and you can wind up with a truly one-of-a-kind ring.
Rings with diamond alternatives
Buying a diamond doesn't mean you love your partner more. It also doesn't mean your lives will more awesome than anyone else's. Buying an alternative stone is just acknowledging that there are a bunch of beautiful gemstones that might be a better fit, whether that's based on preference or finances.
Here are some popular diamond alternatives:
White sapphires
Salt and pepper diamonds
Morganite
Gray or natural diamonds
Moissanite
Go with an heirloom ring or repurpose a stone
Using a ring that's been in the family can be very meaningful and not cost you a dime. Some families are even okay with repurposing stones in a more contemporary setting.
Buy an antique or vintage ring
There are trends with ring styles just as much as anything else, and some of those older styles now look really unique. You can look around your area for small jewelry stores that specialize in older rings, or you can also browse sites like:
Erstwhile (warning, some of these are still really pricey)
Check out independent jewelers
I've seen more and more artisan jewelry designers pop up in my Instagram feed. They usually do have brick and mortar stores, using social media to grow their client base.
Here just a couple of the 100% legit companies that are challenging engagement traditions with unique stones and designs.
Upgrade the ring when you have more to spend
If you're getting married in your 20s or 30s, you're buying an engagement ring when it's the least financially convenient time to make such a large purchase. And one thing I've seen many couples do, especially as they get older, is to make a ring upgrade when they are in a better financial situation.
This could be having a larger stone set into the engagement ring, buying an anniversary band, etc. It's a nice way to celebrate major relationship milestones, like a 20 year anniversary. It says, "hey babe, I've always wanted to get you something a little more."
How much to spend on an engagement ring – make your own rules
I bet one of the reasons that De Beers ad was so effective is because it gives you a very clear number to work with. Make $4,000 a month? Buy a ring that costs $8,000. There is something really appealing about that simplicity.
But as we've learned, there is a lot of prescriptive financial advice that often does more harm than good.
Come up with a price point you can afford, think about what your future spouse wants, do your research, and shop around. Those are the rules to abide by. And remember, as much as it's a symbol of love, it's just a fancy rock.