DUNNNN! DUNNNN! DA DUN DUN DUN DUN! DUN DUN DA DUN DA DUN DUN DUN DUN DA DUN DUN DUNNNNNNNN!
Well…you get the point. I don't know if everyone else is into the 2016 Summer Olympics this year, but Coral and I are hooked! Before I get to how much olympians make when they medal, I'd like to give a quick recap of my favorite things that have happened so far this time around!
First, I want to start with the sports that I enjoy watching the most during the Summer Olympics:
Swimming
Hands down my favorite sport. My wife and I are definitely water people, although I am absolutely horrific at almost all swimming skills other than just floating to survive and doggy paddling. That's not to say I can't swim – I'm just slow as crap in the water. It's good that we have a boat.
Micheal. Freaking. Phelps….straight-up punked that fool that was shadow boxing in front of him. That and Lilly King giving Yulia Efimova (the former steroid taking Russian swimmer) the Mutumbo finger wag before her race was EPIC. I wouldn't consider swimming a "smack talk" sport…but the American swimmers are making basketball players look like church nuns right now. It's refreshingly awesome.
Gymnastics
My wife was a cheerleader all throughout high school and in college, so I know some VERY basic tumbling lingo. I can identify a back tuck and a front punch. And a cartwheel.
With that said, I have no idea what the hell any of the gymnastic people are doing in the olympics this year.
It really just seems like a video game cheat code when Simone Byles is doing 37.6 flips in the air before deciding it's time to come down. Either way…it's pretty unbelievable. Here are my favorite tweets about the gymnastics portion of the summer olympics: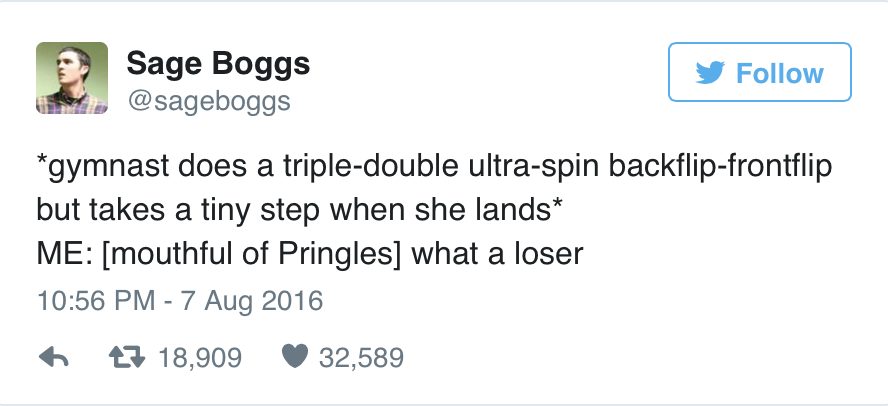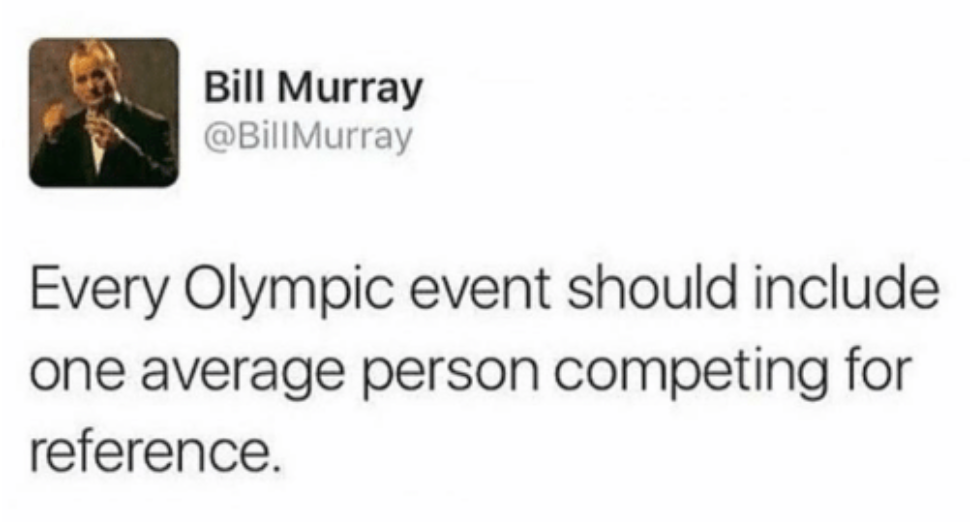 Beach Volleyball
I'd say indoor volleyball, but there's too much stuff going on for me to really enjoy it. Beach volleyball just looks way more fun, and there are people who are a lot older than me competing in that sport at a high level. It makes me feel much better about being a blisteringly old 28 right now. I'll be lucky if I can even get out of bed at 34.
I still haven't figured out how many points it takes before they switch sides of the court, so if someone would like to educate me down in the comment section I'd appreciate it a ton!
Now to the real stuff. How much do Olympians make when they medal?
Well…it depends. This was all new information to me too before I decided to write this post, so don't feel bad if you didn't know that this was how it works!
Every country has a different amount that they pay out to athletes for gold, silver, or bronze. In America, the payouts are $25,000 for gold, $15,000 for silver, and $10,000 for bronze.
Surprisingly, the United States isn't even the highest paying despite our team's sweet Ralph Lauren Polo blazers and general rich people vibe. Here is a list of the top paying countries participating in the Olympics:
If you were wondering how much say, Michael Phelps has made over the course of his ridiculous olympic career from medaling, it's $500,000 and still going up. Honestly that's not a ton considering how prolific he is, but don't worry – he's made about $94 million in endorsement money.
Boomer Phelps will be just fine.
But wait, there's Uncle Sam to consider!
Ugh. Just when you thought this was one of my heartwarming, charmingly sarcastic posts. That greedy jerk has to get his grubby, inefficient hands on everything, right? I'm not the biggest fan of taxes (if you couldn't tell). 🙂
According to NBCnews.com, olympic winnings are considered "earned income abroad," which means they will pay their ordinary income tax rate for each prize. So, the top tax bracket (think Kevin Durant) will pay 39.6% or $9,900 for a gold, while the lowest 10% bracket will pay $2,500.
I don't know what you guys think, but isn't it a liiiiiiittttle ridiculous that we ask these people to go out and make their country proud…and then turn around and ask for a chunk of the money back when they do it?
I'm certainly not crying for the wealthy NBA players on the U.S. men's basketball team, but what about the athletes that work part-time jobs while they chase their dreams of making America look awesome in front of the world? I'm really curious what you think about this…