Well, this post is a little bit…different than what I usually do on the site. But the other day I stumbled across some information that blew my mind a little bit and felt that I really needed to share some things.
I've always known that what I wanted to do with M$M was special, and I've definitely talked to enough readers over the past three years to know that I'm at least having a small impact in a few people's lives.
One of the weird things about running a website like this one is that it's easy to take numbers for granted.
Like…there are a lot of people that come to this site every month, and the annual readership will probably be somewhere north of 2,000,000 in 2018. That's a ton of freaking humans haha. I still have moments where I'm surprised anyone comes to this website at all, but I guess at some point I'll have to get over that.
But even though there are a lot of people that come here now, the reality is that only a small fraction actually reach out to me, so it's hard to get an idea of how helpful your stuff really is even if you talk to your readers as much as I do across my social media accounts.
I like to think that I'm one of the most active bloggers in the game when it comes to hanging out with my readers, and honestly, it's because the people are what I enjoy the most about this whole thing.
Here's a little secret…I'm not that great at blogging. At least, not the way you're "supposed" to do it I guess.
I literally hate writing stuff to rank in Google. I don't really interact with a lot of the personal finance blogging community. I don't care that much anymore about getting media exposure or being seen as a personal finance "guru."
Maybe I should care more about all of that because I leave money on the table when I turn down sponsorship opportunities, but it just feels like I've finally found clarity with my business in the past few months.
In the beginning of all of this, I thought I needed to be the next someone…but now I just want to be the first me.
I want M$M to be a spark that gets people interested in personal finance. Someone did that for me several years ago and it changed my life, so now I want to do it for everyone else that feels stuck like I did.
It wasn't that long ago that I had $40k of student loan debt making a teaching salary. I'll never forget how my loans made me feel guilty about holding my marriage back, or how much it sucked to see everyone I knew pass me up in life while I made payments.
The anxiety that the loan letters gave me, the feeling of being trapped in my career because of some numbers on a piece of paper, and everything else that comes from the simple name "Sallie Mae" are what drives me to work as hard as I do for this site.
People that are going through something like I did with my student loans are the people I enjoy talking to the most; not software engineers or financial analysts retiring in their 30's after making $200k/year in their 20's. That's not to be rude or anything because I see those stories all the time and think that they're incredible. But they just don't really resonate with me as much as someone who makes a realistic wage and is trying to figure out how to make ends meet every month.
Those are the people that I want to talk to with this site and hopefully make a difference for.
So when I posted something in the M$M Facebook group the other day wondering how much debt everyone had paid off so far, I was genuinely just curious if I was helping.
Selling courses and making affiliate sales are cool, but the honest reality is that I'm still a failure if my work isn't actually making anyone's life better or motivating them to get ahead financially.
Maybe nobody would answer…maybe a hundred people would answer. I didn't really know.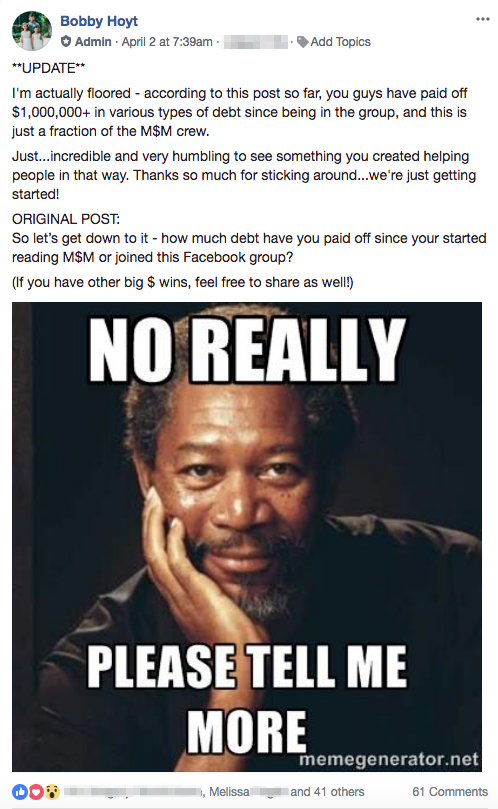 Then I started to get responses that blew me away. It wasn't the most comments I've had on a post or anything like that. It was actually kinda small really.
But I started adding up the amounts of debt that people were sharing because some of the totals were pretty amazing.
Just like that, it passed $1,000,000. A million freaking dollars. It blew my mind because it was such a small fraction of my audience.
I just…that's a lot of paid off debt. I didn't expect it haha.
Then I started thinking about how big the site is now, how many people are in my various groups I run and realized that the real student loan payoff number from M$M readers since I started this is probably closer to ten million dollars or more.
That's insane to me. M$M was just some stupid thing I started after teaching some of my students an advisory lesson on credit reports of all things. I literally had no idea what I was doing when I bought this domain name. (Millennial Money Man wasn't even my first choice! I thought it sounded kinda stupid.)
Now it's it's helping thousands and thousands of people all over the country (and the world really…shout out to international readers). It's just hard to wrap my head around, even though I've worked on it every day of my life the past three years.
To be clear, I don't want to take credit for anyone's debt payoff or anything. I didn't make the payments. I didn't make the sacrifices. You're all doing that. I'm just along for the ride. It's so cool, and I'm so happy that you let me be a part of your success.
This all might seem like a strange thing to write an entire article about, but I guess that post in the Facebook group was the moment that I realized the scale of what I (and you) have built.
The fact that you can start a simple website and after just a few years can have a real impact on people's lives using your words is incredible. We're about to start having local meetups, the M$M community is bumping, and I haven't even mentioned the Facebook Side Hustle students and all of the magic that's going on in that group too.
It's all just crazy. It really is. But do you know what's even crazier?
We're just getting started. Think about that.