If you've been following along on my journey of growing M$M, you'll probably notice one overarching theme:
This has all happened very quickly.
I left my teaching job just over three years ago, and in that time I've been able to build up a loyal readership, fill private FB groups with thousands of people – like the M$M Community, and create multiple streams of revenue through this blog.
So far, between M$M and Laptop Empires (which gets most of its traffic from M$M right now), we're going to do somewhere between $500,000 and $1,000,000 of revenue.
In fact, Laptop Empires just passed the $500,000 gross revenue mark last week (we've only been in business since late January of this year)! Here's our June income report. Getting to this point was a huge accomplishment for us, and the vast majority of our success so far has come from one main traffic source…
Facebook ads.
If you're reading this right now, there's a very strong chance that you actually found me through Facebook. I'll go into some of the detail here shortly, but I essentially built this business on a foundation of traffic from FB, and now I'm starting to diversify that traffic to other sources.
We're about to drop a FB Ads for Bloggers episode on Laptop Empires, so stay tuned! We'll be talking about why we love FB Ads as a sustainable revenue stream for budding online business owners and how you can get started with our Facebook Side Hustle Course.
Most bloggers don't start with Facebook ads for traffic…which I think is a mistake
Here's the typical progression for bloggers that just get started with their blog:
Read a bunch of stuff on SEO and try to implement it by writing content that *could* rank in Google
Nothing happens, because they don't have a strong backlink profile and it takes months sometimes for content to move up the rankings even if you do
They get discouraged
Then they read a bunch of stuff about Pinterest and start trying to implement it by creating a bunch of listicles
Maybe after a month or two they've seen a little bit of traction, but still don't see the mega-traffic that they're seeing from all of the big bloggers that focus on Google and Pinterest
Eventually, they quit blogging
And that's the reality – most bloggers quit long before they get the results and start making money.
Here's why FB ads are different and so much more effective for bloggers:
You can create a piece of content that doesn't have to be a listicle or optimized for SEO, because Facebook doesn't care about that
You can test your content to see if it will be effective BEFORE you spend a dime
You target the right audience, set your budget (can be as low as $1 per day), and sponsor your post
Traffic comes immediately, and you can optimize your page to get readers to your courses, private groups, or affiliate links
You'll see high-quality traffic months long before you would with Google or Pinterest
So instead of waiting forever and hoping that some random algorithm will push you up to the top of the search rankings or your content will magically go viral on Pinterest, you're now in control of your traffic and can turn it on and off like a faucet while directing it to the specific pages and offers you want them to see.
Now before I go on – I know what you're thinking:
"Facebook ads cost money, and I don't want to spend money on my blog."
Cool. I'm going to give you some tough love because this is 100% the truth and I want every person who starts a blog to be successful.
If you're not willing to spend money on your blog, stop blogging right now and do something else. Please. You'll save yourself so much time, and you can go find an online business model that actually makes significant revenue in the beginning.
Every blogger that has "made it" understands that blogging is a business, and you have to put money back into what you're doing if you truly want to make full-time blogging a reality.
I challenge you right now to go find a professional blogger that has zero monthly expenses.
So now that we have that out of the way, let's discuss another important fact. Facebook ads can be done for as little as $1 per day. Maybe you aren't willing to spend $150 per day like we do between M$M and Laptop Empires, and that's fine. I didn't start out spending nearly that much when I first starting dabbling with FB ads a few years ago.
I was spending $5 here, and $10 there. Over time, I slowly ramped up that spending as my email list starting filling up, affiliate income rose, and courses started to sell.
Now, after blogging for just 3 years, I'm a 1% earner because of my blog. Think about that. I was making $3,500 per month as a teacher three years ago, and now I'm going to make several hundred thousand dollars this year, and probably much more next year.
All because I chose to pay for high-quality traffic instead of following the path that leads most bloggers to quit too soon.
Here's exactly how I started driving traffic to M$M for less than 5 cents per click:
1. I tested my content against Facebook's organic algorithm
Everyone and their mom knows that Facebook's organic reach has gone down to less than 2% of your total likes in the past few years. Yes, that sucks. However, it's not all bad news.
You can still figure out exactly how well your posts will do once you run them as traffic campaigns by looking at your stats in your page insights.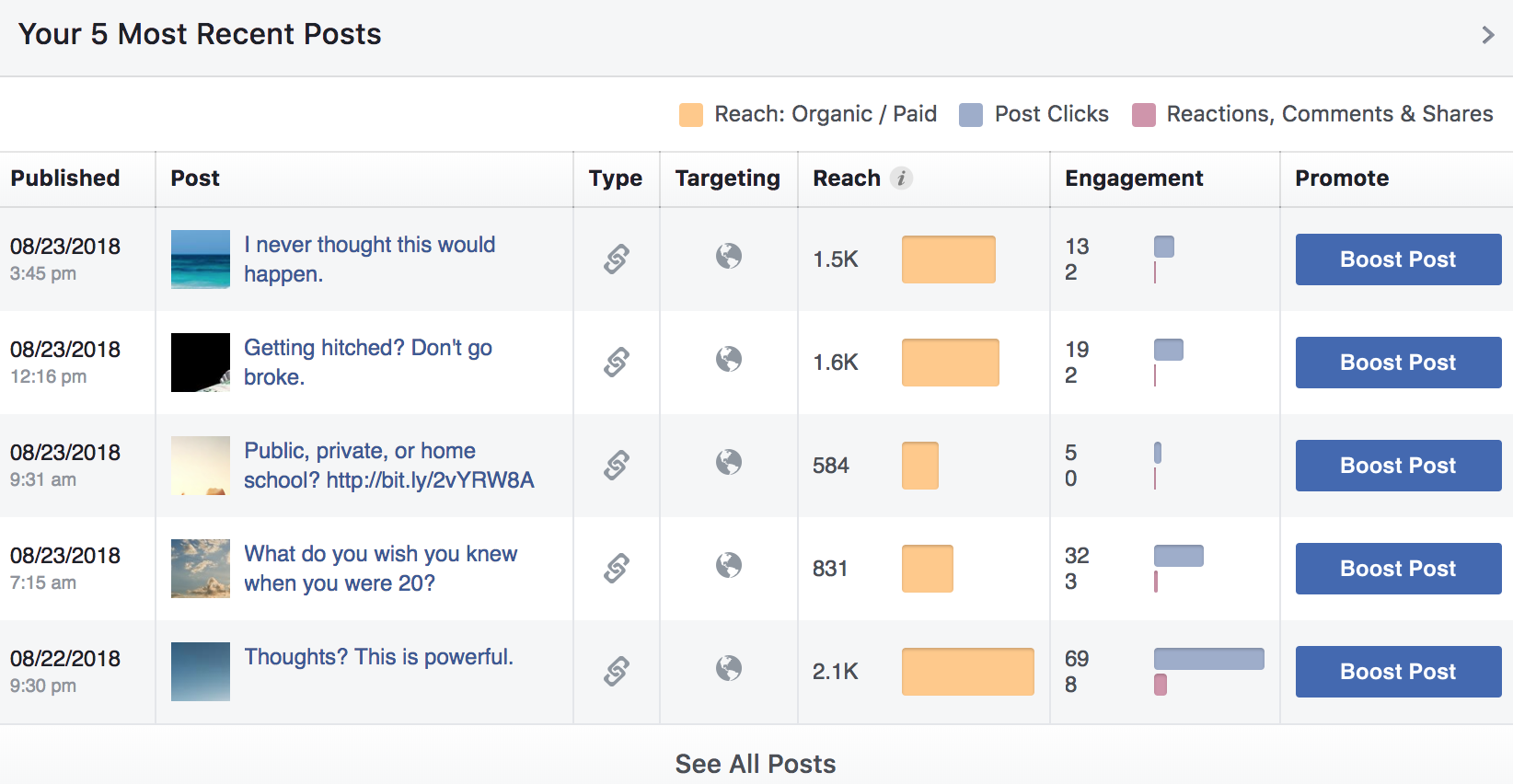 I would take a piece of content that I wrote, test it against the algorithm, and find what I call my "unicorns" (posts that do extremely well and have a specific clickthrough rate).
This is a reliable way to find your blog posts that will crush it and make your traffic skyrocket, your email list grow, and your revenue from ads and affiliate traffic explode.
Here are some examples of my unicorns:
And that's just two that I've tried in the past. I have a bank of many more posts that I have just in case one of these becomes less effective.
2. After I find my unicorns, I run them with the CORRECT campaign type (traffic)
When you start with Facebook ads, you have a few options.
Most bloggers know about the "boost" button because they've posted some content on their Facebook page and have seen Facebook's suggestion to boost a specific post.
While there are some applications where boosting can be useful, getting clicks to your blog is not one of them.
Here's how Facebook's campaign types work:
Facebook puts its users into different "buckets" based on their actions.
If you are someone who usually likes or shares a post but doesn't click through, you're going to be put into a specific bucket.
If you click through and actually read articles, you're going to be put into a different bucket.
If you are the type of person that clicks on ads to download guides, courses, and other freebies, you'll be put into that bucket. There are several different actions that Facebook tracks, but those are just a couple of examples.
It's important to understand that Facebook optimizes ad campaigns to reach people in those specific buckets based on the campaign type that you choose.
If you boost a post (also known as the "Engagement" campaign option in the Facebook ad manager), you're going to reach people who like and share things in their newsfeed but don't usually click through and read. That means that you're not going to get much traffic from a boosted post, but you'll get a bunch of likes and shares. It looks nice, but it's not effective if you want people to read your posts.
When you choose a Traffic campaign, Facebook will find people who usually click through and show your post to them. That's MUCH more effective if you're looking for cheap clicks to your site.
Those are just two of the options available for campaign types, and each one has a specific purpose. Some are great for bloggers, and some aren't useful at all.
The key to my success with this blog so far has been the quality of readers with Facebook, not the quantity
Throughout the last year, I've had about 150,000 – 300,000 views per month, depending on the time of year.
Now compared to a brand new blogger – yeah. That's a lot of traffic. But there are plenty of bloggers that have 2x-3x the traffic…and bring in far less revenue than I do.
So what's the deal? Why the difference?
Simple. The quality of traffic that I'm bringing in is high because I'm specifically targeting people who interact with blogs like mine through my Facebook ads.
Think about it for a second:
When someone Googles something, they're looking for a specific question to be answered. If you use Google the way I do, you'll probably search for something, find the answer, and then bail.
Pinterest, like Google, is also a search engine. I'll go there to look for a recipe, find it, and then bail.
But with Facebook, people aren't searching for me. I'm searching for them (sounds creepy I know haha).
So when I target them with an ad, they're thinking: "Oh wow, I've been looking for a personal finance website to follow! I'll check this out."
And then they read the article, realize that the post I've written really resonates with where they are in life, and they join my email list, click through to my side hustle course sales page, join my private groups, etc.
I've used Facebook ads to create a living, breathing community. I'm not investing in an algorithm. I'm investing in people.
So how do you get started running Facebook ads for your blog?
I'm glad you asked!
It's actually pretty simple, and not too much harder than posting a status update once you get the hang of it. But I get that it can be intimidating at first so I've put together a little guide to help you out.
In the guide I walk you through the basics and even show you around the Ads Manager platform so that you don't feel overwhelmed when you launch your first ad. Then you're off! You can start driving new, high quality readers to your blog for as little as $1/day.
Grab my free training below (this is really freaking good):