Hey everyone, I have a great guest post for you today from Sam over at FireByForty.com! All of us would like to double our income in the next 5 years. This post has some great insight on understanding and capitalizing on your value in the workplace. Take a look and see if you could apply this to your own job. Enjoy! ~M$M
The spring and summer of 2011 was a busy time in my life. I was 23, and I was getting ready to graduate with my Master's degree. You could say I was nearing "true" adulthood, something I had been determined to put off as long as possible. If graduation wasn't enough, I was also a newlywed, and I really had no plan and no real direction.
Looking back, most would probably attribute my impending success to dumb luck, and I wouldn't necessarily disagree. You see, as my graduation neared, I had only applied for two jobs. One, at a fortune 500 investment firm and another at a local private university.
That's it. My entire future hung in the balance, and I had only applied for two jobs. I had no back up plan if both fell through.
Lucky for me, things have a funny way of working out. While I waited to hear back from these interviews, I was doing a short internship for credit in order to finish up my degree. I was on my last day of the internship, about two hours away from being jobless and in the "real world," when I got the call.
The university I had applied to offered me a great job with a starting salary of $43,000, which I (of course) accepted without countering. I was slated to start work in July (2011), just a few days after coming back from my honeymoon.
My Income: 2011 – 2017
Starting Salary: $43,000
July, 2011 – July, 2012 
My first year went by smoothly and without incident. I was at the bottom of the totem pole in my department, but I worked hard and did what I needed to do. I started out making $43,000 a year, which to me was a lot at the time, considering I was made $800 per/month while in graduate school.  At the conclusion of my first year, the university gave out across the board 2% raises.
Salary After Year 1: $43,860
July, 2012 – July, 2013
During my second year of work, I received a great opportunity. I could apply to teach (on the side) for the university, and they'd pay me extra ! I took a chance and by September 2012, I had earned my first side income ($3,000). The university, again, gave out across the board 2% raises.
Salary After Year 2:  $44,737.2
Side Income – Year 2: $3,000
Total Income – Year 2: $47,737.20
July, 2013 – July, 2014
During my third year, I got lucky. Our department consisted of three people and one of them was leaving. This meant I would be given more responsibility, which I gladly accepted. After a few months of taking on added responsibility (we didn't replace the person who left), I had positioned myself as critical to operations. The university really couldn't afford to lose me. Knowing this, I asked for a $6,000 raise, which I was given. Due to the raise, I was not given the 2% across the board raise.
I also taught another class during my third year, making an additional $3,000.
Salary After Year 3: $50,737.20
Side Income – Year 3: $3,000
Total Income – Year 3: $53,737.20
July, 2014 – July, 2015
Nothing special happened during my fourth year. I continued to work hard. I taught another class on the side, which earned me $3,000 in side income. The university gave another 2% across the board raise.
Salary after Year 4: $51,751.944
Side Income – Year 4: $3,000
Total Income – Year 4: $54,751.44
July, 2015 – July, 2016
During my fifth year I received a promotion to "Director." This new title and status allowed me to continue to demonstrate my worth and cement my status as an essential employee. In addition, I asked to teach more classes on the side, which they were happy to allow. I taught three classes on the side, netting $9,000 in side income. The university also gave across the board 2% raises.
Salary after Year 5: $52,786.97
Side Income: $9,000
Side Income + Salary: $61,786.97
July, 2016 – July, 2017
In July 2016, after five years of hard work, and continuing to cement myself as a critical employee, I asked for another raise at the beginning of the school year. The university came through and gave me an additional $15,000 per year. I've also continued to teach more classes, with expectations to teach 6 total classes this year ($18,000 in side income).
Salary for year 6: $67,786.97
Side Income: $18,000
Side Income + Salary: $85,786.97
How I Doubled My Income: Lessons Learned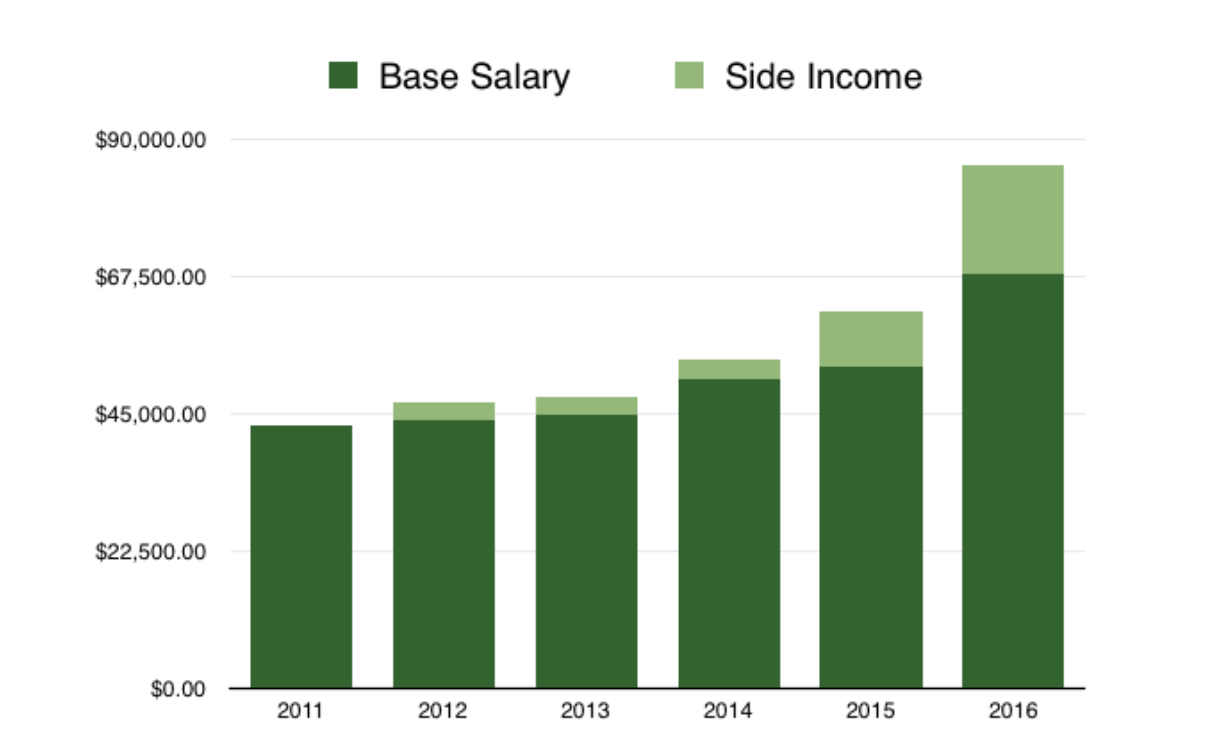 In the span of 5 years, I doubled my income. The increase in income has allowed me to pay off $40,000 in debt in 2.5 years, max out my retirement accounts, and save for my son's college. In addition, my dramatic increase in income has put me on a path to retire at the age of 40 !
After turning a $43,000 a year income into almost $86,000 per year, I've learned three important lessons:
1. Demonstrate Value
You will never increase your income if you cannot demonstrate your value to your employer. I'm a firm believer that if you work hard and put in the effort, you will be rewarded. Yes, that's probably a naive way to view the world. However, my experience is that if you can demonstrate your value and become an essential employee, necessary to the operations of the organization, you will receive a return on that investment. In my case, that's what I did, and I received $21,000 in merit based raises over the course of five years. If you cannot demonstrate value, your income will not increase.
2. Take Advantage of Opportunities
I've earned $36,000 in side income over the past five years ($7,200 per year). I was able to do this because I took advantage of opportunities that came my way. In 2012, I wasn't afraid to apply for my first side teaching gig, and I wasn't afraid to ask for more classes when that opportunity was presented to me. If you are too afraid to put yourself out there (e.g., apply for a promotion, start a side business, switch employers, move into a new career….etc), then you cannot expect to dramatically increase your income.
3. Don't Be Afraid to Ask for More
In order to earn more income, you can't be afraid to ask for what you think you are worth. Before asking for my merit based raises ($21,000 total), I did research to find out what my pay should be. When I discovered that my job title/duties didn't reflect the income I should be earning, I presented this evidence and asked for more money. The worst thing they could have done was say no (or fire me!). You have to fight for yourself because nobody else is going to.