Hey everyone! Today I have a really cool guest post for you by Gwen from Fiery Millennials. We've all had that one teacher that changed our lives, right?
Gwen's story really hits home for me. Before I left my teaching job to run M$M, I had gotten so passionate about personal finance that I started sharing financial lessons with my students during their advisory period. They loved it! I'm not sure if I made the impact that Gwen's 6th grade teacher did, but I sure hope so. Enjoy! ~M$M
The common refrain whines from the mouths of schoolchildren in math class around the globe:
"When will we use this in the real world??"
For one particular math class in 6th grade, I got a real life answer to the question that would
end up changing the course of my entire life.
The Setting
I'm 12 years old and awkward with it. I was too smart for my own good and spent more time
reading books than hanging out with my classmates. I had no tools or knowledge to keep up
with the trends, so I was left behind by my more fashion-conscious classmates.
Our teacher was a cool young guy a few years out of college. He coached the high school
tennis team and often came into class with raccoon eyes from his sunglasses. His first name
was John and he delighted in making references we didn't catch…. Like using Ed
McMahonan's opening from The Late Night Show to get our attention. He taught us math,
history, and some other subjects I've forgotten now. Let's call him Mr. A.
Mr. A was a good teacher. I think we were more inclined to listen to him because he wasn't a
crusty old tenured dude. He taught some good lessons in our other classes, but you can only
make history lessons so relevant. Where he really shined was our algebra classes. He had a
passion for math and it showed when he taught us the building blocks for higher math.
One Lesson to Rule Them All
One lesson in particular stands out to me 15 years later.
We were learning the different formulas for interest- simple, compounding, and continuously
compounding. Mr. A could have left it at that…. But he didn't.
Instead, he opened up. He used real world examples of the debt he'd had to illustrate his point.
We learned how his student loans accrued interest while he deferred payments, how the
payments were structured to pay off the interest and not the principle, and how quickly his
credit card debt added up as he paid the minimums on it each month.
He shared his struggle on paying off his debt after college and told us how he lived incredibly
simply to barely be able to scrape by as a first year teacher.
We took the various formulas and applied it to his real world examples to see the affect of the
different ways to calculate interest. For example, paying off credit card debt of 24% that
compounds continuously is way harder than say, one that compounds once a quarter.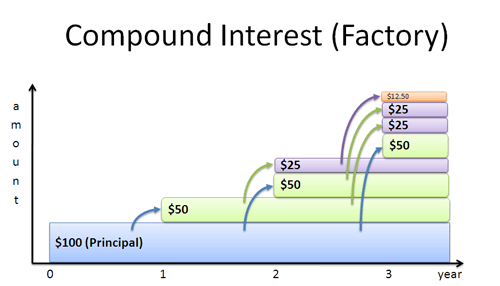 The math part was interesting to me, but what really hit home and left me breathless was his
story of how he accumulated all that debt and then his struggles in paying it off.
His parents didn't help him pay for school so he took loans out to get his teaching degree, and
then lived the baller lifestyle upon graduation funded by his awesome new credit cards and the
frisbee they gave him for signing up.
Then his loans came due and all of the sudden everything came crashing down. He actually
didn't have any money. He took on any work he could to make more money – tennis coach,
tutoring on the side, and even a part-time retail job.
He had the whole class hanging on to his every word the entire lesson. If you've ever been
around 25 12 year olds, you'll know how difficult that is to do for 5 minutes, let alone 50.
The Impact
I was breathless. That could be me. As a formerly poor kid in a rich kids' district, I knew there
wasn't much of any money saved up for my college education. I decided right then and there I
didn't want to take on any debt for my college career, and swore to be wary of credit cards. I
wasn't going to fall for that free frisbee trick, no siree. (They outlawed that sort of underhanded behavior before I got there making that one a moot point, at least).
His lesson stuck with me through the years. I joined the military to get them to pay for my
schooling before the university offered me a full-ride scholarship for academics.
I had to buy a car, so I chose a cheap piece of junk that I could afford off just my base pay
from the military. I paid that off and drove it until I crashed into a full-sized doe. The next car I bought outright from my savings.
My first credit card had a low limit and I made sure to pay off anything I put on it every single month. I didn't want to rack up thousands of dollars and struggle to scrape by after graduation.
You can be Mr. A
Now, not all of us have a captive audience of 25 12 year olds for 9 months of the year.
However, all of us interact with people every single day. You have the chance to make an
impact on someone. It could be as small as mentioning a cool new personal finance podcast
you started listening to or as big as volunteering to help at-risk women manage their finances.
You get to decide!
Gwen is a proud 27 year old millennial. She founded her blog Fiery Millennials upon graduation from college. Since then she has saved over $200k and started investing in real estate. Gwen spends her time petting her cute cat and working on her latest endeavor, Fire Drill Podcast.