There's really no way that any of us can thank healthcare workers enough right now… besides staying home and washing our hands. But a number of companies are offering resources for healthcare workers to thank them for all that they're doing on the frontlines of the COVID-19 crisis.
The companies I'm going to list are offering free food, drinks, rides, lodging, clothes, mental health resources, and more. Some of these freebies and discounts extend to first responders and other essential workers, and all the discounts are active at the time of posting.
Food, Freebies, Childcare, and More
Freebies and discounts: Food, clothes, and more
This sustainable shoe company has already donated $500,000 worth of shoes to healthcare workers. They're also doing a buy-one-give-one special, where customers can purchase one pair of shoes and donate a pair to a healthcare worker.
Circle K gas stations are giving healthcare workers and first responders a free coffee, tea, or soda through the end of April. All you need is a valid work ID.
Echelon is a home fitness company with rowers, bikes, and other fitness machines that also offers on-demand studio fitness classes. They're offering 15% off their inventory and a free 90 FitPass to first responders, active-duty military members, and veterans. Learn more here.
Scrub company FIGS is donating 30,000 pairs of scrubs to hospitals, and you can also gift a pair of scrubs to a healthcare worker.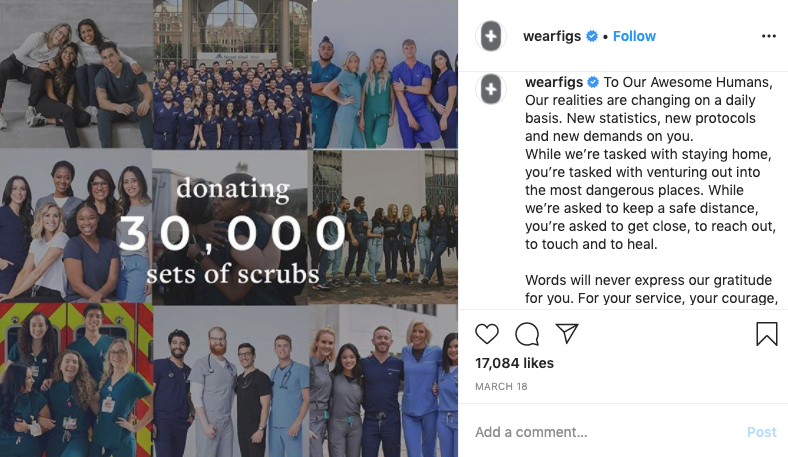 IPSY, a subscription-based beauty service, is donating 50,000 care packages to healthcare workers across the U.S. They're also matching donations to the American Nurses Foundation's Coronavirus Response Fund up to $50,000. You can learn more about each of these campaigns here.
Keds
Keds is supporting healthcare workers, grocery store clerks, and any other women on the frontlines of the coronavirus crisis by donating shoes. You can nominate someone here.
Krispy Kreme Doughnuts
Krispy Kreme is offering healthcare workers a dozen free glazed doughnuts on Mondays through May 11, 2020.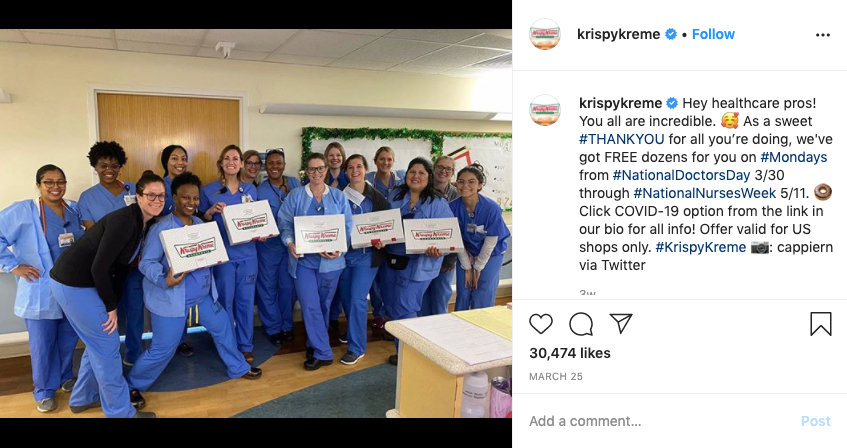 North Face
North Face is offering healthcare workers and first responders a discount of 50% off non-sale items in its online and North Face retail stores throughout the U.S. The discount runs until the end of 2020, and you need to go online to verify your healthcare worker status.
OOFOS
This footwear company has already donated over 1,200 pairs of shoes to healthcare workers across the country. OOFOS shoes are machine washable so they can easily be cleaned between shifts.
OOFOS is also giving discounts to healthcare workers when they order through the OOFOS website. You just need to verify your credentials when checking out.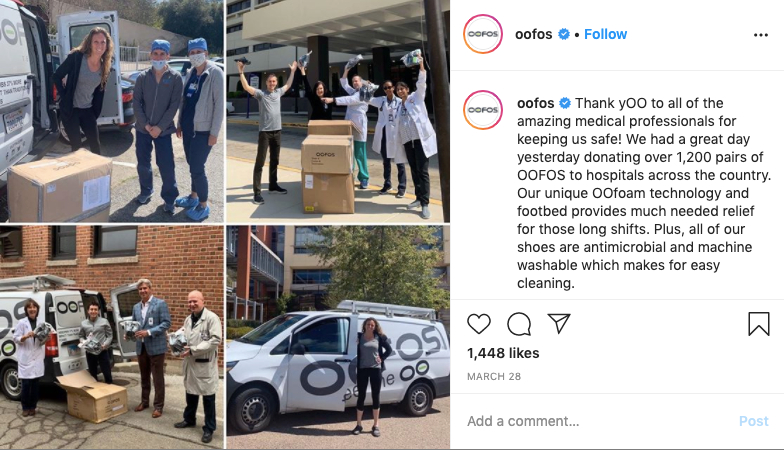 S/O/S
Health and wellness company S/O/S has created Wellness Bundles that can be ordered and delivered to women in healthcare. For every two bundles ordered, S/O/S will donate one. The Wellness Bundles include deodorant, hair ties, dry shampoo, and other feminine products.
Starbucks
Starbucks is giving away a free tall brewed or iced coffee to healthcare workers, police, firefighters, paramedics, and medical researchers. This offer is good until May 3, 2020. Starbucks is also donating money to help deliver 50,000 care packages to healthcare workers.
Starbucks is also offering a $0 delivery fee on orders fulfilled through UberEats.
Training Mate
This is an LA-based gym that is offering one free month of streaming workouts for healthcare workers. Check out Training Mate on Instagram to learn more.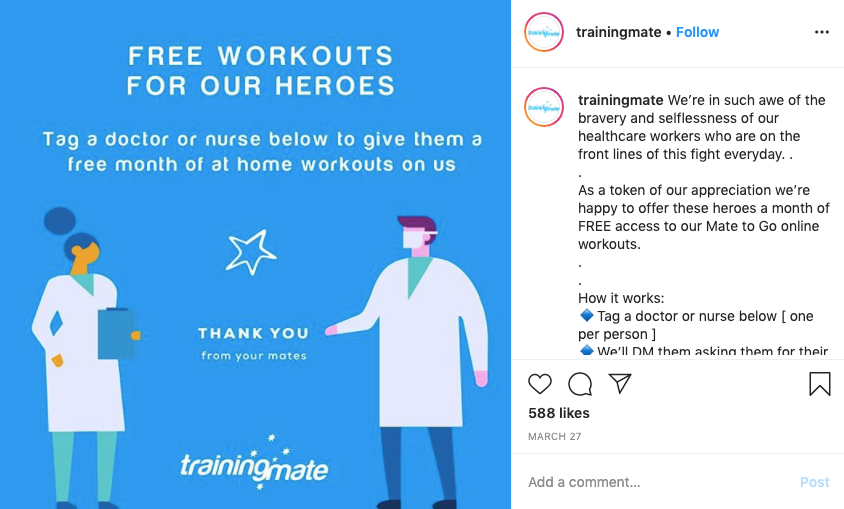 UGG
Throughout the month of April, UGG is giving 500 pairs of slippers to healthcare workers. You can nominate someone on Instagram using the hashtag #UGGTOGETHER.
UGG has also partnered with several hotels in New York to provide healthcare workers and first responders with UGG slippers when checking in.
Under Armor
Healthcare workers and first responders can get 40% off gear from Under Armor. You just need to verify your status using your work ID, which lets you log in to get the special discount. The same discount also applies to active duty military, retired military, veterans, military spouses and family members, plus teachers and educators.
White Castle
White Castle is offering healthcare workers and EMTs a free combo meal once a day throughout April 2020. All you have to do is show your work ID at the drive-thru. The company is also delivering Crave Cases, large orders of burgers and sides, to hospitals and healthcare centers.
Willow Pump
Willow Pump, which manufactures hands-free breast pumps, has donated a limited number of pumps to healthcare workers on the frontlines. They're also offering healthcare workers a 15% discount on their website.
Travel and lodging
Airbnb
Airbnb is offering housing to 100,000 first responders. This includes free and reduced fees and rates.
Better Vacations
Better Hotels is providing healthcare workers in Las Vegas and Indianapolis with free stays in luxury vacation homes. They're also providing discounts of up to 50% in other cities across the U.S. This program is good through May 15, 2020.
Citi Bike: New York City
In response to Mayor Bill De Blasio's call to reduce the load on public transportation, healthcare workers, first responders, and transit workers in NYC can now get a free month of membership for Citi Bike.
Delta Airlines
To help healthcare workers deployed to hospitals in understaffed and hard-hit areas, Delta is offering free flights to Georgia, Lousiana, and Michigan. They are considering expanding the program to include flights to New York, California, and Washington.
Hertz Car Rentals: New York City
Hertz is offering free car rentals throughout April to healthcare workers in New York City. You will need a valid medical ID, an email address with a healthcare domain, a driver's license, and to sign up with Hertz's loyalty program.
Hotels for Hope
Started by the American Hotel & Lodging Association, Hotels for Hope is connecting hotels with healthcare workers and first responders in need of temporary housing. They already have over 6,500 sites near healthcare facilities.
Uber
Uber has pledged over 10 million free rides and food deliveries for healthcare workers around the world. Uber Freight is also transporting shipments of critical goods with zero profit pricing while the U.S. emergency declaration is in place. Learn more about all of Uber's efforts here.
Mental health
Talkspace
Talkspace offers online therapy sessions, and healthcare workers can receive one month of free therapy, including text, audio, and video calls. Talkspace is also offering discounted subscriptions to anyone else who needs to talk.
Neurocore Counseling
This counseling service is offering free telehealth counseling to medical professionals and first responders through at least May 1, 2020. Neurocore therapists are trained, licensed mental health professionals that can help you with anxiety, depression, stress management, and more.
Child and pet care resources
Care.com
Care.com connects people with caregivers for children, pets, and elderly parents. They are giving one month of free access to their site to help you find a caregiver in your area.
California, Colorado, Florida, Minnesota, Vermont, and Washington
A number of states have started programs to offer free childcare to healthcare workers, first responders, and other essential workers. This is all on a state-by-state basis, but they are working with schools and daycare centers to provide free childcare.
More states have expanded child care services or are planning to, including Michigan and Maryland.
You can learn more about what different states are doing here and here. You can also check your state's Department of Social Services to see what services are available where you live.
YMCA
YMCAs across the U.S. are offering discounted or free childcare for healthcare workers and other essential workers. They have already converted over 550 gym spaces into temporary daycare centers. Contact your local YMCA to see what options are available.
If you've been laid off, furloughed, or are experiencing financial stress
Despite an incredibly high need for healthcare workers right now, I've still heard about laid off and furloughed workers. Here are a few of the articles with information and resources to help you and your finances:
The final word on resources for healthcare workers
I can't imagine what it would be like to work as a first responder or in healthcare right now, and I know that no discount can even begin to repay the hard work you're doing every day. Every single one of you is fighting like hell to keep the rest of us safe and healthy. You are all heroes.