With the rising cost of health care, more and more people are looking for alternatives, like a health care sharing ministry. These are non-profit (often) religious organizations that share the costs of medical care between like-minded people.
I learned about them after I quit my job as a high school band director run this site full-time. Since my wife and I were then self-employed, we had pretty limited options. It's been two years since we made the switch, and we've been really happy with our experience so far.
But, health care sharing ministries aren't for everyone.
Today, my goal is to help you understand how health sharing ministries work to see if they're the right choice for you. I'm also going to give you a comparison of the top four companies on the market.
And before I go on, I know health insurance is a hot topic right now, but M$M is not a political site. Please keep the politics to yourself and out of the comments. Thx.
What is a health sharing ministry?
Health care sharing ministries are non-profit, Christian-based health insurance alternatives that allow members to share healthcare costs among themselves. The basic gist is this: you pay a monthly membership fee that is pooled together to cover a portion of the cost of other members' medical bills. When you have a need, other members' funds cover part of your expenses.
Health share plans are different from company to company, and you pick the one you need based on family size, level of coverage, and features. These plans have different membership fees and annual unshared amounts or household portions.
Health care sharing ministries are not the same as health insurance
You're going to hear me say this over and over again in this article because it's so freaking important. At their core, health insurance and health care sharing ministries are intended to help cover the costs of healthcare, but they are very different.
Health share ministries are able to get discounts and lower rates on your care, and you share costs with like-minded people who have made a commitment to living a spiritually and physically healthy lifestyle. However, many companies won't cover pre-existing conditions. They can also outright deny coverage.
Having health insurance means you've entered into a legally binding contract, and regulatory oversight ensures that your costs are covered. But insurance can be extremely expensive. Not to mention, the cost of care (what you and your insurance company are billed) is often inflated.
Unfortunately, there isn't a perfect solution. But, for self-employed workers and/or those who are tired of the high cost of insurance, health care sharing ministries give people a much-needed choice.
Understanding health care sharing terminology
When my wife and I joined Liberty HealthShare, we had to get used to using a new language. Words like deductible and premium weren't used at all because health care sharing is different than health insurance.
This terminology sets health care sharing apart from insurance, but it can be confusing if you aren't familiar with it. To help you as you read on, here are a few standard health insurance terms and their health share counterparts:
Deductibles are called personal responsibility, annual household portion (AHP), or annual unshared amount (AUA).
Premiums are your monthly share.
Claims are called eligible events, incidents, or illness.
Explanation of Benefits (EOB) is now explanation of sharing (EOS).
How to do health share ministries work?
Health sharing plans work a little different from company to company, but there are some key similarities between them all.
One, you can still see the doctor like you would if you used health insurance. And in every case I've seen, you can choose whichever doctor you like — health share ministries don't have in and out of network providers.
When your provider asks about insurance, you tell them that you're a self-pay patient. Some health share ministries will help you negotiate the costs of your bills, and others ask you to do it on your own.
Once you've paid up to your annual unshared amount, members of your health care sharing community will start covering your remaining balance. Funds might come from the health share ministry or directly from other members.
Health care sharing ministry comparison:
These companies are the most popular options for health care sharing, and this is the most up-to-date information on each.
Liberty HealthShare
Liberty HealthShare has three tiers of coverage, and the cost of each level depends on the age and number of people in your family. This is the health share ministry I've been using for the past two years, and it's been meeting all of our needs.
A few things to note about Liberty HealthShare:
Liberty is the most inclusive option in this comparison.
Unlike other sharing ministries, they consider immunizations part of a shareable expense.
They may not cover injuries due to activities deemed hazardous, which can include rock climbing, skydiving, or bungee jumping.
Their HealthTrac program, an additional $80 per month, gives members a Health Coach to help them overcome chronic and/or correctable conditions, like high cholesterol, obesity, hypertension, etc. They require you to do this until your condition has been corrected.
SavNet offers discounts on the care that isn't covered — dental, vision, hearing, chiropractic, etc.
Liberty HealthShare Rx is a prescription savings program available to all members.
Their sharing system is a six-step process, which is closest to traditional health insurance. You contribute your monthly share, visit the doctor when needed, your doctor submits the bill, and Liberty processes your request. The final two steps involve being paid out of a Share Box, AKA fund where the money is held, and then you and your doctor receive an Explanation of Sharing to confirm payment.
Liberty HealthShare costs/plans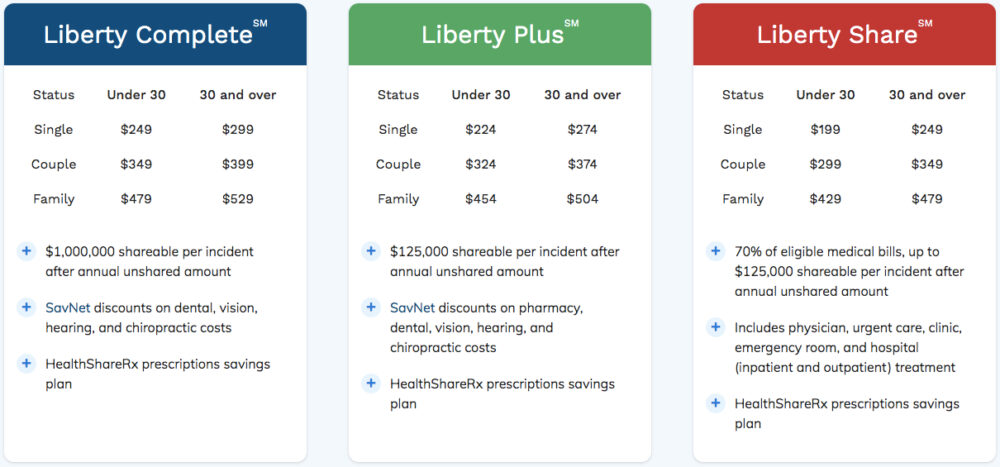 Before any of your expenses can be shared, you will have to meet your annual unshared amount, which is:
Single $1,000
Couple $1,750
Family (three or more members of the sharing family) $2,250
Read more about Liberty at Liberty HealthShare Review: My Alternative to Health Insurance.
Medi-Share
Medi-Share is one of the most popular health share groups out there right now. My assistant and her family recently switched to them, and last year she used them for maternity coverage and the birth of their fourth child — she was really happy with how low the costs were.
A few things to note about Medi-Share:
It is the only company with no lifetime or per incident/illness maximums.
They offer a program meant to supplement Medicare, called Senior Assist.
For members meeting certain health standards, their Health Incentive program gives you up to a 20% discount on your monthly share.
You need to show proof that you are a member of a church to use Medi-Share.
Routine and preventative care are not eligible for sharing.
Medi-Share costs/plans
The monthly pricing for Medi-Share is based on the AHP amount that you choose as well as your age and number of family members that will be using Medi-Share.
Unlike the rest of the companies in this health share ministry comparison, Medi-Share does not list their specific monthly plans on their website. However, they do have a Share Amount Calculator that will show users their AHP (Annual Household Portion) and monthly share prices.
I ran the numbers for a family of three or more, with the oldest member being 35.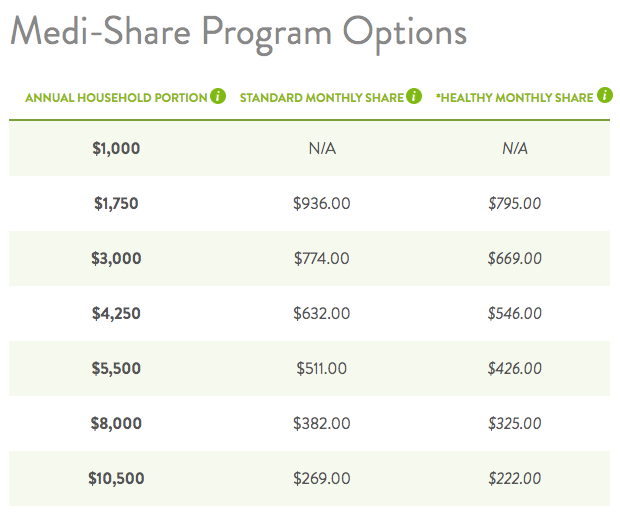 You can read about my assistant's experience in Medi-Share Review 2019: A Less Expensive Option for Health Care.
Christian Healthcare Ministry
Christian Healthcare Ministry is one of the oldest health share ministries, and they pride themselves on not having increased their member fees in over 11 years.
A few things to note about CHM:
The cost of each plan only changes across coverage, not age, meaning millennials would be paying the same rates as their parents.
You are free to choose whichever healthcare provider you like.
You are responsible for negotiating your bill with your provider and then submitting it for sharing.
They cover as many "incidents" or medical expenses per year as necessary. Maternity coverage is considered one incident, starting from the first OBGYN visit to the follow-up visits.
Christian Healthcare Ministry costs/plans
These costs are written in units, or per person costs. You pay per person (one unit), per couple (two units), or family (three units). Brother's Keeper is an add-on program to safeguard you from the cost of catastrophic illnesses or injury. The Brother's Keeper fee is an additional estimated fee of $25/quarter per person plus $40/year.
The Gold Program offers the best coverage, by far. And Christian Healthcare recommends Silver and Bronze primarily for hospital coverage.
Gold Program
$150/unit per month
Incidents are eligible for sharing if they exceed $500
You can receive up to $125,000 per illness
Includes incident-related doctor's visits, prescriptions, and up to 45 physical therapy/home healthcare visits per injury/illness
With Brother's Keeper, unlimited financial assistance for medical bills, after you meet the $500/incident cost.
Silver Program
$85/unit per month
Incidents are eligible for sharing if they exceed $1,000
You can receive up to $125,000 per illness
Brother's Keeper will provide you with an additional $100,000/year of sharing support. Annual renewals increase that amount by $100,000/year, up to $1 million.
Bronze Program
$45/unit per month
Incidents are eligible for sharing if they exceed $5,000
You can receive up to $125,000 per illness
Brother's Keeper will provide you with an additional $100,000/year of sharing support. Annual renewals increase that amount by $100,000/year, up to $1 million.
Samaritan Ministries
Samaritan Ministries was founded in 1994 after its founder joined another health care sharing ministry and wanted to create an option that reached a larger population and shared needs more efficiently.
You can see the efficiency pretty clearly — members send their monthly share amount directly to other members instead of sending it to Samaritan first.
Notable things about Samaritan Ministries:
They have the most exclusive eligibility requirements out of the four companies in this health share ministry comparison, including annual verification from a church official stating that you attend services a certain number of times per month.
After you negotiate your bill with a provider and submit it for sharing, Samaritan will let you know if they think you could have received a larger discount. They might ask you to stop seeing a provider that doesn't discount enough.
When you submit a need, Samaritan asks that you also include a note explaining your need to be shared in their Prayer Guide.
Pre-existing conditions and routine care are not shareable.
Samaritan Ministries costs/plans
There are two levels of coverage, and the cost of each plan depends on your age and number of members of your household. I'm going to show you the two plans, and then give you a couple of estimated costs.


Using the Classic Plan, a couple aged 30-44 would pay $454/month.
If you added two children to this plan, it would cost $530/month.
Using the Basic Plan, this couple would pay $240/month.
Adding two children would increase the cost to $300/month.
Save to Share is an additional option to cover needs over $250,000. The cost depends on family size — $133, $266, or $399 —  and is paid annually, plus a $15 administrative fee.
What about people with pre-existing conditions?
A health care sharing ministry might not be the best option if you have a pre-existing condition. All four of these companies limit coverage for pre-existing coverage to some extent.
Liberty HealthShare will share some costs related to pre-existing conditions after one year.
Medi-Share will share up to $100,000 after three years and $500,000 after five years. However, the condition must be cured OR you must be sharing for that entire time.
Christian Healthcare Ministry only offers sharing for Gold members. The amount shared for pre-existing conditions is on a three-year schedule.
Samaritan Ministries doesn't allow sharing for pre-existing conditions unless it's been cured. For genetic defects, cancer, hereditary diseases, and heart conditions, you have to be treatment and symptom-free for five years.
What about tobacco and alcohol use?
All of the health share ministries in this comparison have restrictions on tobacco use that range from showing proof of quitting tobacco within six months of joining to abstaining from tobacco use for a full year before.
When it comes to alcohol, responsible use is okay. But, these companies can deny sharing if you have an incident or illness that is related to alcohol abuse. They may also deny sharing for any activity that goes against Christian standards.
Do you have to be Christian to use a health care sharing ministry?
In short, yes, or you at least need to live by Christian values.
There is a faith-based component of each company's acceptance policy. If you don't agree with the religious ideals of these health share ministries or attend church regularly, you may find that these services aren't the best fit for your particular situation.
They all have policies that reflect their principles, and those are important to understand before choosing which one is right for you. They have strict guidelines on things like birth control, self-harm, diseases, or pregnancy outside of marriage, to name a few.
What about the negative reviews?
If you've done your research on any of these health share plans, then you've probably seen some negative reviews. But remember, people are always quick to share how much something sucks than to say how awesome it was. Look at any Yelp review, and you'll see that's true.
But here's the hard reality that you need to consider if you're wondering whether or not a health care sharing ministry is right for you…
Health sharing ministries are not legally obligated to cover your costs. If you read the fine print on any of these plans, you'll see language like "participation is voluntary," and "the program does not create a legally enforceable right to receive funds."
If the needs of the sharing community exceed the amount available for sharing, that will cause a lack of funds. If members aren't abiding by healthy lifestyle guidelines, they may not have their costs covered either.
Final thoughts on using a health care sharing ministry
I think that, overall, health sharing ministries can be a good alternative or supplement to your existing health insurance plan. Many of these services are reasonably priced and provide a good level of financial support for medical needs.
If you are a smoker or someone that primarily needs insurance for a pre-existing condition, health share groups aren't going to be a good option for you.
The thing that I think is most attractive about these policies is that they are working against the current healthcare system. Like I said from the get-go, I don't want to get political here, but I think we can all agree that things aren't quite working. The influx of members of health sharing ministries seems to prove that something has to give.