If you're in the market for term life insurance, Haven Life Insurance makes it easy to buy life insurance online. Using an algorithm to analyze applicant information in real-time, Haven Life Insurance can give you an instant decision on term life insurance coverage.
In total, the process took me less than 15 minutes, and I was approved for a $500,000, 20-year policy for around $20/month. There was no medical exam, and my coverage started that day.
So if you're looking at life insurance, this Haven Life Insurance review will explain the application process, company ratings, answer frequently asked questions, and more.
Haven Life Insurance Review 2020: Fast Online Term Life Insurance
Who is Haven Life?
Haven Life Insurance is an online-only solution to purchasing term life insurance, offering a streamlined application and approval process that happens in about 20 minutes or less. Bonus, if you're approved during the online application, your coverage starts immediately.
Haven doesn't require most applicants under the age of 59 to take a medical exam, which is how Haven Life Insurance can approve and start covering you immediately. No waiting several weeks for a decision on coverage eligibility.
MassMutual, a life insurance company that has over 160 years of experience, owns and back Haven Life Insurance, but you cannot purchase permanent life insurance through Haven.
Haven Life is commission-free and offers level premiums, so your rates will stay the same throughout the duration of your term.
Related: Is Pet Insurance Worth It? (Pros and Cons for 2020)
Haven Life Insurance ratings
If you're looking at a Haven Life Insurance review, then you want ratings. As in, is this company any good?
Haven is owned by MassMutual which has an A++ rating from A.M. Best (this is the highest rating you can get). A.M. Best analyzes the financial security of insurance companies.
TrustPilot has given Haven Life Insurance a 5 out of 5-star rating. There are currently 851 reviews, 86% are excellent and 11% great.
MassMutual also holds an A+ rating from the Better Business Bureau.
How to apply for Haven Life Insurance
If you're curious about how much Haven Life Insurance will cost you, you can answer a short questionnaire to get a quote. You'll need to know how much coverage you want — Haven Life will help you calculate this if you're not sure — and policy length.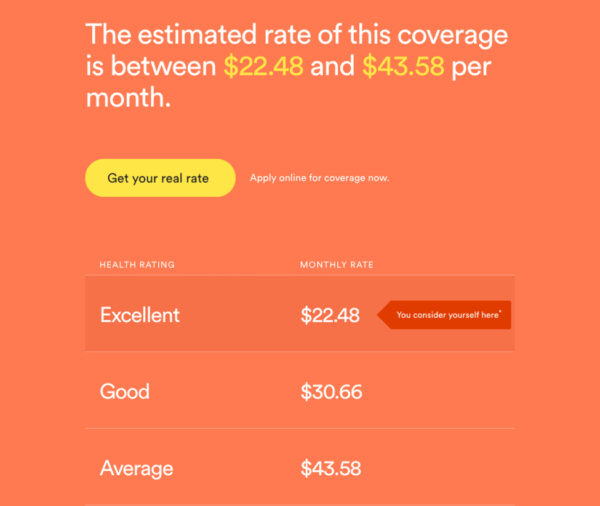 If you're happy with your Haven Life Insurance quote and want to find your real rate, you'll need the following pieces of information to apply:
Driver's license and expiration date
Social security number
Current height and weight
Personal and family medical history
Most of the application has one-click answers or drop-down boxes with options to choose from. It took me less than 10 minutes to complete, and I was approved at the end.
Remember, when approved, coverage with Haven Life Insurance starts right away. Some applicants will be selected at random to verify that their information is correct and will need to take a medical exam. If you're selected, you have 90 days to complete it.
Extra features
Haven Life Insurance offers a rider called Haven Life Plus, and it gives you access to additional features at a discount or no cost at all.
Haven Life Plus comes with access to the following services:
Trust & Will: This is an online service for creating legal, customized, state-specific wills. You can create an individual or joint will with unlimited updates. No additional cost.
Aaptiv: Aaptiv is a fitness app that gives you on-demand access to thousands of different workouts, including running, strength training, yoga, and meditation. Aaptiv is audio-based. Yearly subscription at no extra cost.
Timeshifter: Need help getting over jet lag? Timeshifter uses the latest research in sleep and circadian neuroscience to create a personalized travel/sleep plan for you. No extra cost.
LifeSite: This is an online storage solution for managing and sharing your family's most important documents. Available for you and up to five family members at no cost.
MinuteClinic: Inside CVS Pharmacy and Target stores, you can use MinuteClinic for a variety of health services. Haven Life Plus members receive 15% off any single service.
Residents of Florida, New York, North Dakota, South Dakota, and Washington may not qualify for all of the above features.
Your Haven Life Insurance policy also comes with an accelerated death benefit that will let you access a portion of your policy early if you become terminally ill.
M$M tip: If you're in the market for health insurance, check out these articles about health care sharing ministries — a more affordable alternative to health insurance:
Haven Life Insurance FAQs
Can you add a spouse or partner to your policy?
No, Haven Life Insurance only offers individual policies. You can't add anyone to your policy, but they can fill out their own application and get a quote.
How is Haven Life Insurance able to make a decision on coverage so quickly?
Haven Life Insurance uses InstantTerm, which is an algorithmic underwriting process to analyze your data within minutes. It's for individuals under the age of 59 and applying for $1 million of coverage or less.
InstantTerm uses the information you provide to Haven Life Insurance during the application process (including the authorization to collect your data) to collect data from an underwriting information exchange, pharmacy benefit managers, consumer reporting agencies, and publicly available sources.
The InstantTerm algorithm analyzes all of that information so Haven can let you know if you're qualified or if they need more information.
Can I still talk to a real person if I have issues during the application process?
Yes! You can connect with a representative at Haven Life Insurance via chat or by phone (855-744-2836).
Are there qualifications for a Haven Life Insurance policy?
Here are the qualification criteria:
S. resident
18-64 years old
Not active military or in the process of enlisting
You cannot intend to use your policy for business purposes
You cannot use this policy to replace another one
If you have significant health concerns, you may not qualify for a policy through Haven Life Insurance.
What if I need to take a medical exam to receive my real rate?
Either a trained paramedic will come to your home or office to exam you. Or, you can go to an ExamOne/Quest Labs location. Your exam will review your family's medical history; measure blood pressure, weight, and height; and collect blood and urine samples.
The whole exam takes about 20 minutes and is paid for by Haven Life Insurance. If Haven grants you temporary coverage, you have 90 days to complete the exam. Without temporary coverage, you have 30 days.
What can the death benefit from Haven Life Insurance be used for?
If you pass away during the term of your policy, your death benefit can be used to financially protect your loved ones, and it can be used for:
Funeral and burial expenses
Outstanding debts like student loans, mortgage, personal loans, etc.
Day-to-day living expenses
Future college costs for your children
Cover unpaid medical bills or taxes
Income replacement while your family recovers from your loss
Do you really need life insurance?
Needing life insurance is a personal thing. For years, I went without life insurance because I didn't need it. I didn't have debt (student loans were paid off), and my wife and I were both making a decent income.
Now, we've built a house and are thinking about having kids in the near future, so life insurance makes more sense for us. My blogging income makes up the majority of our income right now… I swear Coral's YouTube channel is going to start out earning this site sometime soon… so I want to make sure she's protected financially if something happens to me.
As far as deciding if you need life insurance, think about what your family would do in the event of an untimely death. Would you leave behind a massive amount of debt? Are you the primary breadwinner?
The main goal of life insurance is to provide your family with financial protection.
Term life vs. whole life insurance
The biggest alternative to term life insurance policies are whole life policies, which are far more complex, can be 6-10x more expensive, and typically offer a cash-value accumulation feature (which in my opinion isn't very attractive compared to mainstream investments).
Whole life insurance is really only best for situations like:
You have a child or dependent that will need life-long care
You are a very wealthy individual that wants to offset or cover estate taxes
You want to spend all of your savings in retirement and still leave a substantial inheritance for your dependents
The value proposition for term life is simple — you pay a monthly premium, and if you pass away during the coverage period, a beneficiary of your choosing is awarded the death benefit. If you outlive your coverage (10-30 years), your policy expires or you have the option to extend the coverage length or renew your policy for a higher premium.
Haven Life Insurance offers guaranteed renewability on its policies, meaning the insurer cannot deny you during the renewal period. You will be charged a higher premium for renewing (and remember, your at least 10-30 years older at this point).
Read more at: Term vs. Whole Life Insurance, What's Best for Millennials?
Pros and cons of Haven Life insurance
Haven Life Insurance review — my final word
If you're at a point in your life that life insurance makes sense for you… I agree that it's not for everyone… Haven Life Insurance is a very simple solution for a good price. It's an online-only application process, no sales calls, and in some cases, no medical exam.
In just a few minutes, you can get a quote from Haven Life Insurance and possibly start your policy today.