Hey everyone! Today I have an awesome read for you by Dave from MarriedWithMoney.com. This post really made me think of the moment that got me fired up about personal finance a few years ago, and ultimately led to me starting this site and writing about money full-time. I think you'll really like this one. Enjoy! ~M$M
As many of us go through our young adult lives, we live it up as our debt keeps pace and then some. We take out student loans, buy cars that we can't afford, or pile up credit card debt. We spend frivolously and save sparingly. These money decisions would make our future selves roll our eyes, or worse.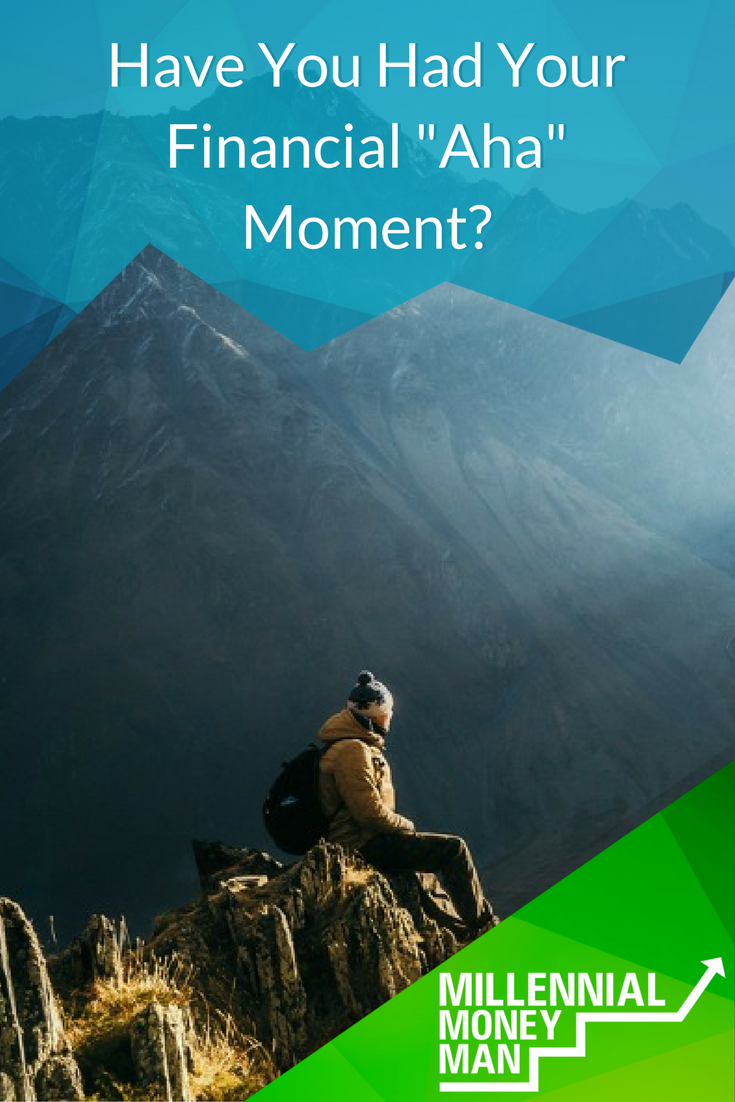 For many, this will go on for quite some time, until it's no longer sustainable. Our bills start piling up, and we realize that we can no longer live this way. In a moment of desperation, when it seems hope is lost, we crack.
We have finally reached our Financial "Aha" Moment. I prefer to call these your "Oh S***! Moments". 🙂
Psychology, Not Math
People aren't born knowing how to manage money. It's a learned skill and one that far too many of us learn at too old an age. Most people can tell you things like "if you spend more than you earn, you'll go into debt."
Managing your money isn't a math problem; it's a psychology problem. Until we figure out how to manage our own psychology, it's impossible to manage our own money.
The good news is that for many, reaching their financial "aha" moment is the point at which their life pivots for the better. When you've hit your rock bottom, there's only one way to go: up. This is the moment in which you say: "Forget being 'normal'. Normal is broke. Normal sucks."
It's the moment in which you decide that managing your psychology and your money will lead to a better life than letting them manage you. This is the moment in which you take control.
My First "Aha" Moment
I've had two Financial Aha Moments in my life. My first was shortly after I had purchased my first car after college. Up until that point, I'd driven used cars that my parents had gotten for me or my brother.
They weren't bad cars, and I am grateful that my parents were generous enough to let us use them. The 1990 baby blue Lincoln Town Car with the blue leather interior seats really made the ladies swoon. The 12 miles per gallon wasn't doing anybody any favors, but it was a good car.
Then came the Malibu. She was a great car that I loved even more than the Town Car since it was the first one my brother never drove.
However, when my Malibu started costing $1,000 every couple of months due to a recurring issue that couldn't be properly fixed, I knew it was time for a change.
Enter: Sonata Loan
I spent a few weeks researching cars and finally settled on my ol' trusty Hyundai Sonata. It was used but was still just one year old with less than 10,000 miles on it. I had $1,000 to put as a down payment and financed the rest.
Since I was in mounds of credit card debt at the time as well (which I blame on a trip I didn't even take…ugh more on that in a future post), I did not get a good interest rate. I was naive and stupid but needed a car.
So, I walked away with a 13.5%, 6-year car loan for about $22k. Yup…stupid.
As the first monthly car payments of my life came in, it hit me. That was my 'oh s***' moment. I wasn't paying extraordinarily much for my income – less than $500 a month – but seeing how much I was paying in interest was incredibly disheartening.
Knowing I was also paying interest to the credit card companies added to the sting as well. I was bleeding money despite having a good job. I was unable to save as much as I wanted for retirement, and I was lazy with tracking my spending to boot.
Time for Change…
I decided that I needed a change. My first step was to make a plan to pay down my $10k of credit card debt within 6 months. The next was to destroy my $20k+ car loan within 24. I stopped going out to eat as much, stopped drinking as much, and got control of my spending.
I threw everything I could at my credit cards which had been slowly chipping away at my budget.
Paying off the first card felt GOOD. Paying off the last one felt better. I kept the good feelings and snowballed what I was throwing at the cards to pay off my car loan. I chipped away at that steadily, and still saved up some money in an emergency fund.
Then, in April of 2012, just 17 months after buying my car, I was home for Easter and to celebrate my birthday. I looked at my bank account: about $9,000, give or take.
The balance on my car loan? $7,000 nearly to the dollar.
I pulled the trigger right then and there in my parent's living room. I was sick of living my life in debt and just wanted it gone. Sure, I depleted most of my emergency fund I'd saved up, but I knocked that debt out of my life forever.
I had taken control of my money and my psychology and vowed to never get into consumer debt again.
To this day I still have not.
My Second "Aha" Moment
The next few years for me had played out in a way I could never have anticipated. I got a new job working with offices in Los Angeles and San Diego. I was traveling for 50% of my time, and I managed to save up a considerable amount of money with having half my food expenses covered, along with moving to a less expensive apartment with two other roommates.
Eventually, in May of 2013, I got fed up with the snow in Minnesota (seriously, it snowed nearly a foot). I moved to California, met a girl, and in April of last year got engaged.
Earlier in February, I had gotten a new job which, as luck would have it, moved both of us back to Minnesota.
The job was at a start-up, working with awesome people. We were building cool stuff, had a lot of fun, and did some challenging and enjoyable work. I loved it.
Too Good to be True?
Life was good; my job was excellent…and then, suddenly in February, my job was gone. If you've never worked at a startup, you should know: it's not exactly the most stable thing in the world. This wouldn't have been a big deal – really. We had money saved up.
But, we were also set to get married in June (which, for the record, was the best wedding in the world according to our guests). And we had just signed a contract to build a house and needed to have money for the down payment.
I'm the primary breadwinner in our household, and without me earning anything, our entire future was up in the air. Would we have to go into debt to pay for part of the wedding (to allocate some of that money to cover basic living expenses now, or the down payment)?
Even scarier for me: what would the bank say about it? Would we be able to secure financing?
A Sobering Walk
My wife always drove me to work, so I walked home at 8:30 that morning after getting laid off. It was about 25 degrees outside, and I had a mile and a half walk to think about all sorts of things that were at risk.
In that moment I knew I had two decisions.
I could either go home and wallow in self-defeat, or I could accept what happened and figure out how to save our wedding, our house, and our general sense of security. I chose the latter.
It took me 5 weeks to find work again, but it wasn't all bad. I broke into a new industry, got an effective 20% hourly pay increase, and don't have to be on call 24/7. We've bolstered our emergency fund, threw the most amazing wedding, and have our down payment taken care of.
The bank actually likes that I'm no longer at a start-up. Getting laid off and taking control of our financial situation for real – as in, actually budgeting and actually following that budget – prompted me to start my blog, in part to share my thoughts and keep me accountable.
As bad as it was, getting laid off was an eye-opening Financial "Aha" Moment that turned out pretty dang good, all things considered.
Your Mileage May Vary
Everyone's Financial "Aha" Moment is different. Some people are overwhelmed by student loans and are annoyed at having to pay so much on them every month. Sometimes people reach their moment without any sort of real drastic circumstances.
Maybe it's the result of reading a good book or blog post, and just finally something clicked. Perhaps you haven't had one yet or had one and you didn't realize it until you looked back at your life.
Whether you needed a catalyst to take control of your psychology or not, being in charge of your money – instead of your money being in charge of you – is an important step toward the freedom to live the life you want.