Are you looking for Google Sheets budget templates?
Look no further! I've scoured the web, downloaded them all… it felt like all of them, and tried them out so I could find the best Google sheets budget templates available on the web.
Personally, I love using spreadsheets. It gives me complete control over how I organize my finances. Custom spending categories, formulas, and color-coding everything — some people geek out over this stuff way more than I do… no shame, let your freak flag fly.
But here's the thing, making your own spreadsheet from scratch takes time, and that's why you'll love these free Google Sheets budget templates.
You get a nice foundation so you can customize your budget to fit your specific financial situation. Plus, this list has templates for singles, couples, families, college students, people who love zero-based budgeting, and more!
Google Sheets is also a really great alternative to Excel. It's virtually the same software and completely capable of running any of the formulas you need for your budget. You don't need a monthly subscription — it's 100% free budgeting spreadsheet bliss.
Here are 10 of the best free Google Sheets budget templates plus how to use them
1. M$M simple budget template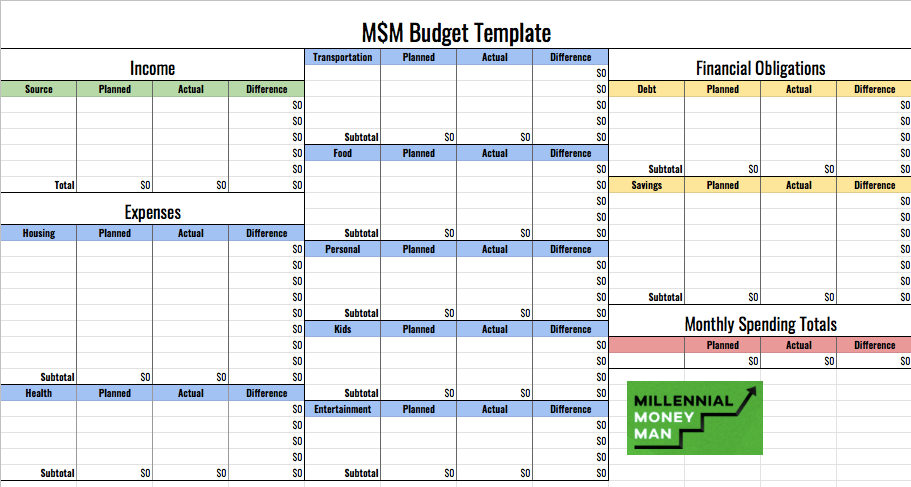 Starting this round-up of the best Google Sheets budget templates with my own. It's a simple budget template with categories to list your income (plenty of room for side hustles), expenses, and financial obligations.
To use this template, you'll go to "File" and "Make a copy." From there, you can save it to your own Google Drive and start customizing away.
And if you're wondering, "How do I make a budget spreadsheet of my own!?" you can get a step-by-step tutorial at How to Make a Budget in Google Sheets (Step-By-Step Guide for 2020!). You can see exactly how my M$M budget template was made. There are detailed photo instructions for formatting your own custom budget, creating formulas, and more.
But if Excel is more your style, learn how to make an Excel budget template at How to Make a Budget in Excel: How-to-Guide and Free Templates!).
Click on this link to get your very own free Millennial Money Man Google Sheets budget template.
2. The Measure of a Plan budget tracking tool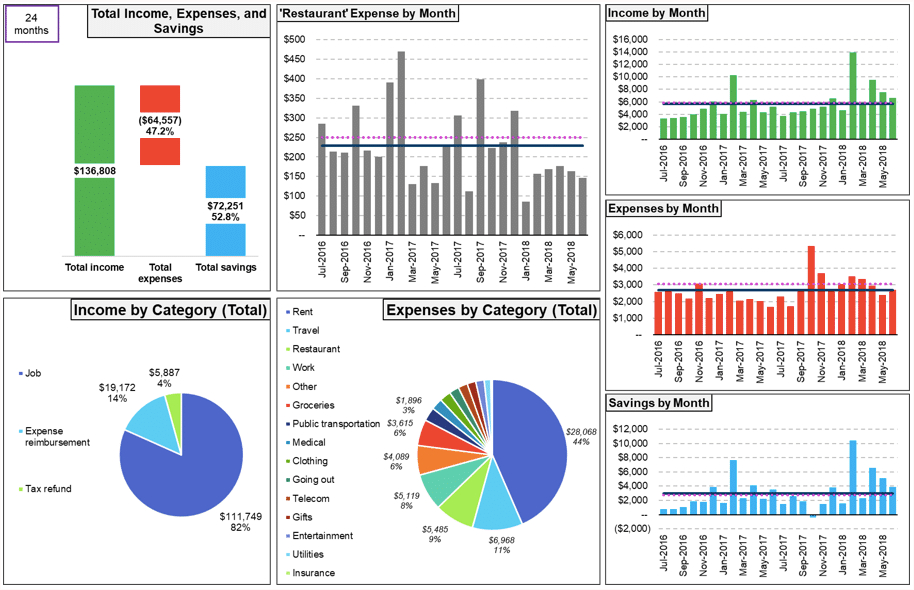 This free Google Sheets budget template is several pages long and comes with extensive directions on using it. It's a lot like a tracking tool and includes a dashboard so you can see everything in one place. You can customize the labels for each category, add notes, and view different time periods.
I like the thorough instructions for customizing and using this template. You're also warned that it runs a little slow because it's a large file (true!). When you open the file in Google Sheets, there is also a troubleshooting guide if you need any extra help.
Bonus: There is an Excel version of this budget spreadsheet, so share it with your friends!
Grab your free Google Sheets budget template (plus an Excel version) at The Measure of a Plan.
3. College student budget template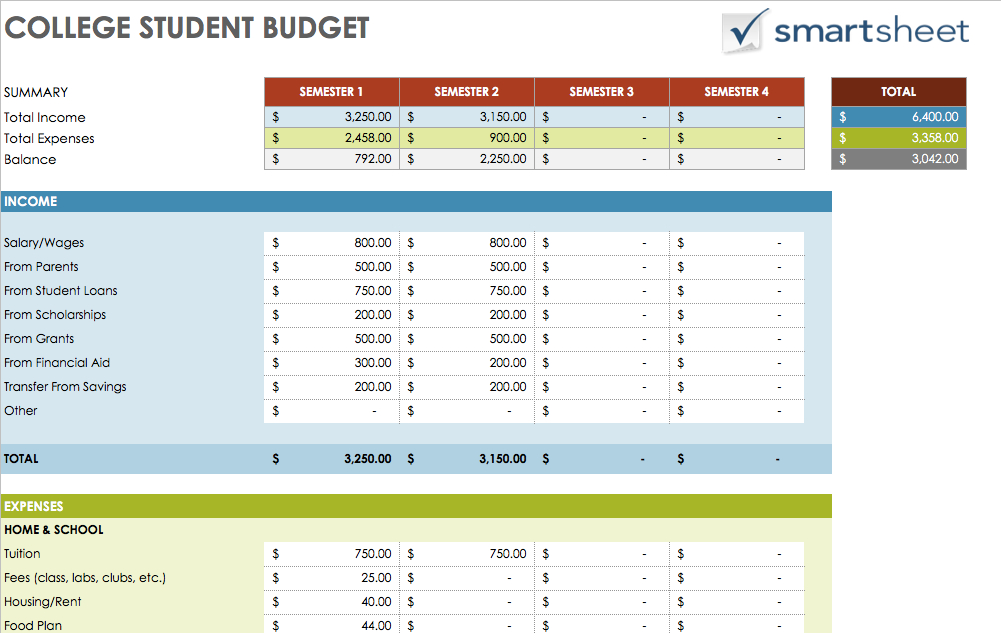 Learning how to start a budget while you're in college is honestly going to be one of the best things you can do for your current and future finances. Things get even more complicated after college, so if you can get a solid start now, you're going to be 1000x better off than many of your peers.
This is a great free budget template for college students that gives you room to list day-to-day expenses, keep track of your student loans, and more.
Get your free student budget template when you click here on Smartsheet.
Related: How Much To Save For College: A Guide For Parents
4. Smartsheet weekly budget template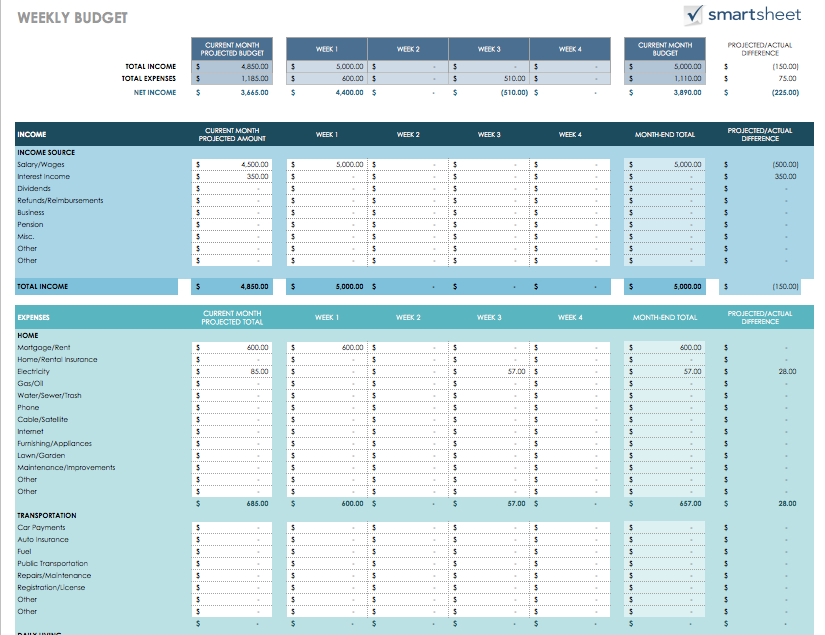 This template separates your monthly budget into four weeks, so you can see your monthly budget on a micro-level. It has nine different income categories, and your expenses are separated into the following ones:
Home
Transportation
Daily living
Entertainment
Vacation/holiday
There are directions on how to download and use the template at the top, but it's as easy as going to "File" and clicking "Make a copy."
Get this free template at Smartsheet Weekly Budget Template or a bi-weekly one here.
5. 50/30/20 budget from Simple Budget Planner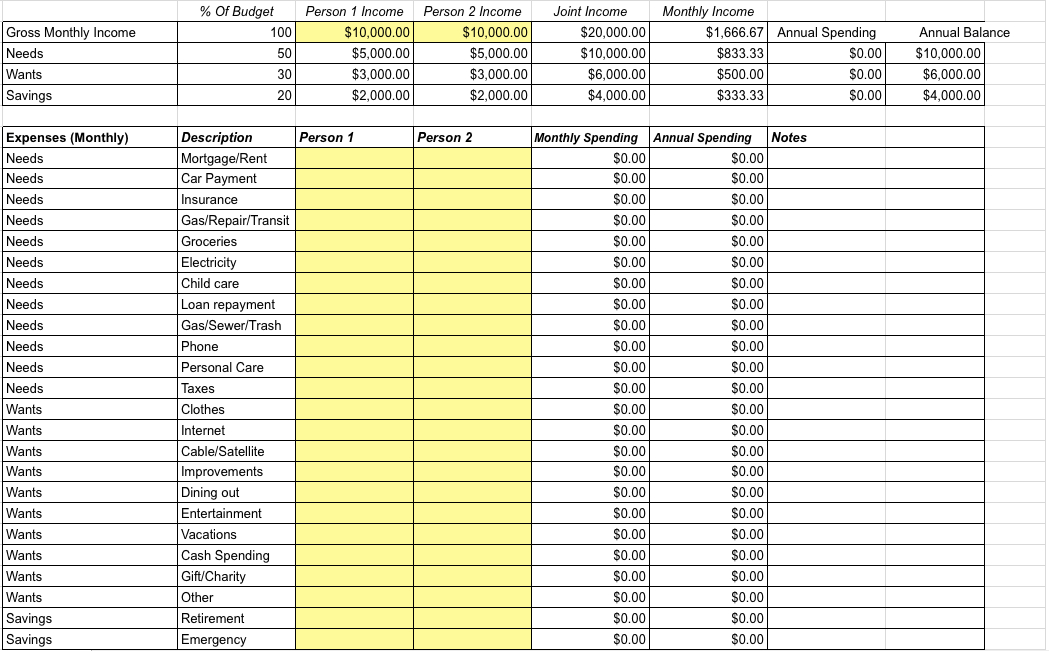 The 50/30/20 budget gives you a formula for how to allocate your income — 50% of your income to your needs, 30% to wants, and 20% to savings. This free budget template uses that principle to organize and categorize your budget.
There are two versions of this template: one for individuals and one for couples.
To use the template, there is a "Use Template" button in the top right corner that puts the spreadsheet into your drive. From there, you start inputting your information and Sheets populates the rest of the data.
Grab this free Google Sheets budget template at Simple Budget Planner.
6. Reddit budget form and tracker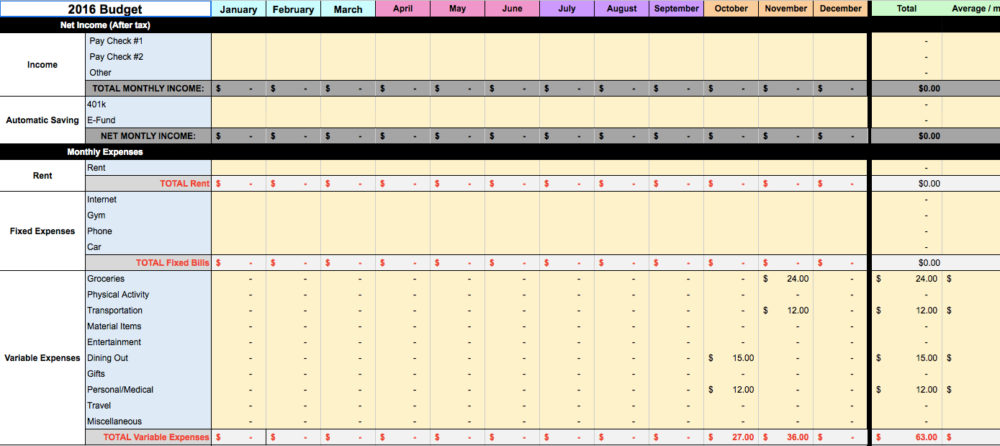 This is a really cool budget spreadsheet created by Reddit user u/cooledtube. The idea is that you enter info on the item, cost, and category for each purchase you make into a Google Form. The Google Form is connected to a Google Sheets file and populates a budget and spending tracker for you.
You can find the spreadsheet and instructions on how to use it and the form at Reddit.
7. Smartsheet family budget template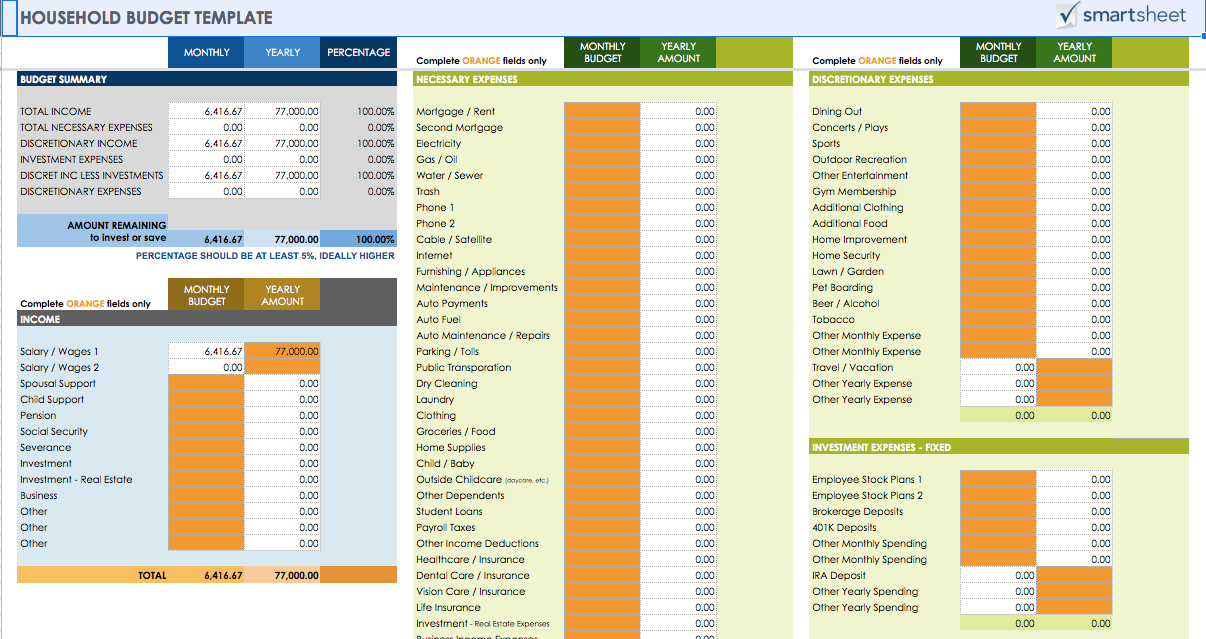 Having kids often means you have slightly more complicated finances, or at least more categories for spending, and this Google Sheets budget template takes all of that into consideration. Just like the other Smartsheet templates in this round-up, it comes with guidance on how to use the template once you click on the link.
This budget template has some categories that others overlook, like child and spousal support, school taxes, music and sports expense categories, etc. It's a very comprehensive budget for families.
Grab a free copy of this budget template at Smartsheet Household Budget Template.
8. Free wedding budget template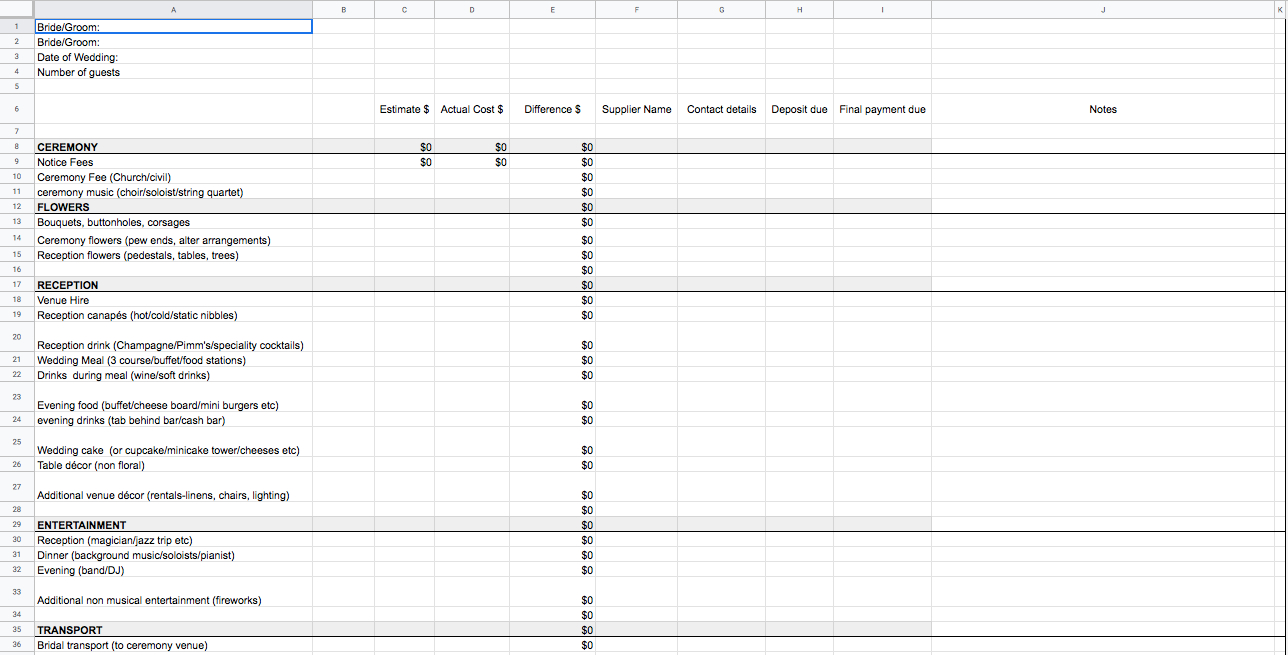 Getting married? The free wedding budget template from Bridal Musings comes with some of the most important preset and customizable fields for costs associated with your ceremony, reception, and everything in between. The idea is to help you estimate the costs and not go over budget.
Get your free wedding budget template at Bridal Musing Wedding Budget Template and learn how to use it here.
9. Keepify free Google spreadsheet template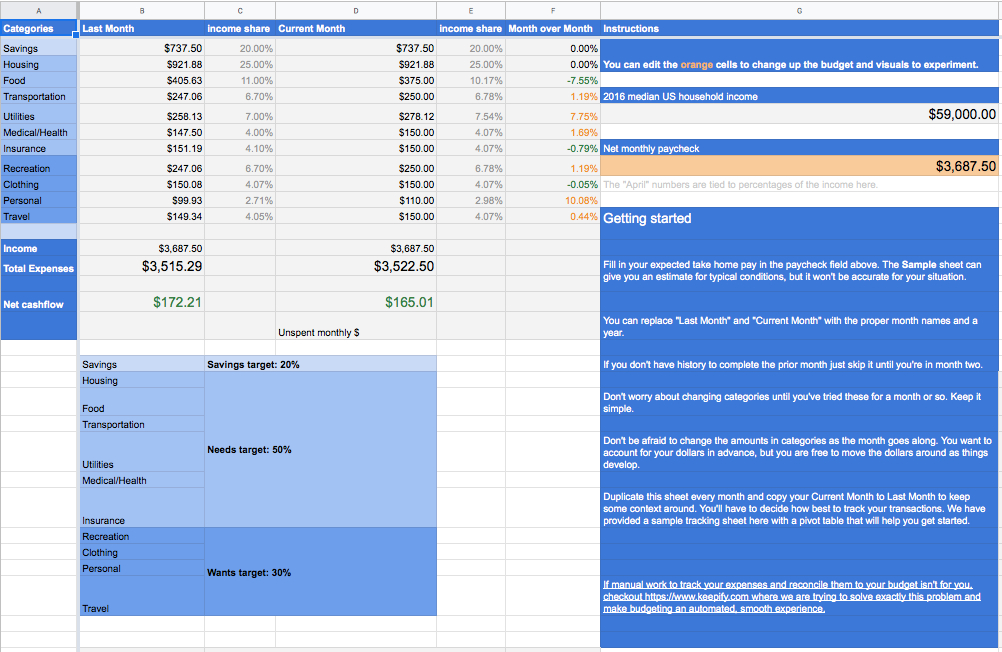 This page gives you a wide variety of spreadsheet templates and explains how different budgets can help you save more and work towards your financial goals. There are links to both Google Sheets and Excel templates for each. To use, you'll need to make a copy and open it in your own Google Drive.
You can find templates for:
Envelope budgeting
Student budgets
Weddings
Find these Google Sheets budget templates at Keepify.
10. Vertex42 debt reduction calculator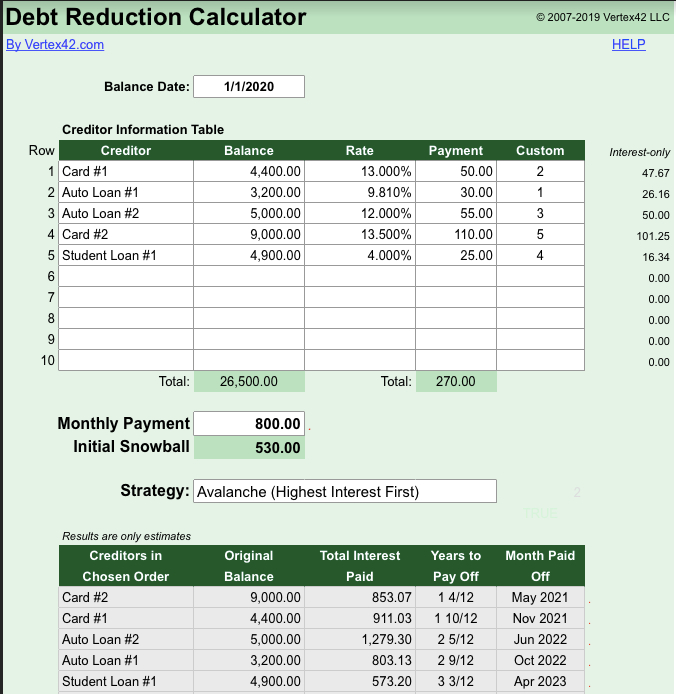 While it's not a budget spreadsheet, I wanted to include this one because it uses Google Sheets to create a calculator that helps you get out of debt. Both Sheets and Excel are essentially calculators that can process simple and complex mathematical equations.
To use this Sheets template to help you pay off your debt, you will input information about all of your debts (it's free to use for up to 10 loans/debts), including payments and rates. You can choose whether you use the debt snowball or avalanche, and how much extra you can put towards each debt.
After you put that information in, it creates a payment schedule for you. Really, this is a nice companion to use with any of these other spreadsheets.
Grab the calculator from Vertex42, and you can find directions on how to use it at Mom and Dad Money.
The final word on using Google Sheets budget templates
One of the things I really love about these Google spreadsheets is that you don't have to learn the formulas you need to run calculations. They're honestly not hard to learn, but if you're unfamiliar with Sheets, there is a slight learning curve. These templates alleviate any of that stress.
When you use something like Google Sheets, you can:
See what you're spending each month
Create a plan to get out of debt
Find where to cut your spending
See when you need to increase your income
But just like any other budgeting apps or money tracking tools, you have to make a commitment to using it. Even the apps that have you link your accounts and sync transactions really only work when you use them.
And if you're not the DIY budgeting type, read these reviews of some of the most popular budgeting tools on the market: