That's right, good stuff that you can use for free from Smartasset. You're welcome.
In all seriousness, I'm really excited about a company that I just started working with. This one is a win-win for EVERYONE involved. A few weeks ago I was talking with my wife about things that I want to do with MillennialMoneyMan.com, and how I needed to get some functional calculators that my readers can use to figure out how much their student loans would cost, mortgages, how much they need for retirement, etc.
As you know, life is weird sometimes. I literally received a call the next morning from Smartasset about their calculators and how they could help my readers. If I cared less about money I would have bought a lottery ticket immediately.
Let's jump right in on this one, because honestly it's pretty self-explanatory. Smartasset makes interactive online calculators that will start showing up in my blog posts. They give me a line of code to insert into the article, and a widget scans the article to find out what I'm rambling about. If I write "student loans" a few times, a handy student loan calculator will automatically show up for your use at the end of the article.
Sounds cool enough, right?
I'll show you how ridiculously easy their calculators are to use shortly, but first I want to explain why it's important to use them. When I was paying off my student loans ($40,000 if I haven't said it before), I didn't really use any type of calculator. I basically made a lot of mistakes because I had ZERO guidance. For example: I thought that if I made a bunch of small payments, I would pay less in interest.
I swear, if my dumb self can become debt free, you can too.
Lets just use rough numbers that are similar to the student loans that I paid off. If I had a $40,000 in student  loan debt and made the minimum payment, it would take 15 years to pay off and would ultimately spawn into a $63,913 gut punch: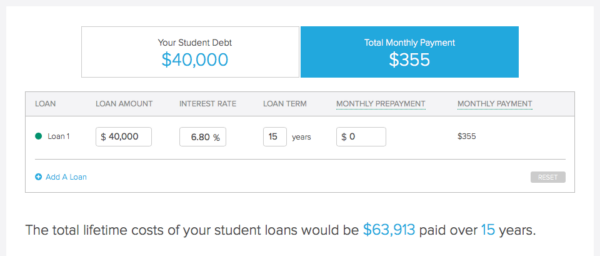 Smartasset includes a handy payoff graph so you can see future progress too: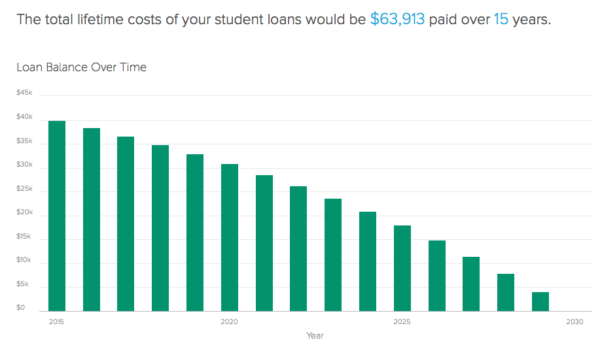 By using this calculator, I can see how much money I would save if I added an extra $300 to my monthly student loan payment. Be prepared for awesomeness: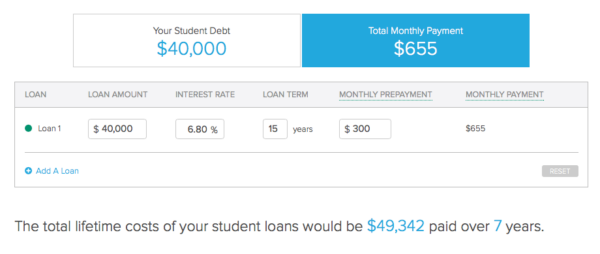 Again – the graph: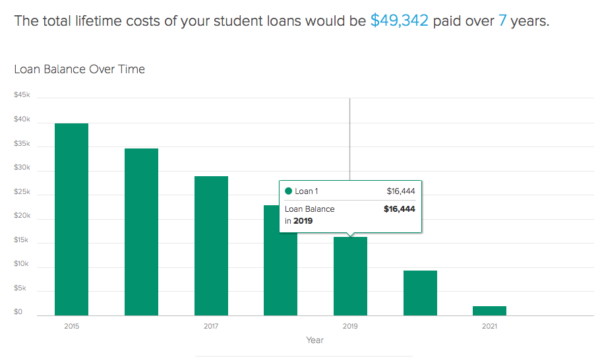 You can scroll over individual bars to see the remaining balance by year!
If you did what Smartasset's calculator shows here, you would cut down the total amount paid towards your student loans by $14,521 (yes I had to use a calculator to figure that out too), and would be debt free 8 YEARS SOONER.
Like I said, you will start seeing these calculators in more of my posts, and I'll create a tab on my website so you can access these tools whenever you want (bookmark this page so you can find them quickly RIGHT NOW. Seriously. Bookmark it. Go. I'm literally watching to make sure you do it). Here is a list of other Smartasset calculators that you can use for FREE:
– How much house you can afford
– Closing Costs
– Renting vs. Buying
– Mortgage
– Down Payment
– Refinance
– Retirement
– 401k
– Social Security (if it exists when we get old!)
– Life Insurance
– Credit Card Payoff
– Income Tax
– Property Tax
– Inflation
– Investment
– Asset Allocation
– Personal Loan Payoff
Whew. Now play with this calculator and have a great day:
[sa_captivate]
Live differently, your bank accounts will thank me later.
Please subscribe in the top right corner, and don't forget to like my Facebook page and follow @GenYMoneyman on Twitter, Instagram, or Bloglovin!
Just so you know, I am compensated by Smartasset through our affiliate agreement. I trust this company, and am happy to associate my name with theirs. They provide easy to use tools that can help streamline your finances and plan for your future. Also, they help keep the lights on at Millennial Money Man, which I appreciate.