Did you know that there are a bunch of completely legit ways to get free internet? From apps to devices, you can get free internet at home or while you're out and about.
An internet connection is a modern day necessity for most people. If you're like me, it's where you work. And with Facebook, Google, Instagram, Wikipedia, YouTube, etc. – the internet is also how you stay connected with friends and family and find information.
More and more Americans are now using the internet – from just 50% in 2000 to 89% in 2018. Younger people have always been more inclined towards internet usage, but as the population has aged and we've become more reliant on the internet, those older generations have seen the steepest rise in usage, from 14% to 66%.
That's a lot of people who are now paying for internet connection. Let's talk about that cost for a second…
When was the last time you looked at your bill? The national average is currently around $50 per month, and if you're like many families in the U.S., your internet bill is bundled together in an even larger bill that includes cell service and cable.
If you are willing to get creative with how you use the internet (like work from a coffee shop and use something like NetZero at home), you can knock a nice little chunk out of your budget.
I've got a bunch of ideas for you, so read on to find free internet with options like:
Alternative places to work
Free wifi in your city
NetZero
FreedomPop
Wifimap
Access through your ISP
Tethering your phone
I even have tips to keep you safe!
Here are 10 legit ways to get internet for free
Alternative places to work
For anyone who works online – from freelancers, digital marketers, bloggers, etc. – you need an internet connection to run your business. If you work from home and your internet goes out, what do you do? You can't just stop working. And what if you just need a change of scenery so you stop fixating on that sink of dishes?
Work from a coffee shop
I'll admit that "free" is questionable here if you're also paying for a latte and a scone, but if working from a coffee shop increases your productivity, then I call it a win. And it's probably not unreasonable to say that every coffee shop now offers free wifi for its customers.
Wifi at coffee shops is usually password protected, which is good and I'll tell you more about that later, but it's also a great place to meet with clients. If you do use the coffee shop to meet with clients, then you can write your latte and scone off on your taxes – now your coffee shop internet is slightly more free.
If you want to be a risk taker, I've heard of people who sit in coffee shop parking lots to use the free wifi after they've grabbed the password on a previous visit. Can we still call that legit?
Go to the library
Okay, this is a 100% legit way to get internet for free. Most times you don't even need a library card to go in and log into the network. It's also a quiet working environment, so bonus there.
Coworking spaces
Coworking spaces are places that give freelancers and small business owners a chance to work independently or even collaboratively in a shared office space. You might have access to board rooms, privates offices, quiet rooms, and truly shared spaces. Some coworking spaces, especially fancy ones with lots of amenities like food, do come at a monthly cost. However, there are lots of free ones too.
The benefits of coworking spaces, beyond free internet, can be pretty big for some freelancers. You can network with others, literally just get out of your house and see other people, remove some of the distractions from home, etc.
See if your city or a neighboring one has free wifi
There are currently 85 cities in the U.S. that offer free internet through a municipal or citywide wifi network. The numbers are growing, and even Houston, TX (where I live) offers free wifi downtown and in several neighborhoods around the city.
If your city isn't on that list, see if a neighboring one does.
For more money saving tips, read 36 Ways to Save Money Fast.
Free internet service providers, NetZero and FreedomPop
There are a couple of free ISPs (internet service providers) that really do offer legit free internet. They're pretty limited in the amount of time you can spend online or data you can download each month, but still a great option if you're on a tight budget.
NetZero
NetZero is one of the oldest internet service providers out there, providing high-quality internet service since the '90s… a long time in terms of the internet. They offer a number of affordable options for getting online, but let's talk free internet.
Keeping with the theme of the '90s, NetZero offers a free dial-up service that gives you 10 hours of internet usage per month, and you will need a landline to use NetZero's free internet service. That's not a lot of time, but it's free and good for light browsing.
FreedomPop
FreedomPop is a newer service and has a more modern feel and approach with a fully wireless connection. To get free internet, you will have to purchase a hotspot device (they often run free promos) and pay an activation fee.
Once you get your device, you start with a free trial of their Premier plan (2GB data per month), BUT make sure to read the fine print… once that month trial ends, you will be billed for the 2GB service. To start their actually free internet plan, request a downgrade to the free plan, which offers 200MB per month.
More options for getting free internet and wifi
Check out WifiMap
WifiMap is a free app that you download to your phone and can use to find free wifi connections wherever you are. What I like about WifiMap is that it's basically crowdsourcing information, and users upload the name of the network and the password you need to connect. You can even see when that information was shared.
You can see available wifi connections laid out on a map or in a list form, how far away they are, and when the information was uploaded.
WifiMap is awesome if you're traveling and need to get internet for free because they already have listed over 100,000,000 hotspots in over 200+ countries.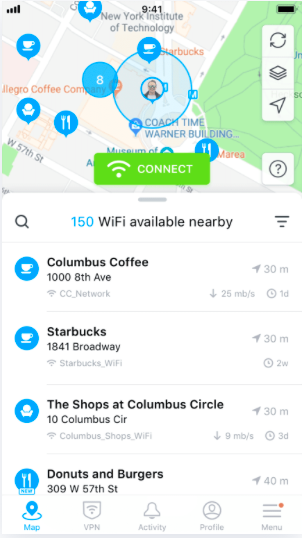 See if your ISP offers a free plan
If your internet service provider offers a free plan, it means you're paying for service but able to access their network when you aren't at home.
If your ISP offers free wifi access away from home, you'll connect to the wifi network using your account number or connected email address and password. The network names are things like "attwifi" or "xfinitywifi." Not all ISPs offer this, but here are a few that do:
AT&T
Verizon
Xfinity
Cox Communications
Time Warner Cable
Optimum
Tether your phone
If you have a smartphone, then you're already paying for service on that, and you can share your data with another device (like your laptop) by turning your phone into a wireless internet router. It can be done with both iPhones and Androids, and the steps vary depending on which kind you have.
It's much easier if you know how to tether your phone before you really need to get free internet on another device, so check out these tutorials for tethering iPhones and Androids.
The only downsides are that this can really drain your phone's battery and you'll want to be aware of how much data you're sucking up from your plan, unless it's unlimited.
Ask your neighbors
If you have a pretty good relationship with one of your neighbors, you ask to share their wifi password in exchange for something else, like mowing the lawn, your Netflix password, etc. This could be an awkward conversation, but it could potentially save both of you some money.
Read more at 7 Easy Ways to Save Money On a Tight Budget.
Tips for staying safe when connecting to free wifi
Learning how to get free internet is great, but staying safe is even more important. Your phone or laptop contains a TON of sensitive material, and that's stuff you want to protect. The good news is that there are several easy ways to protect your devices while connecting for free.
Keep your software up-to-date
With out-of-date software and operating systems, your computer is more vulnerable to malware or viruses. So… stay on top of updates and/or download antivirus software.
Turn wifi and Bluetooth off when you're not using it
If you're using a public network, turn off Bluetooth and wifi when you're finished using it, otherwise, you leave yourself open to hackers looking to access your information.
Disable file sharing
Airdrop for Apple users or other file-sharing applications make it really easy to transfer files from device to device, but that can be a bad thing when you're using shared, free internet.
Why? Well… this for one.
Use a VPN
A VPN, or virtual private network allows you to get on the internet without any trace of you actually being there. You can pay for a VPN, but there are several free VPNs that work really well and keep your costs down.
Be wary of networks that don't require a password
Needing a password to access even free networks makes it just that much harder for hackers to get into the network. Fortunately, with things like WifiMap, you can always find a free, password protected connection.
Forget the network when you're finished using it
This is a really easy tip that can keep your devices protected. After you're finished using the free network, just click the "forget" button. It's just one more way to tighten up security, and manually connecting each time is safer anyway.
Final word on how to get internet for free
If you're reading this article, then you know how often you use the internet. I'd like to think that you searched something like "ways to find free internet" and wound up here, and I hope I've helped you. But, Googling information is exactly why having internet connection so important.
We rely on the internet right now, more than ever. Internet providers know this, and while they've gotten pretty good at increasing the speed, costs haven't really dropped. I know my internet bill keeps going up.
Whatever you do, just stay safe while you save money.