A few weeks ago, some readers and I were having an awesome conversation in the private M$M Facebook group (which you should definitely join if you haven't already) about the ever-rising stock market.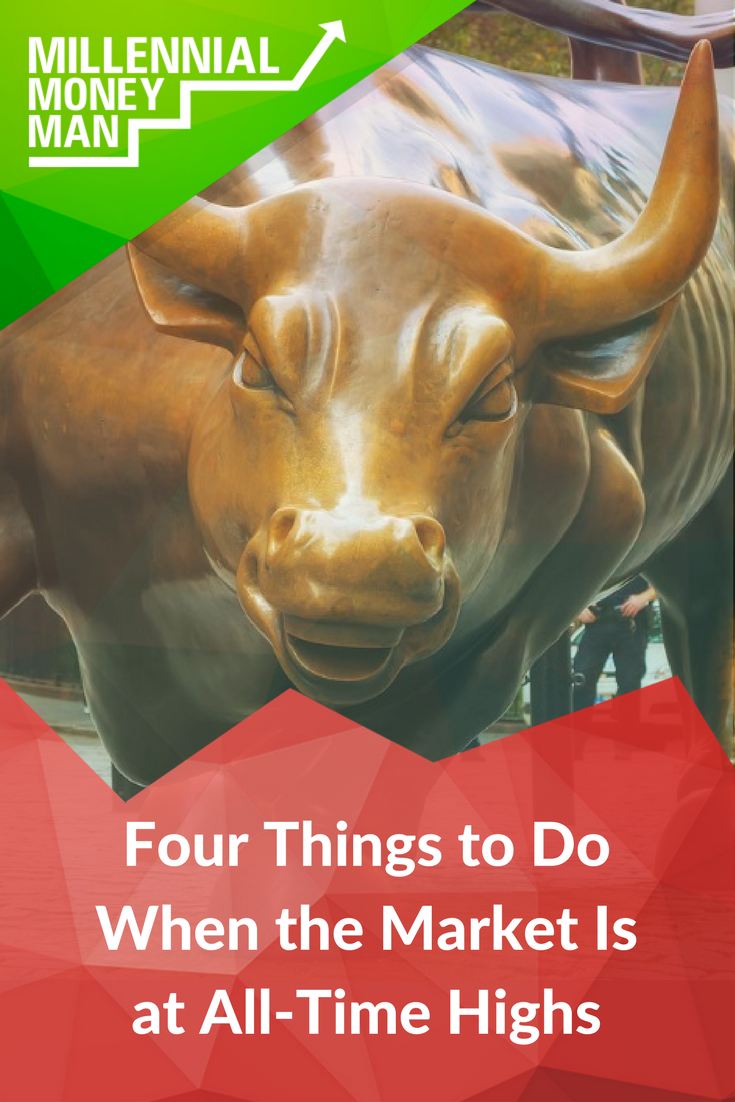 The basic premise was this: "I'm seeing way more investing confidence right now than I can remember from Millennials in the past few years. What do you think will happen when this generation is eventually faced with a recession for the first time in their adult lives?"
Answers from the M$M readers ranged anywhere from: "I think they'll panic and sell", to: "I hope it comes so I can buy." All in all, the discussion was great, but somewhere in the middle of all of the answers this epic picture was shared: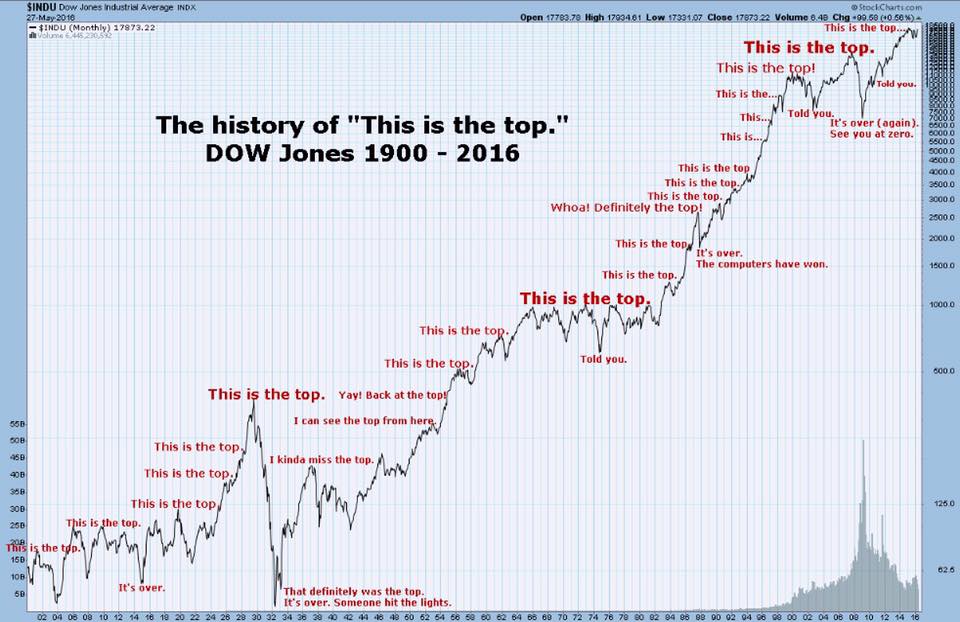 It's always nice to have a little dose of reality from time to time, isn't it? 🙂
For all of the talk about the market having a correction soon, a full-blown recession, or stocks being too expensive…it's still going to go up over the long-term no matter what happens in the short-term (at the time of editing, there was a 200 point drop in the Dow due to…fear).
That's a really important concept for young people to remember, especially when things do eventually get really bumpy.
Here are a few things to keep in mind as we're continually inundated with all-time market highs:
1. Don't ditch your long-term strategy for short-term bets
If the above chart doesn't scare you off from attempting to time the market, it should at least pound home the fact that time in the market is king.
For people like me that are still in their 20's (almost 30 but I don't want to talk about it), time is still our most important asset. We have so much growth potential in our portfolios right now that we'll do fine even if we just stick to index funds for the next 30 years.
Read also: Investing 101 for Millennials
Also, this: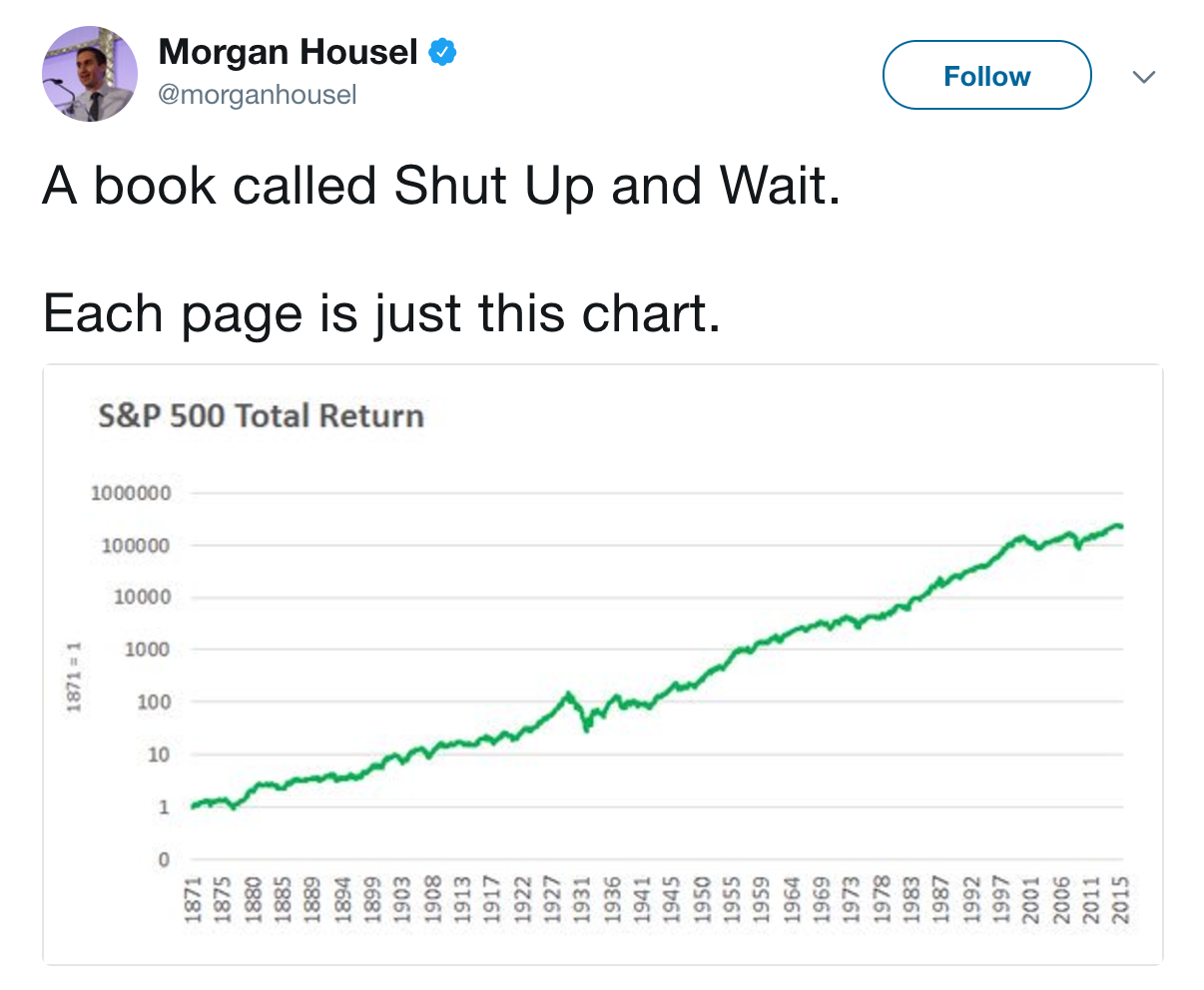 2. Beware the emotionally charged people
To be completely honest, I'm not sure if I'm experiencing this right now because the site's reach is growing, or because of the growing excitement that typically comes when everyone's brokerage accounts have more green percentages than red in them.
Lately, I've seen a huge increase in the "finance everything" crowd. These are the people that argue that buying things with cash is always a bad idea because you can use the money to invest instead and make more money.
"Why pay cash for a used vehicle when you can finance at a low-interest rate and invest instead."
Before I go on, I want to point out that I firmly believe there are two segments of people with the non-cash ideology:
Group #1: Analytical minds that actively invest and fully understand the inherent risks and benefits of using leverage to achieve higher marginal returns. I know several personal finance bloggers that are fans of this strategy, and honestly, I find their ideas to be really interesting and actually make sense in some scenarios.
Group #2: People who just want things they can't actually afford and use the rising market and the advice from group #1 as an excuse to over-leverage themselves. Remember all those people who bought homes they couldn't afford back in 2007-2008? Womp womp.
I interact with about 100-200 people daily through various comment sections and emails, and my gut tells me that group #2 is growing or at least becoming way more vocal.
More and more of the arguments I'm seeing for borrowing money instead of using cash are based on what the market did last year, rather than what the market does over long stretches of time.
When you start making short-term decisions based on short-term results, that comes across to me that the people who react on emotion are starting to run towards the market. Unfortunately, those are also the people that panic and sell at the bottom.
3. Stick to who you are
And that brings me to this: if you find yourself considering wildly different financial strategies than you would have 3 to 6 months ago or randomly feel way more debt-tolerant now, you need to evaluate if you're getting caught up in the hype and euphoria that comes with all-time stock market highs.
Yes, the math of financing instead of paying cash does make sense over the long term (assuming you never lose your income or overextend yourself).
However, if you weren't comfortable doing it before, now probably shouldn't be the time to change your approach.
If you don't like owing other people money for extended periods of time…there's nothing wrong with that, and you aren't an idiot for being debt-averse. As much as some people want to pretend that we're all robots and numbers are the only thing that matters…it's just not the case for everyone.
Some people hate having debt and feel that it lowers their quality of life. That's a thing.
4. Realize that the experts don't really know what will happen
Experts can claim a recession is looming this month or that the market is still fairly priced and to buy away, but the reality is that they don't actually know when anything will happen.
A recession will come when enough investors lose confidence, but nobody can pinpoint when or how.
The only thing everyone can agree on is that eventually, it will. Not exactly earth-shattering stuff (that link I just shared is a great read BTW).
Here's a great quote I saw the other day on Twitter shared by my friend J. Money over at BudgetsAreSexy.com: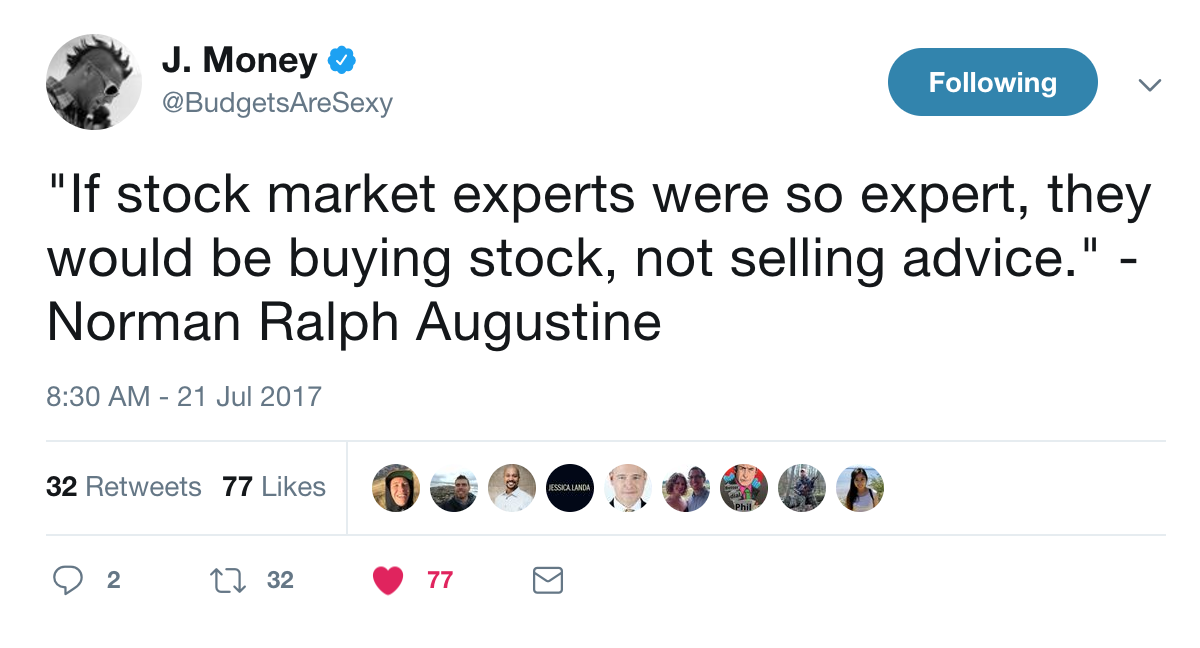 So to sum up: Don't get caught up in the hype, work your long-term plan, and don't try to time the market. Just enjoy the ride. 🙂