Man, I hate credit.
I think it's dumb that you need to maintain it, build it, and worry about it when you're just starting out in your financial life. I wish I could sit up here on my comfy website throne and tell everyone that credit is useless and that you don't actually need it. But let's be honest…"Just pay cash for everything" isn't possible for everyone.
While I think you shouldn't buy cars with loans or put random stuff on a credit card, there has to be a some sense of realism with the financial state of our generation. I know my readers are mostly my age, and we aren't making it rain quite yet. I also know this:
Ain't nobody buying a house with cash right now. Just stop it with all of that.
Let me tell you a quick M$M true life story about credit. About two years after I graduated from college, I had a ridiculous credit score. Unfortunately there was a mixup with one of my student loan accounts, and a few months went by where I didn't make a payment towards it by complete accident.
I don't go into the specifics because it's depressing, but it was one of those things that just randomly happens…didn't see it coming at all.
I will happily admit that I should have checked my credit report during those 3 months, because it would have saved me a ton of headaches and hours on the phone with credit agencies. Basically, my credit score dropped from around an 800 to a freaking 564 in three months.
I was totally devastated (not sure why honestly) and embarrassed. However, in less than a year I was able to bring it back up to over 700! I've learned a lot about credit during the process, so it's time to share my recovery tricks.
I'm going to tell you how to fix your credit score without using a credit repair agency:
1) Identify the problem as fast as possible.
I'll start with the basics. Making big payments towards my loans was the main reason that I was able to get my credit score up right after school. Student loans count as a type of installment debt similar to a car loan, and I had plenty of it! I made regular payments (on the accounts I knew about…*sigh*) and watched my score go way up every time I checked it.
Here is what happens when you elect to not pay loans or have a crazy mix-up like I did – your credit gets screwed VERY quickly. The account holder sends monthly reports to the credit bureaus that you aren't making payments. This is what it looks like: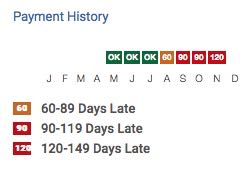 Green is good. Orange is kinda iffy. Red is savage. Moving on.
Bottom line – check your credit monthly on sites like Credit Karma or Credit Sesame and see what is going on with your credit score. You'll need to act fast when something is messed up. Just trust me.
Related: Credit Sesame Review
2) Dispute like crazy if you need to.
This is the part of the process that is horrific. If you have a little credit boo-boo on your report that is drop-kicking your credit score, don't expect to make a few phone calls for a quick fix. The 3 major credit bureaus go WAY out of their way to make sure you don't ever talk to a human. They want you to file a claim online and then wait until they magically find the time to get back with you.
What they REALLY want you to do is sign up for their paid credit monitoring system. I'm sure that's the easiest way to talk to humans that care, but we are all too cheap to fall for that one right?
I kinda bypassed the system, and I'm not sure if it's ethical or not…but I don't care and you shouldn't either. I called their "customer service" (term is used semi-loosely) and didn't try to make an inquiry against my credit report. I actually called the fraud department instead and got a real human. Surprisingly, she helped me out and put an inquiry on the account in question for me even when she realized I wasn't a fraud case – no online report involved.
**Disclaimer – I have no idea if this will work for you, but it's worth a shot at the very least. If you have a better way to go about challenging things on your credit report, hook everyone up in the comment section below please!**
BTW – you need to make this phone call to all three of the credit report agencies (Experian, Equifax, and TransUnion). Be prepared for the call to drop after 45 minutes on hold at least twice.
The reason it's important to fix any mistakes or at least file a dispute on bad credit report items is pretty simple: Missed payments stay on your credit report for 7 years. You should try to get things taken off of your credit report by the bureaus even if the the boo-boo on your report is legit. You might get lucky…who knows.
3) Send a letter to the account holder and ask for sweet mercy.
This should probably be number 1 on the list because it was the most effective thing for my situation. The account holder said that a letter could be sent in to them describing the problem, and that they would consider telling the credit bureaus to remove the negative items from my credit report if the reasoning for the mistake was understandable and the account was paid in full immediately.
Needless to say – the check was in the mail as fast as possible. Try to get this agreement in writing just in case! At the end of the day, these people want your money more than they want to screw you over for the next 7 years.
The result? Within a few months, the account in question was listed as clear, and the account holder left a note on my report explaining that the issue was resolved. Unfortunately, this only raised my credit score to the low 600's. I still had work to do.
4) Get a higher credit limit, but don't use it!
This is when I used a couple of cool credit boosting tricks to get my score back up. I called American Express and requested a credit limit increase. My credit score obviously wasn't great, but my payment history and account history were so they hooked me up. One of the big factors for how your credit score is calculated is your "credit utilization rate."
For example – if I had $1,000 of credit and I spend $100 on my credit card, my utilization rate is at 10%. I wanted my credit utilization rate to be less than 10%, because that is considered "excellent." Check it: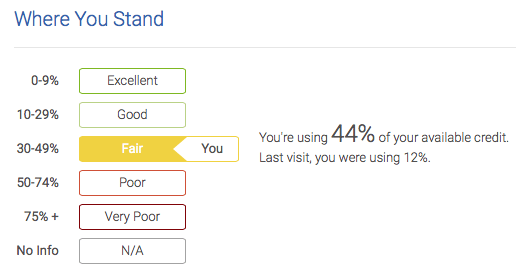 Pretty simple right? Use less of your available credit and you'll get a bump in the score. Here are the average utilization rates and scores from Credit Karma for reference: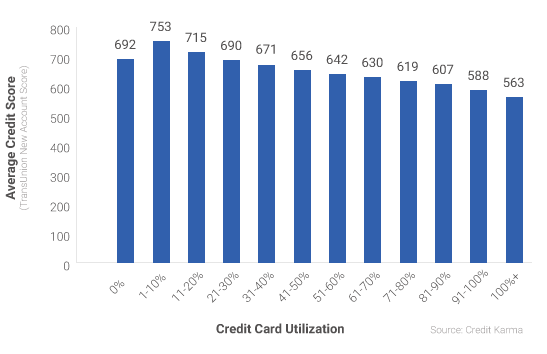 Notice that no credit makes your score lower. Lame.
Because I raised my credit limit, I was able to spend the same amount every month while showing a much better credit utilization rate. This is a REALLY easy way to boost your credit score!
5) Don't pay your balance off…yet.
Ever since I've had a credit card, I never let a balance roll over and I never spent more than what I could pay for with cash. I literally just use the credit card to get travel points.
Like I mentioned earlier, paying your credit card bill BEFORE the statement amount is reported to the credit bureaus actually hurts your score. I didn't have any debt after I paid off my student loans, so revolving credit (credit cards) was my only tool to boost my score. If I had paid it down immediately like I used to do, my credit report would have shown a 0% credit utilization rate and my score would drop.
I started letting my credit card balance stay on the card until the statement hit every month, and THEN I would pay it off immediately after. However, I needed the utilization rate to show as less than 10%…so I made mini "maintenance" payments during the month to manage my utilization rate until the billing cycle closed for that month.
Here is an example using easy numbers:
You have a $1,000 credit limit on your credit card.
On August 29th, you have spent $200 on your credit card and show a 20% utilization rate.
Make a $110 payment. Now you have $90 on the credit card and show a 9% utilization rate. Don't put anything else on the card.
The billing cycle ends on August 31st. As soon as you get the bill, immediately pay the remaining $90. Now you have no balance on the card and won't incur interest charges, but the credit reporting bureaus show that you used $90 of credit and had an excellent 9% credit utilization.
Enjoy your credit score bump.
It was a little more difficult than the above example for me because American Express seems to move their billing cycle dates around. All you need to do is make sure that you monitor your credit card statements closely and figure out how you can use this trick to your advantage. Using your credit card company's "e-statement" or notifications is a great way to make this simple.
6) Avoid hard pulls on your credit report.
This one probably has the most mystery surrounding it. A hard pull on your report is something like a loan application or credit card application. This will lower your credit score slightly every time you do it. A soft pull is when you check your credit or sign up for a brokerage account. This won't mess with your credit score at all.
This mistake is pretty easy to avoid. Don't apply for credit cards or any financial product that requires a hard pull on your credit report while you are trying to build your credit.
Conclusion:
Again, credit sucks. In a perfect world, everyone could pay cash for everything and call it good. There are a ton of tricks out there to raise your score and maintain it, and it doesn't really hurt to be good at them. If I missed anything or you have any helpful tips for people that are going through a credit crisis, share it below. Believe me – seeing your credit score drop like mine did is a terrible feeling.