One of the most interesting things I've noticed since I started running M$M has been the large number of readers who actually use Excel spreadsheets to create their budgets. I'm not sure why this surprised me as much as it did, but I guess I just thought that most millennials were using the same kind of online budgeting tools that I'm using.
If I had to guess why so many are using Excel budgets, it's probably for the convenience of not having to log in to a website and/or not really wanting to share bank account information that's required for many of the online services.
If you've set up your own spreadsheet or use any number of the Excel budget templates you can find online, that's awesome. I am a big believer in the fact that you have to take your finances into your own hands. That might be spreadsheets, online personal finance software, or maybe you go super old school with pencil and paper– just do what works for you.
The reasons tracking your finances and organizing a budget is so important is that you have to know what's going on with your money to make any changes with it. I'm talking about changes that will help you pay off debt, make a plan for retirement (especially early retirement), or just save up for something like buying a house.
Knowing what's going on with your money can be terrifying, but it puts you in charge– and that's liberating.
If you haven't figured out a system that works for you, then I have several suggestions for tracking your finances and budget.
I also have put together a list of some of the top budgeting apps (free and paid) that you can find online. Each of these online budgeting tools is a little different, but my favorite is Personal Capital.
Here are the best free Excel budget templates and spreadsheets from M$M readers:
[convertkit form=5023311]
After hearing my readers talk about their Excel budget templates in my M$M Facebook group I asked them to share their excel budget templates with the rest of us. I heard from a bunch of you and I'm sharing some of my favorites. If you have an Excel budget template you love and don't mind sharing, feel free to contact me here and send it over.
If you're an avid reader of the site and were wondering– one of the Excel budget templates I have included is the exact one that my two teacher friends used to pay off over $51,000 of debt in 18 months! You can read more about their story here (it's really, really good).
Each of these Excel budget templates has different levels of detail and organization, so hopefull,y there's a little something for everyone.
Want more than these Excel budget templates? Here are the best online budgeting tools:
For those of you who aren't into the Excel thing, there are some other really good budgeting apps and sites that I've come across lately, and I've spent some time in the past few months covering them on M$M.
EveryDollar App (free and paid): There's a lot of crossover between Dave Ramsey fans and my site, so this is definitely a popular tool that I'm seeing right now. EveryDollar has a really simple dashboard and uses both the zero-based budget and the baby steps that Dave has become famous for. The base version is free, but you can also get a 15 day free trial of EveryDollar plus.
With the free version of EveryDollar, you will have to manually enter your transactions, which will feel a lot like using an Excel budget template, although it looks pretty different.
The upgraded version allows you to connect your bank accounts to the program in a similar fashion to Mint and Personal Capital. EveryDollar Plus is $129 per year. An EveryDollar Plus subscription now includes access to Dave Ramsey's Financial Peace University.
Mint (free): This is probably the most popular budgeting software on the market right now, and it is completely free to use. My wife and I have used it on a somewhat regular basis for years.
Mint will connect all of your bank account information and keep it up to date in the dashboard area. Essentially, you can track all of your spending in one place. Just be aware that Mint keeps its service free by placing ads in the program, so many of the "helpful hints" you'll see are sponsored. These are going to be things like credit card offers, but one warning, an ad doesn't mean you should opt in.
Despite the ads, my favorite part of Mint is how easy it is to use and how much it tells you. It also gives you a complete overview of your finances, from your spending, to setting up a budget, to seeing what's happening with your investments. I know a lot of people who just use it for the free credit check, which is really nice too.
Read more at: Personal Capital vs. Mint
Personal Capital (free): My wife and I use this along with Mint, but I probably check this one on a daily basis. Personal Capital is a really strong investment and retirement tracking platform, and it's got one of the cleanest and most organized dashboards I've seen. There are no ads with PC like there are in Mint, and that's because they make their money by providing wealth planning services for high net worth individuals. You can connect most bank account information to Personal Capital, and manually enter all of your assets and liabilities if needed on the left column of the app.
I seriously love the retirement planning and net worth tools on Personal Capital, and it's also my hands down favorite on looks and functionality.
You can read my full Personal Capital review here.
You Need a Budget or YNAB (paid): Similar to EveryDollar, you will get a free trial period with YNAB for 34 days. After the trial period, you are looking at either $5 per month or $50 for the entire year to use the program. YNAB is a little different than most of the other budgeting software programs out there. Rather than focusing on your spending now and in the past, it actually tries to train you to focus on your future budgeting needs. The program wants you to live on the previous month's income instead of using what is rolling in right now.
It was my readers who got me excited about YNAB… some of you guys are like a YNAB cult and I love that excitement about budgeting. The one thing about using YNAB is that to get used to its zero-based budgeting premise, it might take you a few months to get used to. I did go ahead and pay for a subscription because I wanted to spend more time with it after doing my first review.
Read my YNAB vs. Mint comparison here.
Here's what my wife and I use: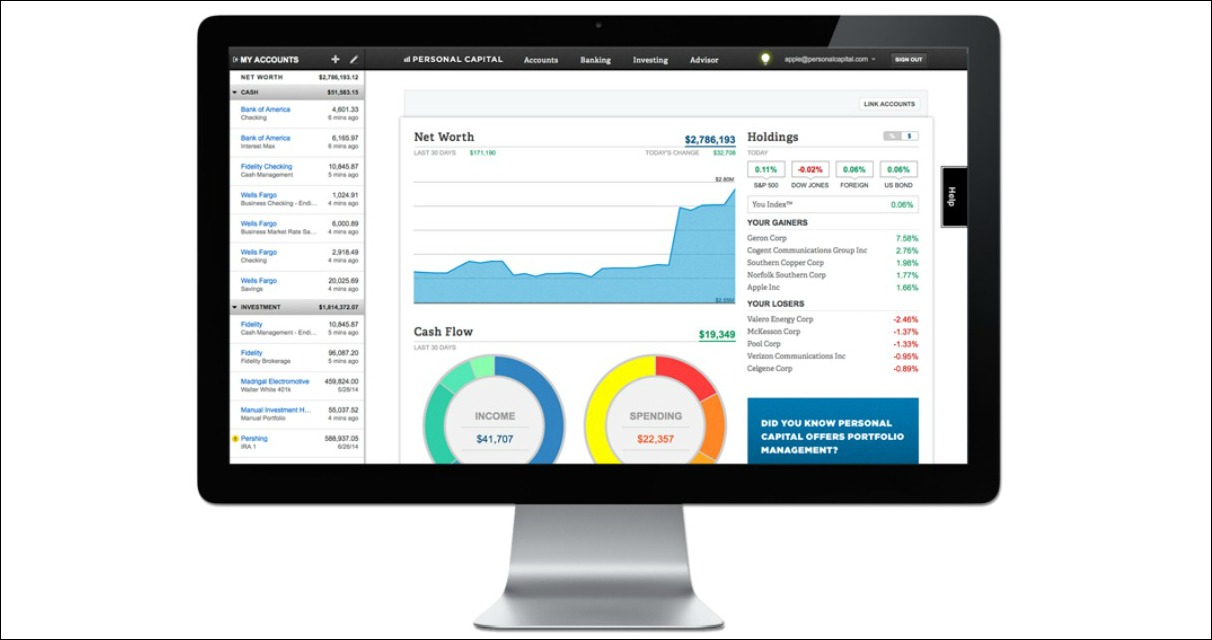 Like I said, my wife and I have used both Personal Capital and Mint over the past few years, but we mostly use Personal Capital. Like, I might check on Mint every few weeks, but I check PC daily. It's like Mint, but on steroids.
It's completely free to use, and it allows me to see all of our money in one place and track our spending and investments. Be sure to check out my full review of Personal Capital and give it a go.
If you're a fan of Mint, you'll probably like Personal Capital too. After playing around with both of those programs, I feel like they supplement each other really well.
PC is stronger on tracking investments and net worth, while Mint is better for the nitty-gritty spending details. Again, this is a free sign-up.
It really doesn't matter what you pick… just use something!
With all of the available free and low-cost budgeting tools out there, there is no longer an excuse to ignore your budgets or your day-to-day spending. Millennials have been stereotyped as lazy fools for a long time, but those days are quickly coming to an end, especially when you consider how many of you are creating your own Excel budget templates.
You are going to make more money in the coming years and will need to have a good handle on everything. It's just going to happen as we all have to really start adulting full-time.
If you didn't sign up to get the free Excel budget templates and spreadsheets above, you really should. I was pretty shocked at some of the creativity and thought that went into the reader budgets that were sent to me!
To all the readers who submitted their Excel budget templates– thank you so much! I know these will help other people get their money right.