Hey guys – I'm sure you know this already, but I started an educational post series with Beazer Homes this year to help with people our age purchasing new homes! If you were wondering about what it takes for a home to be considered "energy efficient", this post is for you! ~ M$M
I don't know if you've noticed, but it's freaking hot outside. Coral and I live in Houston, Texas, where the weather has obviously been just stupid this year (very much OVER it flooding all the time…*sigh*). As I'm sitting here writing, it just poured rain and then turned back into hell in less than 5 minutes.
On top of that – our AC basically stopped working last week, so we had a balmy 79-80 degree temperature inside our home to look forward to until we got it fixed yesterday.
We're just…over it right now.
I've mentioned it on the blog before, but Coral and I have casually started the home shopping process. We aren't quite sure when we will make the jump, but we are hoping for some time in the next year if things keep going well with M$M!
One of the homebuilders in the area, Beazer Homes, invited us to come out and check out their homes about five months ago. They are a pretty trendy builder out here in H-town for people our age, and a lot of our friends have bought homes with them in the last year or two in their Mar Bella location.
A big selling point for them is making their homes a lot more energy efficient than their competitors. It's a pretty smart place to invest time and resources, because millennials are becoming pretty well known for their gravitation towards "green" or environmentally friendly products.
It's also saves home-buyers money every month on utilities, so there's that too.
So let's dig in on what actually makes a home "energy efficient":
Energy Star® Certificate
You're probably like me where you've seen the Energy Star® logo before but had no idea what it means or didn't really care too much.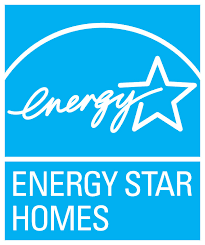 Basically, homebuilders have to meet a specific set of requirements for their homes that include:
A complete thermal enclosure system with comprehensive air sealing, quality installed 
insulation*, and high performance windows to deliver improved comfort and utility bills
A high efficiency HVAC system designed and installed for optimal performance <—YES PLEASE
A comprehensive water management system to protect roofs, walls and foundations from
moisture damage
Energy efficient lighting and appliances to keep utility bills low while providing high-quality performance and longevity
Beazer is big on this stuff – all of their homes in every community they build meet the above requirements to be considered an Energy Star® Home.
There is also HERS to consider…
No, not HERS like everything we own belongs to my wife (contrary to popular belief around here). It stands for Home Energy Rating System. The lower the number on the HERS index, the more energy efficient the home is. Check it:

That basically falls in line with what I figured would be the case with an "older" home in our area. Technology is just a lot different now, so newer homes are bound to have better energy efficiency than the older ones. Food for thought.
So – why does this matter?
You guys are all smart people. Basically when you are looking for a home there are a ton of things to consider. Mortgage interest rates, property taxes, home price, etc. Energy efficiency is another one of the things that we will consider before we decide where we are going to buy.
If your house uses less energy every month, you won't pay as much. Not really rocket science. 🙂
Live differently. Your bank accounts will thank me later. ~ M$M
*This is what the insulation looked like when we checked out their homes earlier in the year. Pretty crazy looking IMO: