I looked down at my flip-flops the other day and realized that they were literally falling apart. And I'm not just talking about a little wear here and a little wear there – these things are straight-up embarrassing.
As I was looking at them, a few things came to mind:
I make good money now…why the heck am I wearing stuff like this?
Wait – does making a lot of money even matter here? Like is there a rule where you make a lot of money and need nice flip-flops? No. That's dumb Bobby.
Man…am I even frugal anymore? I used to be proud of wearing stuff like this. What happened?
For the past few months, I've been going through a bit of a paradigm shift in my relationship with frugality. Back in the early days when I started this website, I used to absolutely pride myself on driving old cars and wearing clothes that didn't show my income.
One of the very first posts that I wrote on M$M was about my "sacrifice shoes". It was basically an entire article about how my students made fun of me for wearing old shoes, and I kept wearing them like it was a badge of honor. I loved it when people called me out for being cheap because it meant that I was doing things differently than everyone around me.
(Not that it matters too much, but I actually still have the shoes haha).
And truth be told here, the clothes and the car thing really haven't changed that much. I still drive the same crappy car that I've been driving for years now, and my wardrobe is still pretty questionable.
But I have noticed that as my income has risen, I've slowly loosened the grip on the ultra-frugality that I used to practice just a few years ago. It's not even something that I'm trying to do. It's just kinda happening.
Before I go on here – please don't think that I'm complaining about all of this. The last thing anyone wants to do is listen to me whine about being able to afford nicer things now. I get it, and that's not the point here. I'm incredibly lucky in many ways to have the opportunities that I have in life, and it's never lost on me.
The reason I'm even bringing this up is that I know it's something a lot of you are going to wrestle with as your income rises over the years. I mean honestly – I thought that making more money would never impact the way that I handled spending or my view of "stuff".
A lot of M$M readers are pretty frugal (some of you put me to shame in that category), and I think it's worth sharing how my relationship and approach to frugality is changing as my income increases.
First of all, what the heck does frugality even mean?
Via Dictionary.com:
Frugality – the quality of being frugal, or prudent in saving; the lack of wastefulness…
And yeah, that's a pretty broad definition. Back in my ultra-frugal days, I barely spent any of the money that I made. When I was paying off my student loans, I was throwing nearly every cent I possibly could at them.
You don't pay off $40,000 of student loan debt in 18 months (on a teaching salary no less) without having a…simple…lifestyle.
There's one thing I know for sure: I have zero freaking interest in going back to living that way.
I was renting a room from my in-laws, only had a few outfits on a rotation (which is still the case – I need more clothes), drove an even cheaper car than I do now, and the list goes on and on.
When my wife and I got an apartment a few years ago and moved out of her parents' house, I was just happy to have a rack in the closet to hang clothes from instead of having them in the garage!
It was the little things in life.
As my income has risen though, I've definitely moved further and further away from ultra-frugality.
And now after a few years of intense work and a horrific work-life balance, my income has done this: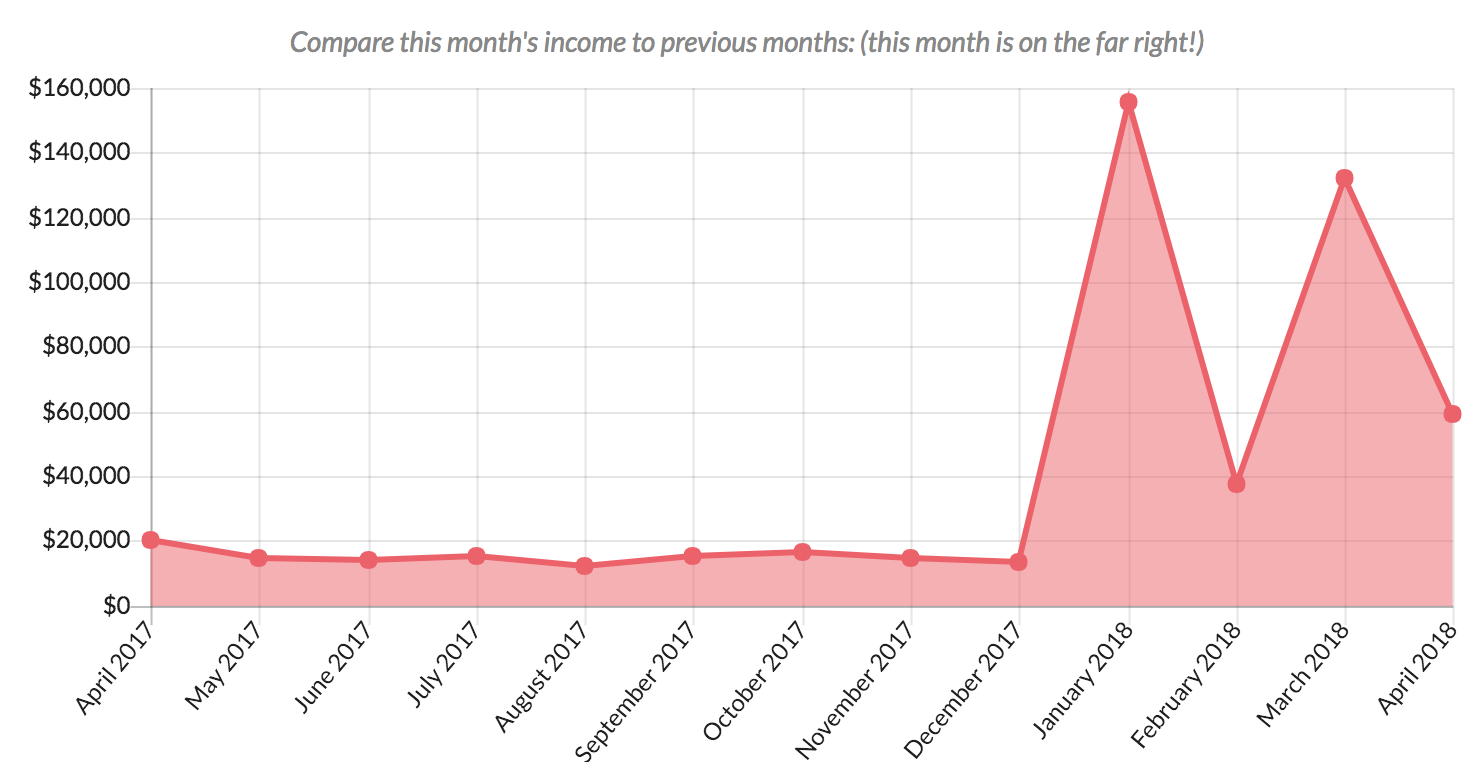 Now don't get me wrong – I was already making great money in the past year or so. But I was putting a lot of that back into my business, and the reality for me during 2017 is that I was terrified to spend money because I still thought my business could fail at any point.
For a long time, I was only paying myself a salary that was pretty close to what I made as a teacher. The rest of the money either stayed in the business account or went into advertising for this website so that I could continue to build my readership.
So in the first two years of running M$M, I was still what I'd consider being very frugal. I really didn't have a choice to not be frugal anyway, so it was super easy to do and write about on this site.
But then, January was a pretty big inflection point with my business and I started making a lot of money all at once.
What did I do?
Well…I spent a pretty decent chunk of it in the first month. My wife's car was getting older, so we bought a newer and much nicer one. That purchase was easy to justify in my mind because she had done so much to support me in the early days of this thing.
But it really wasn't just the car. I noticed that I was MUCH quicker to pay for things that I would never have thought about buying before.
By the end of February, I didn't really recognize myself anymore when it came to being frugal. The funny thing is that I wasn't going out and financing a bunch of stuff or spending more money than I had, which unfortunately is what most people do. Frugality is so ingrained in me now that it's part of the fiber of my being.
You'll never see me finance a brand new car or outpace my income with spending because it just goes against the financial laws that I've created for myself and adhered to for years now.
With that said though – I could still do much better moving forward, and I know it. It's just a matter of how much better, and I haven't quite figured out what that's going to look like.
As all of you get raises and change jobs for an increased salary, this is something you're going to have to think about as well.
So now I've been developing a new plan, which basically just revolves around investing as much money as I can (shooting for 60% of my take home after setting money aside for taxes) and being more mindful of purchases. There are a lot of cool things I want to buy right now, but I'm going to go back to what I know best and be patient.
Just like a lot of you are going to have to do over the course of your career and life, I'm redefining my version of frugality.
I don't want to be so cheap anymore that my clothes are falling apart, but I also want to build wealth and be kinda stealthy about it.

Rewarding yourself for hard work vs. being wasteful
One of the aspects of frugality that I'm actually loosening the belt on a little bit is rewarding my hard work.
For the first two years of running this business and even back in the day when I was paying off my student loans, I didn't celebrate anything. I didn't want to spend the money.
But lately I've been doing more to celebrate milestones (big and small), and you know what?
I like it. I like it a lot.
When we had our first $100,000 launch for the FB Side Hustle course, I bought a $60 bottle of wine with my business partner to celebrate.
It was stupidly hard for me to do, and I stood there in the store staring at the bottle for a solid 10 or more minutes because I legitimately felt guilty about buying something that expensive.
But eventually, I did buy it, and quickly realized that good wine is…well…really good haha.
Since then I've been a little faster to reward myself and recognize the hard work that I put in, and it's been really healthy. For all of you that are working on your debt or trying to hit investing milestones – I highly suggest that you step out of your frugal ways from time to time and reward yourself for the hard work that you're putting in.
I didn't, and I really wish that I had now that I'm able to look back on it.
It doesn't have to be expensive wine or anything like that, but for my wife and I it might be going out to eat or making what we call "adult lunchables" (which is basically fancy cheese and crackers) at home and renting a movie on Amazon.
The key is just to not get carried away. You can justify a tooooon of stuff for mini-celebrations, but then they don't really matter as much and you're just making excuses for spending a bunch of money and/or becoming an alcoholic if you always reward yourself with wine.
Here's what M$M readers are saying about THEIR version of frugality…
If I've learned anything over the years, it's that everyone seems to have their own definition of being frugal. As I'm still trying to figure out exactly what mine will look like moving forward, I know that I can draw on the definitions from the M$M crew to get some inspiration.
I recently asked the members of the private M$M FB group what they thought, and they had some killer answers: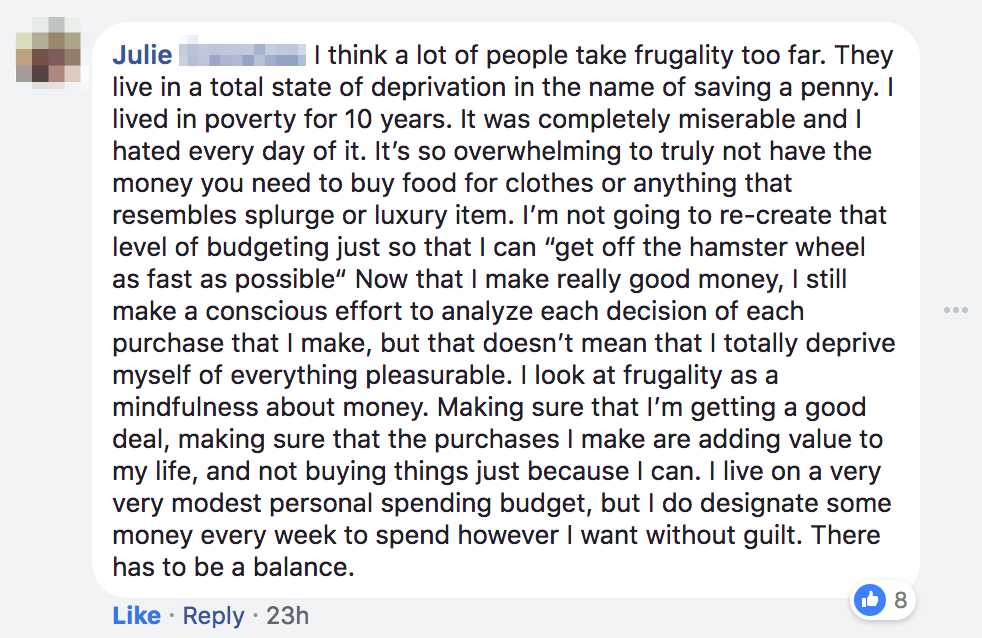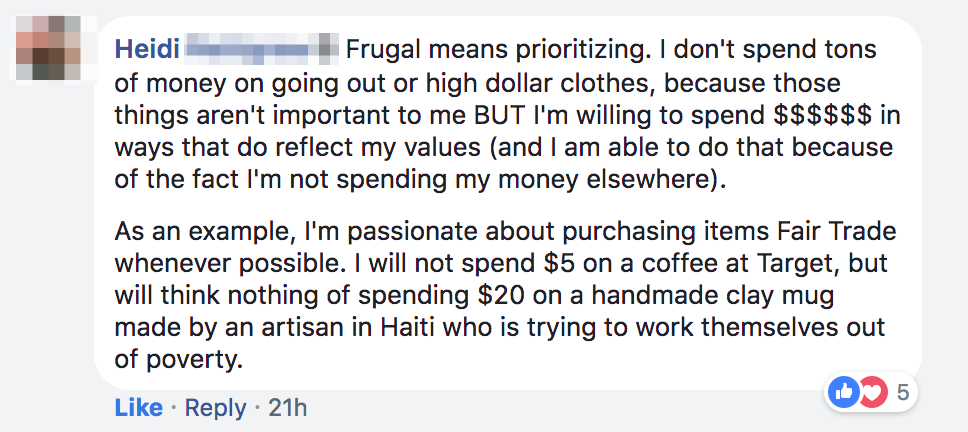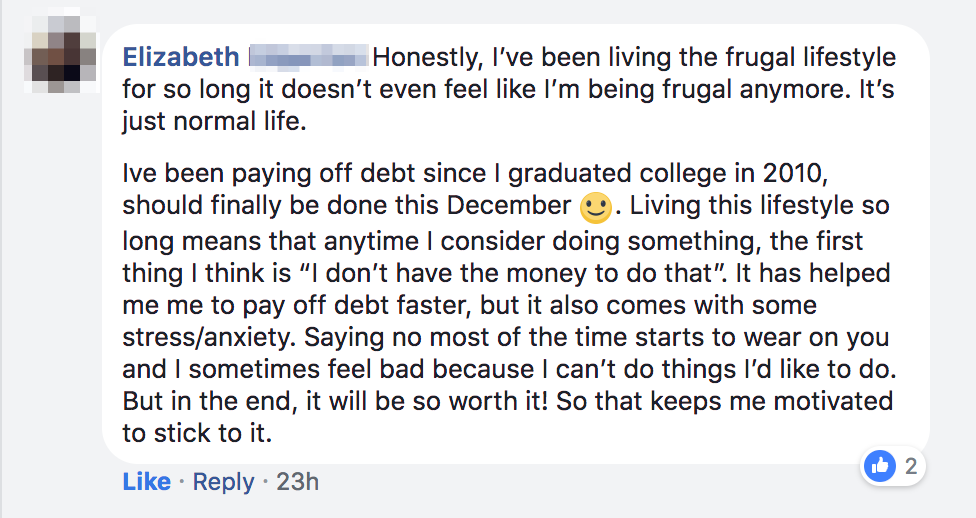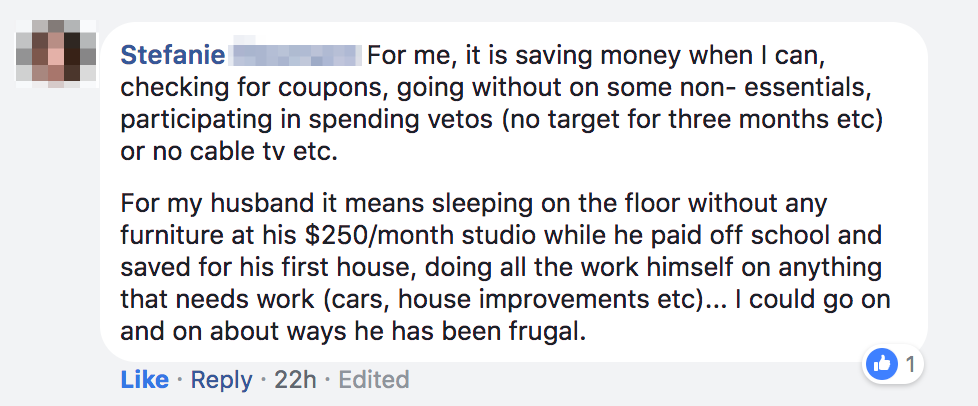 Fine, I'll wrap it up:
As you can see above, it seems like everyone has their own version of frugality – and I think it's awesome. There are so many times in the personal finance community that I see blanket advice for stuff like this, but that's just not realistic.
All of us are going to have our own path and relationship with money. All of us are going to feel differently about how much money we should or should not spend, and there's a good chance that it's going to evolve over the years for you like it is for me.