Hey everyone! Today I have a great post for you by Chris (aka Mr. AE) from ApathyEnds.com. One thing I love about personal finance is that there are so many strategies for getting ahead. This article is great for focusing on the ones that really matter so that you can hit your goals sooner. Enjoy! ~M$M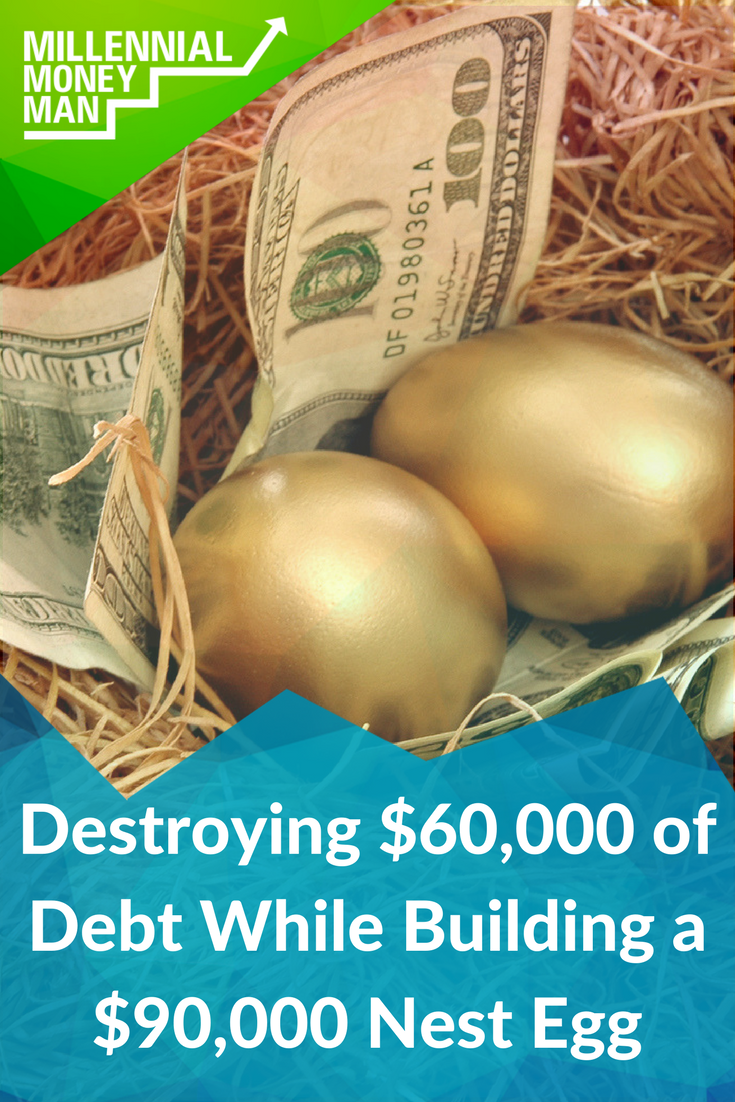 In the last 3 years, we have gone from the typical "little savings and debt-ridden" American household that dominates the headlines to a debt destroying, money saving machine – to the tune of paying down $60,000 of non-mortgage debt while simultaneously building a $90,000 nest egg.
I know everyone is curious on how we amassed our debt pile. Most of it was student loans I racked up while partying my way through college, topped off with a car loan (eeeesh, I know) we took out before this 3-year journey started.
Today, we are under a year away from student loan debt freedom and the car will follow close behind. Being debt free in 2018 has us licking our chops for a 100% focus on investing. The thought of piling more money into our nest egg gets me way more excited than tagging ourselves "debt free"…even though that still sounds pretty good.
Before I get into the nitty-gritty financial details on how we were able to accomplish this, my best piece of advice is to simply Take Action. So much time is wasted planning out the perfect approach or saying "I should be doing that"
Even if it's just one decision to increase your 401K contribution by 1% or paying an extra $20 off your debt each month – start the good decision snowball. Like Bobby says, Your bank accounts will thank me later.
Outside of actually DOING something, there are three major areas that have contributed to our progress:
1. Keep the big costs low
There are 1,000s of ways to save money, and the vast majority do work, but very few of them have a significant impact. The average household spends 50% of their money on two things: Housing and Transportation.
Housing
Lenders use a standard rule that your monthly mortgage payment should not be more than 35% of your pre-tax income. To me, that is fricken crazy, but people go right up against that threshold once taxes and insurance are factored in.
We spend less than 14% of our pre-tax income on our home (interest, principal, insurance, taxes). That's over half of what we could have spent when we first built a few years ago. That decision frees up over a thousand dollars every month.
We also spent about 5 months at my parent's house waiting for our home to be completed and saved up extra down payment cash. Small Sacrifices = Big Reward.
Transportation
Transportation is such a touchy subject, but the facts speak. The average household spends an additional 18% getting from point A to B. My assumption is multiple vehicle loans push this number up significantly (I know, I am a bit hypocritical having one myself).
There are a lot of ways to save money on transportation: bike, walk, drive beaters, carpool or my personal favorite, use public transportation to get to/from work. I LOVE the bus. We save over $3,500/year letting someone else drive us through traffic.
How are you supposed to save a significant amount of money with TWO costs eating 50%? Throw in some taxes, and there isn't enough left to eat, save and enjoy life.
With a few big decisions on housing and transportation, you can save thousands every year. Weigh that against making hundreds of decisions a year that save a buck each.
2. How We Destroyed Debt
Some of you might be wondering why we still have debt with over a $90,000 nest egg at our disposal. While I despise debt, I love market returns more. All of our debt is under 5%, if it hits that threshold we will change gears and take it down faster.
Our process to expedite Debt payoff:
First……..Swear It Off
Once we realized how much our debt was costing us (the wake-up call was a $5,000-year end statement for student loan interest) we made a yearly goal to not take on any more consumer debt. We rock a 2001 beater as a second car and haven't paid a cent in interest to the credit card companies.
Lower Interest Rates
A 1-2% interest rate reduction is significant. Unfortunately, the majority of people don't do the math and realize how much they could save. And even if they do, they don't take the time to do something about it. Knowledge without action is next to worthless.
The bulk of my student loans were at a whopping 6.8%. After refinancing the highest we have paid is 4.85% (variable rate).
With a starting balance of $45,000 after I finally refinanced and coupling those savings with the next point, we saved thousands of dollars and years worth of payments.
M$M surely has a link for you to check on Student Loan Refinance 🙂
Other notables are re-financing our home after 15 months to drop our interest rate 1.5% and scoring a .9% interest rate on our car loan.
Accelerate Payoff
Before refinancing my student loans, we were paying close to a $1,000 a month. After the refinance our payment could have dropped to about $600/month……BUT……..We were already getting by with paying the full amount, and instead of inflating our lifestyle, we kept doing it.
We also put some financial windfalls to use. The bulk of our normal income went to our Roth IRAs or 401Ks, but anything on top of that was thrown at our debt. Most commonly it was tax returns, sales of company stock (through our ESPP plan) or the random small bonus at work.
Lower Interest Rate + Extra Principal Payments + Windfalls = Debt Destroying
3. Focus on Increasing your Income
Be it through your 9-5 job, side hustles or a career change (like Millennial Money Man himself), I believe this is the most important thing you can do to hit your financial goals.
Cutting costs is important, but since we are not an ultra-frugal household increasing our income has allowed us to maintain a comfortable lifestyle while kicking up our savings rate every year.
Our Income Progression:
2014 – 16.77% Increase
2015 – 15.75% Increase
2016 – 19.25% Increase (Some overtime contributed to this jump)
2017 – 8.8% Increase Projected – based on our current salaries
How we accomplished this:
Promotions – Growing company = Opportunity. Push yourself, then push your employer to reward you
Yearly Raise – We get solid yearly raises most years (3.5 – 6%) – tied directly to performance reviews
Negotiate – You don't get what you don't ask for. Know your worth, and get what you earned.
My favorite part: You can increase your savings rate without cutting current lifestyle.
We have a lot of frugal tendencies, but cutting down to a bare bones budget was not going to fly for us. We enjoy eating at nice restaurants, taking beach vacations where the biggest decision is to sit by the pool or the beach, and I am a craft beer snob.
Our income progression has allowed us to keep doing everything we enjoyed before our journey started while accomplishing our financial goals.
Second Favorite Part: Increasing Income Pays Future Dividends
Here we go again, but I am going to go back to one change continuing to pay you every single month.
If you decrease your housing costs….BOOOM, you are rewarded 12 times a year with a lower payment.
The same principle applies to your income. A $1,000 raise gets paid out for the remainder of your working years. And to make this deal even better – raises compound!
Starting at $40,000 with a 5% compounding raise for 10 years
From $40K to $65,155.79 in ten years!
That is $25K to improve your financial situation without sacrificing anything today. Pretty powerful stuff.
Just remember – there are a lot of ways to get ahead, but if you focus on the larger components of your finances first…you'll get there a lot faster.