Over the past few years, I've had so many M$M readers ask me who I recommend for student loan refinancing and finding lower interest rates. Because I had student loans and understand how much they generally suck and tend to be confusing, I've always been extremely careful with my recommendations in this area.
In fact, I currently only work with one student loan rate finder. There are a lot of blogs out there that partner with every student loan refinance company around so that they can make as much money as possible from referrals.
The cool thing here is that I don't have to do that. I make plenty of money from my courses and other business ventures, which allows me to pick and choose the types of companies that I want to work with and suggest for my readers. I turn down way more companies than I actually work with, which in my opinion is the right way to do it.
That's where Credible comes in. After almost a full year of back and forth conversations, checking out their company, and even meeting with them face to face – I've decided to partner with Credible to help M$M readers find student loan rates with a company that they can trust is legit. If you've been considering a student loan refinance and wondered if you could get a better rate to either save money each month or pay off your loans faster, you should give Credible a shot to earn your business.
Before we jump into this review, here's a quick list of the reasons that I feel Credible is a good resource for you:
They allow you to compare the top student loan refinance companies all in the same place
It's free
Their rate finding/application process is super fast (about two minutes)
They actually went very far out of their way to earn my trust (which isn't easy to do)
Their Trustpilot score is a 9.5/10 on 1,000+ reviews
They are transparent about how they make money (I'll get to that in a second)
How does Credible Student Loan Refinancing Work?
Honestly, it's pretty simple. Credible has a two-minute questionnaire that completely walks you through the rate finding process. Here's how it works:
1. Provide some basic information 
First, Credible walks you through a simple step-by-step question and answer process to get some general information about your existing student loans. You'll provide information about your education level, current financial situation (income, mortgage amount, etc.), and the amount and type of student loans that you'd like to refinance.
2. Compare rates from different refi companies
After you provide the basic information in the two-minute question and answer process, Credible will pull the lowest rate offers that are available to you. Your credit is not impacted in any way during this process. I'll discuss that in more depth shortly.
The great thing here is that you can compare lenders and rates all in one place, which is much easier than checking loan refinancing offers individually.
3. Choose a student loan refinance option
Once you find a rate that works well for your situation, you can apply for that loan quickly and easily. You'll have to fill out a full application, which will be more in-depth than the original process for finding rates.
You've probably been wondering – how the heck does Credible make money with their process? Well, it's pretty simple.
Via the Credible website:
"Credible receives compensation by the lender if you finish the loan process and a loan is disbursed. This does not impact your rates or how and where lenders appear on our site, and Credible charges you no fees of any sort."
Will researching rates with Credible hurt my credit?
I briefly mentioned that it doesn't above, but I figured I'd make a separate section explaining more in-depth for good measure. During the rate-finding process, Credible only uses soft credit inquiries, which will not have an effect on your credit score in any way. If you find a rate that's a no-brainer and decide to complete the application process for refinancing, the loan servicer (not Credible) will perform what's known as a hard inquiry.
But, don't let "hard inquiry" scare you. Typically a hard inquiry on your credit will only impact your credit score by about 5 points, and it's just the process of the loan provider doing a deep-dive into your credit history. Researching your student loan interest rates, finding one that you're sure you want, and then having a hard inquiry performed on your credit isn't financially irresponsible at all. Where people get into trouble is when they attempt to apply for several different loans, which means several hard inquiries and are in-turn left with a considerable dent in their credit score.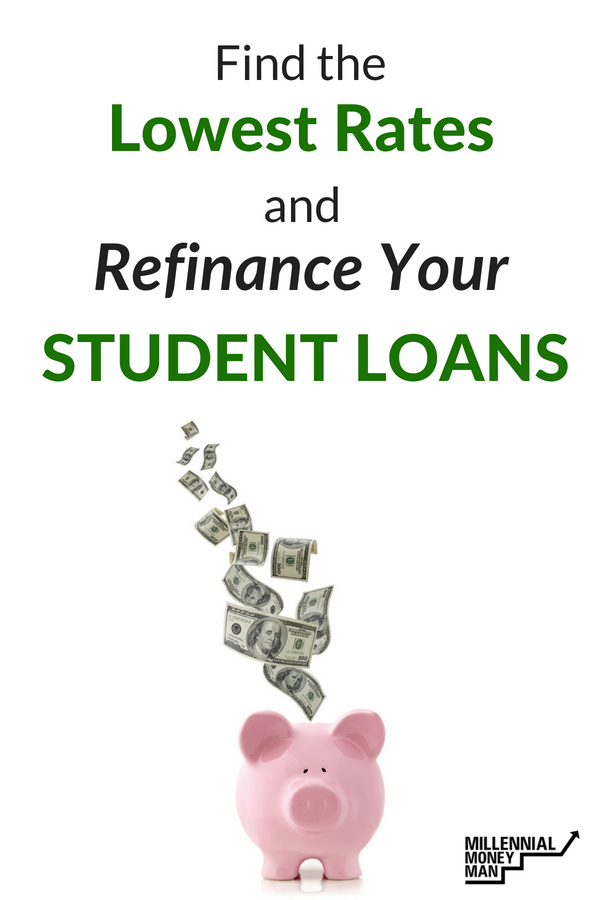 Can I actually qualify for a good student loan interest rate?
It depends. If you have a good income, don't have a lot of consumer debt or just too much debt in general compared to your income (AKA high debt to income ratio), and have a good credit history – yes. You can find great refinancing rates.
If you're in a situation where you have bad credit or are having trouble finding employment/have a low salary, your available rates will most likely be higher than what you'd like to see.
The cool thing is that Credible will show you that information very quickly so that you'll be able to make an informed decision about your student loans.
A few more things to consider about student loan refinancing…
Remember, it's not for everyone, and that's OK. After talking to thousands of readers, there are three very common scenarios that I typically see with student loans. There's a good chance that you will fall into one of these categories, which should help you make a decision about student loan refinancing.
Here are the categories:
1. If you're someone that has Federal student loans and feel that you're going to have to depend on forbearance, deferment or income-driven repayment in the near future – stick with the federal loans that you have. You lose those federal benefits when you refinance. Private lenders do have perks now that compare decently with federal student loan benefits, but you likely won't find a low enough rate to make the refinance worth losing the benefits.
2. If you have federal loans and are fairly confident that you either won't be eligible for those federal loan benefits or won't ever have to use them, then you should consider refinancing to save yourself money.
3. If you have private student loans with a high-interest rate (which I tend to see fairly often from my higher earning readers like lawyers and doctors), you should absolutely look at refinancing and see if you can find a cheaper loan. If you are a higher earner with great credit, you'll get the best rates.
Final thoughts
Overall, I'm very impressed with Credible. Their process is simple, they're transparent, and they simplify the entire refinancing process for you. If you fall into the categories I described above or are just curious about the rates that are available to you, take two minutes and give Credible a shot to earn your business.