This post is sponsored by Cinch Financial. All opinions are mine.
As you know if you've been following this site for any amount of time, every once in a while I do reviews of cool financial tech products that are out on the market (or coming soon). I'm a big fan of using apps and products that will make my life easier, because, well…I'm a stock Millennial haha.
What you probably don't know, is that for every one review that you see on this site, I typically pass up at least ten to fifteen other opportunities.
Why? It's honestly pretty simple. There are a lot of startups out there looking to become the next Uber of *insert random industry here*. Unfortunately, a lot of the products that are presented to me by new companies are either not very useful, poorly thought out, or not a great fit for my readers.
But one company called Cinch Financial came across my radar recently, and it immediately sparked my interest. They are serving a segment of people that I think are typically forgotten by financial companies, and they actually created something that looks like it could be legitimately helpful.
What is Cinch Financial?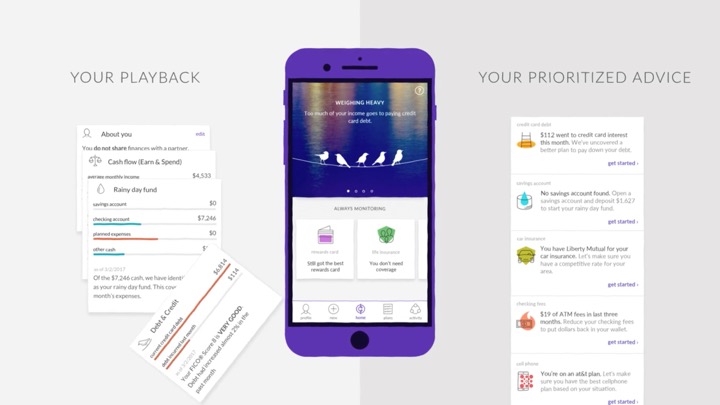 Put simply, it's a financial advising tool that doesn't cost nearly as much as an actual financial advisor. Cinch wants their tool to become the Chief Financial Officer of your personal finances.
What if you don't have a $100,000+ net worth, but still want some personalized guidance on how to attack your debt or which life insurance policy to buy? That's where Cinch comes in. For just $4.99/month after a free 90-day trial run, you can have solid, intuitive financial guidance on your phone.
There's a ton to like about this service, and I really think that it could be a game changer for a lot of people out there that don't want to pay an arm and leg to get some simple financial tips.
How Do You Sign Up?
Right now, Cinch is currently in a closed Beta. That means that you can only use the tool by invite only from Cinch directly. Don't worry though – you can sign up for the waiting list here and be notified as soon as the program goes live.
Once you do get access to Cinch, the process is pretty simple.
First, you'll start by answering some basic questions about your household income and a few other demographic-type questions.
From there, Cinch will gather the information it needs from you to pull your credit report. This information will help the program show you potential loan or credit card strategies that may be useful to you for getting into a lower interest rate and paying off your debt sooner/freeing up more monthly cash.
After Cinch does a soft-pull on your credit (which will NOT hurt your credit score), you will be asked to add your various credit card and bank account information so that the program can determine your overall financial picture.
For me, the process took less than five minutes and went smoothly.
The only issue that I ran into was with one of my credit union accounts. The credit union my wife and I use is a little on the old-school side, so when I try to use services like Cinch that pull information electronically it takes a few times to get everything set up.
A Fresh Approach to Financial Reporting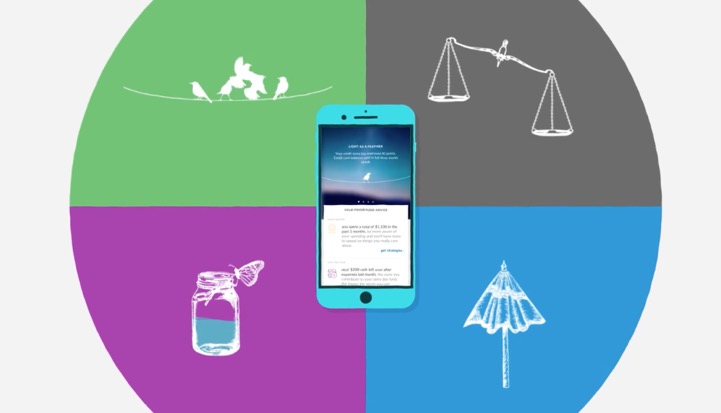 Here's what I love about Cinch: They made the financial reporting functionality (which they dubbed "Playback") of their program intuitive and creative.
Rather than a bunch of graphs that might be confusing or intimidating to the end user, their Playback is clean and distraction-free.
Playback focuses on four "Pillars":
Rainy Day Fund
Spending Flow
Debt and Credit
Insurance
The idea here is to give you an immediate picture of your overall financial health by showing you in real time where you stand across the four pillars.
Rainy Day Fund
Pretty simple. Cinch wants to help you save up for an emergency fund by showing you how many months you currently have put away based on the amount of cash in your accounts and how much you typically spend every month.
If you need to save a little more, Cinch will give you some words of encouragement to get to your next milestone.
Spending Flow
Money in vs. money out. Cinch analyzes your spending and income based on the information you provided during the onboarding process. I was happy with how accurate this tool was based on the bank account and credit card accounts that I linked at the beginning.
Debt and Credit
Here, you'll see any credit card, student loan, or any other debts that you have listed on your credit report. Cinch will look over this information to let you know if you've had late payments in the past year, as well as pull your current credit score.
Again – this is all done via a soft-pull on your credit. No need to worry about dings on your credit score when using this service.
Insurance
Last but not least, Cinch will let you know if you have adequate life insurance coverage based on the information you provided while signing up. The program takes into account your income, debt, and amount of children.
If the tool believes that you will need more coverage, you will be provided with life insurance options that could be a good fit for you. More on that below.
Legitimately Unbiased Advice
This is what I think sets Cinch apart from other financial apps in this space. Rather than showing you suggestions for lower interest credit cards, personal loans, or life insurance companies that they have partnered with – Cinch acts as a Fiduciary.
Being a fiduciary means that Cinch does not make money based on affiliate partnerships or sponsorships within the tool. Cinch has a massive database of financial products that they can suggest to you depending on your financial needs across the "Four Pillars", but won't make a dime from any of them.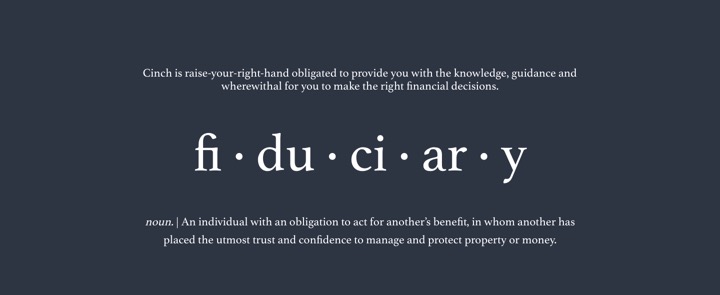 This means that you have access to a service much like a fee-only advisor for a fraction of the price.
Tons of value here for the average person that just wants unbiased suggestions for getting ahead.
Does Cinch Make Sense For You?
Ultimately, if you are someone that just wants some simple, unbiased recommendations for getting out of debt or finding the right type of insurance, Cinch could be a really useful tool for you.
This tool is particularly useful if you have a net worth of less than $100,000 but are really working towards strengthening your finances.
I don't want to go so far as to say that it's holistic alternative to a financial advisor (yet…we'll see as Cinch rolls out more features after their beta testing phase), but if you were avoiding an advisor because of the cost you'll like this service.
Final Thoughts On Cinch
I love that Cinch puts a creative twist on their financial reporting with their Playback feature. I'm also a huge fan of the Fiduciary aspect of this app. I highly recommend signing up for the waiting list on this program and giving the free 90-day trial a spin once it goes live.