Hey everyone! Today I have a guest post for you by Shannon of Foody Finance that will hit home with a lot of you. One of the most common issues that I see from M$M readers is: "I live in a big city. How can I get ahead financially when everything is so expensive here?".
And…it's a good question. I've never lived in the city before (suburbs for the win!), so I'm not just going to make stuff up for the sake of sounding smart haha. That's why I bring in people like Shannon that are crushing it in that situation to share her story instead. 🙂
Shannon lives in LA, but her story and tips will probably resonate with a lot of Millennials that are living in cities where housing, entertainment, etc. tend to be pretty pricey. The common advice that you usually see is something along the lines of: "Well, move somewhere else". But let's be real – what if your entire life revolves around the city you live in?
My wife and I live where we live because our first jobs were here, our family is here, it's by the water, etc. If someone told me to move for financial reasons, I'd ignore them. If you feel the same way, you'll like this post. Enjoy! ~M$M
Ah, beautiful Los Angeles, the sunshine, the beach, the crippling high cost of living. Los Angeles is known for many things, but affordable living is not one of them.
So how do normal, non-famous Californians do it? The answer is simple, but the execution is hard. Screw keeping up with the Jones's. Or in our case, the Spielbergs, the Beibers, and the Paltrows.
Living in LA means coming face to face with the Insta-famous lifestyle and it can be hard to not want a similar life. But the truth is, most of the people living these lives are in crippling debt and they'll never be able to retire or build real wealth. My husband and I could have fallen victim to the same fate if we hadn't taken a hard look at our finances and changed our mentality.
We now live our version of the epic LA lifestyle by paying off $60,000 of debt in one year and accumulating a total net worth of $100,000 (and counting) over the last 4 years.
Some financial experts recommend moving elsewhere if an area has too high a cost of living. And while this is great for some people, our entire lives are here in LA.
My husband and I value family above most things and our entire family lives in Southern California. We would be going against our values to move and strive for a quicker early retirement. We have decided to take it a bit slower than others in the Financial Independence, Retire Early (FIRE) community.
Our ultimate goal is to buy a home here and have it completely paid off by the time we retire. We should be able to do this in 15 years or by the time we're 45.
So a little personal background first. I graduated with my MBA in December 2016 with $50,000 in student loan debt and a $10,000 car loan. My husband and I are both engineers so our salaries were decent. We were getting married soon and wanted to start a great life together. We wanted to buy our forever home, but one thing was standing in our way: a looming cloud of debt and compounding interest.
I did the math and if I just made the minimum payment it would take me 10 years to pay everything off and I would be paying an extra $18,000 in interest! We wanted this debt out of our lives for good so we could focus on saving for a home. Today I'm going to share our best tips for making it happen!
Here's how you can pay off debt faster while living in a large city:
1. Change your mentality
It is so easy to fall into the consumerist trap, especially in an expensive city. There is an abundance of beautiful clothes and trendy brunch spots waiting to take our money. And often people here choose to stay in debt so they can afford a more luxurious lifestyle. But for those of us who prioritize getting out of debt, we had to change our mentality.
My husband and I tried to stay laser-focused on saving as much money as possible. But every once in a while, our 'distracted boyfriend' voice took over and we fell right back into our bad habits. We made excuses like "I had a bad week, I deserve this" and "It'll be an investment".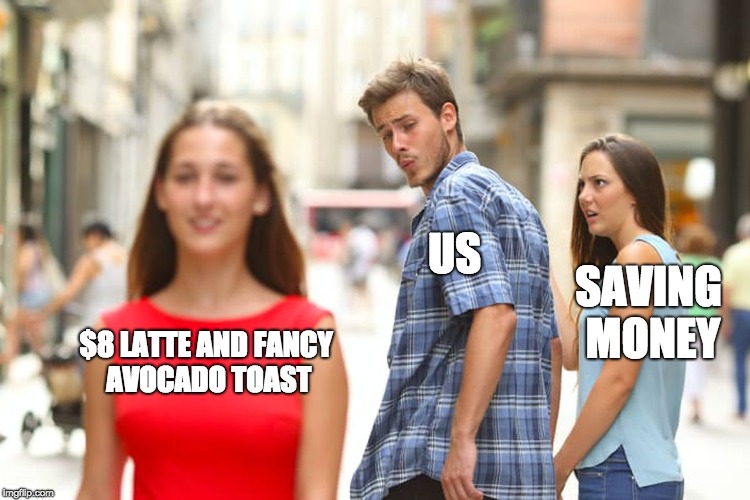 So to change our bad habits we changed the question in our head. Instead of asking "I deserve to splurge right?" we would ask ourselves, "Is this worth buying a home a little later than planned?" It may seem extreme when homes here cost $800,000 and we're just talking about a $8 latte.
But those $8 lattes, infamous avocado toasts, juice cleanse packages and other non-need items add up and next thing you know you're much farther from your goal than you thought.
It was really just a change in mentality for us; we had our home as our main focus any time we'd spend money. Instead of going out to dinner with friends, we would have a potluck at the beach. Instead of buying new clothes we didn't need, we would go through our closet and use what we had or only bought new clothes when necessary.
And instead of buying a $10 bottle of green juice, we would make our own (or just forget it entirely!). There is this stigma that you have to spend money to live a luxurious lifestyle. But really, we live in such a beautiful place already. The outdoors is the most luxurious part of Los Angeles and it's totally free!
You just need to ask yourself that question. "Is this ________ worth putting off _______?"
2. Know your worth at work
Increasing our income was the number one reason why we were able to pay our debt off so quickly and start saving for our future. Between my husband and I asking/receiving pay raises we increased our income by $1200 per month! Doing a little bit of research on your job position goes a long way.
My husband was promoted at his job automatically since his company has a more structured income system. I, however, did my research, wrote a new job description and presented a promotion request to my boss.
They rewarded the little bit of research I did with a significant pay raise and promotion. Sometimes all you have to do is ask and you shall receive.
3. Reduce costs (even fixed costs)
Now that my husband and I had changed our mentality and increased our income we were on our way to quickly paying off our debt.
But we still felt there was more we could do! We sat down together and looked at every place our money was going to see where we could cut back further. We were able to lower our entertainment, food, and phone bills.
First, we cut out cable and got Netflix and Hulu. We also got rid of our Amazon Prime account which did two things: lowered our entertainment cost and dissuaded us from buying things online.
This saved us $1,300 last year.
Second, we slashed our food budget in half by utilizing what we had and lowering our food waste. I was also improving my cooking so we didn't even want to go out to eat much!
This saved us $2,400 last year!
Lastly, we changed phone carriers from ATT to Cricket Wireless. We found that the service was the same if not better and the rates were over $100 less a month.
We saved $1,300 last year.
So at the beginning of 2018, we paid off our last student loan and were completely debt free. And you can do it too, but a change in mentality is key.
Let your financial goal be your driving purpose in every purchase you make. Increase your income by asking for a raise or starting a side hustle. And finally, lower your costs by cutting out things you don't need.
So if you live in an expensive city and are in debt, hope is not lost!