Yo yo, what's up debt destroyers?? Hopefully everyone is ready for Labor Day weekend (be safe please)! Eat lots of bad food, or weird fake food stuff if you're one of my many vegan friends. 🙂
Over the past few months there have obviously been some people that have followed my completely bizarre journey from teaching music to writing about money on this site. It's been a lot of fun so far, and I can honestly say that I'm starting to have success doing this.
I won't starve this year, which is good because I like both food and money.
I had people call me crazy, ask why I would leave such a solid job, tell me that I could be making a mistake, etc. Honestly, there was probably some validity to what they were saying.
What I did was a blind leap of faith, and I'm not even sure I would recommend my path to everyone that wants to change careers. You have to be a little insane to do what I did, or just be a little naive. They say ignorance is bliss, and I have to admit…THEY might be right!
This is where being terrible at listening has an advantage. Ask my wife.
In addition to the people who thought I was pressing the self destruct button, I also have had a surprising amount of people ask me how they can do what I did too.
Becoming a full time blogger sounds like a freaking awesome career (it is fun), and a lot of people out there dream of leaving the 9-5 to write some stuff on a computer and have magic money start rolling in by the truckload.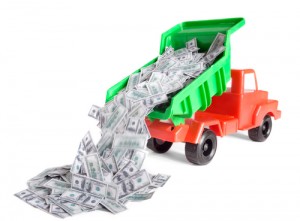 Before you go all M$M and bail from your job, let me tell you 10 things about blogging that you need to know first*:
*Disclaimer: I'm not saying blogging is a bad idea or trying to discourage anyone that wants to do it full time. It can be awesome, but there's some stuff you should know about.
1) It takes a long time to get a blog to be successful.
It's easy to look at financial blogs like MrMoneyMustache.com, BudgetsAreSexy.com, or SenseOfCents.com and assume that you can make tons of $$$ blogging based on what you see from their earning reports or net worth statements. They are really driven people that have been blogging for YEARS (I think J. Money over at BudgetsAreSexy has been going for 7 years now).
Those kind of websites are certainly the goal, but it doesn't happen overnight. Every time you look at a good blog, you are seeing a small snapshot of years of work and a lot of hours building a strong business.
2) Traffic doesn't come overnight either.
Traffic is a weird thing. It can fluctuate a lot and make you feel like you won the lottery or that you suck at life depending on the swing it takes. Obviously, the goal is that it grows steadily over time and stays consistent, but in the beginning it can be really unpredictable.
My best advice is that you should just worry about building your brand and image at first, and take the traffic with a grain of salt.
Once you get a little more time under your belt and get to know the blogging world you can really buckle down and focus on driving your traffic numbers up.
3) There are a lot of tricks to the trade.
Once you get into blogging, there is actually a pretty steep learning curve. Not only do you have to figure out how to run and manage a website, learn how to code, and figure out how to monetize the blog…you also have to learn all of the writing tricks that make people stay on your site or subscribe to your email newsletter (I have one coming out next week BTW). 🙂
Take some time and study some really successful blogs and see what they do to keep you interested and stay on the page. You'll see a lot of different strategies that you can experiment with on your own site down the line.
4) There are a ton of ways to make money, and most of them have nothing to do with your actual blog in the beginning.
People think you can just slap a Google ad on the site and start watching the money pile up. I made $10 through Google the first month after I monetized the site, and I think that was on the high side compared to other bloggers I know.
The good thing is that you can make money by selling your own products, freelance writing, website creation, or any other number of online services while you are building your brand.
5) You'd better get familiar with social media.
I had never used Twitter before I started M$M (I honestly hated it and only used Facebook). Now, I have a little over ten thousand Twitter followers. Weird, right? You'll find that you gravitate towards a niche with this stuff. The great thing about harnessing social media early on is that you can supplement your organic traffic with your social media traffic.
The big deal with social media is that you have to be super responsive and active. I pretty regularly wake up in the middle of the night and check Twitter to make sure that I haven't ignored anyone by accident. I also check it when I wake up, and constantly throughout the day. Actually, I'm realizing that I might have a problem as I type this.
6) People will think that you don't actually do anything, and it's annoying.
I can't tell you how many times people have told me that I don't actually work. It's not like I sit here and make the words appear on the site with my mind before I take a nap and play video games. I actually make it a point to stick to a schedule (10ish-5 every weekday baby), and as I get busier and busier I will push that first number up.
I have an office, I wear clothes while I work, and I operate a REAL business…although I do wear flip-flops instead of shoes from time to time because I'm protesting the dockers and old-man Sketchers that I had to wear as a teacher.
7) There are the people that might annoy you with their unemployment jokes, but there are real haters out there that are WAY worse.
This is one of the biggest hurdles that I had to get over when I first started M$M. There are people out there that will literally go out of their way to make your business look bad to other people, for no reason other than they think that they are doing a public service or something.
I was kinda shocked that people waste their time trying to take food off of your table, when they could just click the back button or the red "x" and go read something else that they agree with.
You might find that some people will say some heinous stuff to you on the internet that they probably wouldn't in real life. Fortunately, your skin gets thicker and you can laugh those people off later down the road.
My takes on money and life as a Millennial are my opinion, and I'm not forcing anyone to do anything that I suggest or even care what I have to say. Some people will agree with you and appreciate what you think, and some won't. I figure the more haters I have, the better my blog is doing.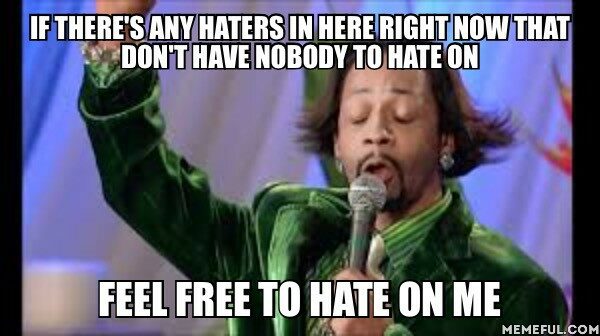 Fortunately, Twitter has a block feature for the really determined haters out there.
8) The way that you get income is weird.
People usually ask me if I make the same amount that I did as a teacher, and the answer is yes. And no. Let me explain:
I have weeks where I make the same amount (or sometimes more) than I did when I was teaching, and I have had weeks where I literally made nothing or lost money because I had to buy stuff.
It's really like starting any other kind of business, it takes time to get money rolling in regularly. Just make sure that you develop some other skills that you can use to make money while you grow your blog and you will be fine. Also, have a good emergency fund…and having a spouse that works too can be a huge help.
9) Nobody will hustle for you. Ever.
I feel that this one is pretty self explanatory, so that is all.
10) Other bloggers are really nice.
You find some really cool people out there in the blogosphere (sorry, I actually hate that word but I feel like I've never used it on M$M before…check that one off the list)! I have had some great advice from other bloggers, and lots of kind words and support along the way. It's certainly not an easy type of business to build, but it is pretty awesome that other random internet people will go out of their way to help you if you need it.
That's my list, if anyone else that blogs for a living or on the side has other tips that they can share, please do in the comment section below! Really looking forward to what other blogger types have to say about this one!!!
Have a great holiday weekend homies.
The featured picture is not me. What that random guy is doing looks really unsafe, but I think he is in the process of being free or reenacting that Titanic scene. Either one. I found the money truck picture here, and I actually created the Kat Williams hater meme myself! (I'm very proud of it).