One of my favorite things about running this site is that I get to "meet" a ton of different people. I'm fortunate that even early on in this site's life, I have readers from all over the world with totally different goals and dreams.
Some people want to become debt free, and some people want to become full-time bloggers and work from wherever they want. It's cool because I get to write about multiple topics instead of just personal finance or self-employment.
A lot of people are really curious about my life because my job is so weird (which I totally understand). Almost EVERY conversation I have with new people I meet has to do with how I make money or what I do every day.
There are definitely awesome things about being self employed. However…there are a few drawbacks too (not that I'm complaining too much). Check it out!
The good and the bad of being a professional blogger
The good:
I make my own hours
When I was a band director, I woke up at about 5:30 am and worked from 7:15 am until 7:00-8:00 pm. People don't realize how much time extra-curricular teachers/coaches spend at the school!
I don't really have a set time that I wake up now honestly. Sometimes I wake up super early when my wife does, but usually it's closer to 7:00 am. The big thing for me is that I start working almost immediately after getting up now (checking my phone, sending emails, writing, etc.).
I'll explain when I stop working later in this post.
All I need to make money is my laptop (and internet)
It's true! Most of the time I don't actually need internet to work, but it makes things easier. My entire business is run on a 13″ Macbook. I tried working from an office when I first quit my job, but I found that I wrote better content when I was either at a coffee shop or at home.
I guess the other thing I NEED is music/headphones. I can't write without that.
I make more money than I used to
If you've been following my story for any amount of time, you know that I'm super fortunate to make much more money than I did when I was teaching. If you were wondering – it doesn't feel much different making $10k/month instead of $3,500/month.
I really don't take very much money out of my company, so my lifestyle hasn't changed too much.
You can see my last few income reports below:
I can work wherever I want
There are a bunch of bloggers that work from super cool places like RV's or Sailboats. It's brilliant (in my opinion), because it brings in different types of readers that also want to travel and work at the same time.
My wife still has a normal job, so we aren't planning on full-time traveling any time soon. We also like the area we live in a lot! It's close to the lake, the beach, and downtown Houston.
Maybe we will travel someday though. Who knows.
It's fun
I'm thankful to wake up and do what I do every single day. I know that this is rare and could be over at any time if blogging falls off the face of the earth.
The bad (not actually bad…just not as good):
It can be a little lonely at first
A TON of people keep telling me I need to read The 4 Hour Workweek. I guess it mentions in the book how working the way I do is a big adjustment at first.
I can tell you – it's true. You never realize how much different the world is when you don't have a normal job. If I go to the store in the middle of the day, it's freaking empty. It's very much like The Walking Dead sometimes haha!
I'm pretty good at being alone during the day now honestly. I'm not sure if it's just my personality type or something, but I'm good at staying occupied with work. I also talk to a ton of people online, and my wife gets off pretty early most days.
I did actually adopt a dog recently to hang out with during the day (while my wife was out of town…not sure if that was gutsy or stupid yet). His name is Strider!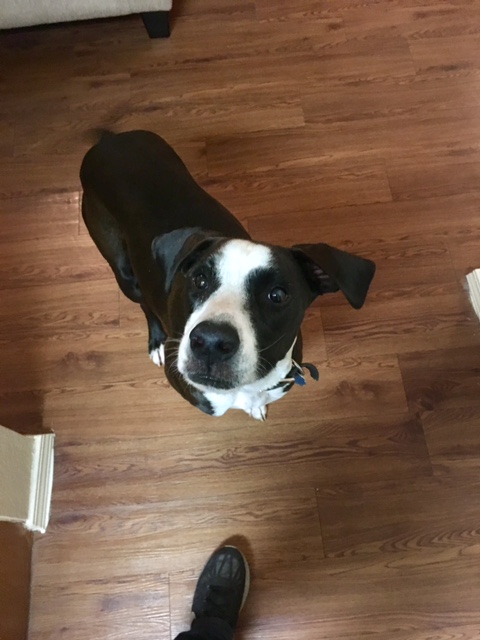 Nothing is guaranteed
Every once in a while I freak out a little bit when I think about making money the next month. I have some steady work and I feel like I can find ways to make money, but there's nothing guaranteeing that I don't have a few bad months this year. Hopefully that doesn't happen!
You're never really "off"
99% of the time when I'm not working, answering emails, or posting on social media, I'm thinking about work. Every self-employed person I've ever talked to says the same thing, and I still haven't mastered the art of turning the switch off.
But still…I can't really complain. I'm a full-time blogger. Cool, right?
Are you interested in starting your own blog? Take a look at my free blogging "how to" guide!