If you've struggled to budget your money, it's possible that you haven't found the right tool. The best budgeting apps can help you create a budget, set goals, plan for the future, and keep up with daily expenses.
The reality is that there are a lot of good apps on the market, but I wanted to stick to the best. So I decided to make it simple and share three of the best budgeting tools for 2022 with you. I considered putting more in this list, but these are the ones my readers can't stop talking about, and they're ones that I use, too.
You're going to learn about each app's features, why they work, and who they'll work for.
Best Budgeting Tools of 2022
1. YNAB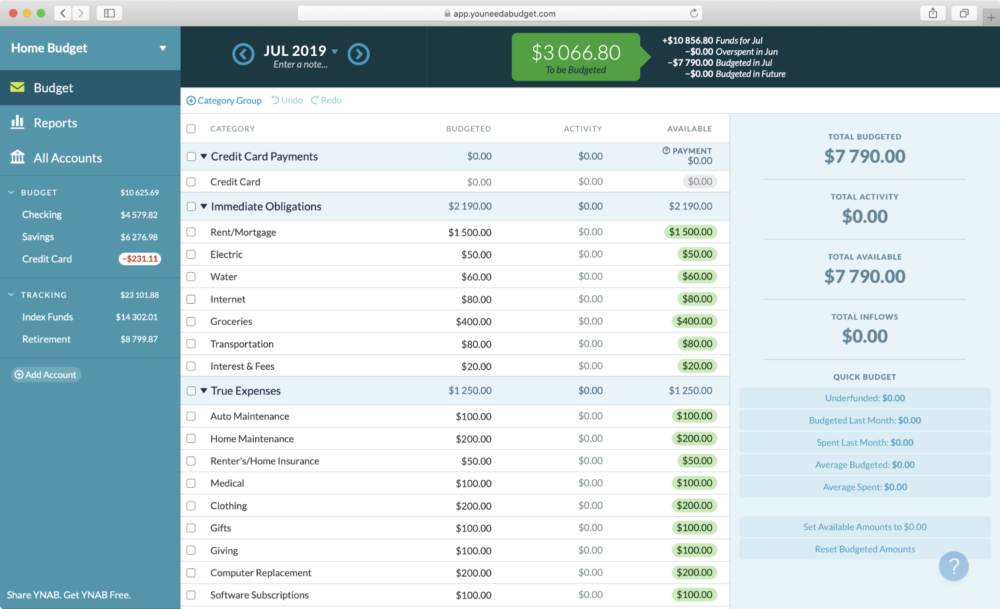 Created in 2004, YNAB stands for You Need A Budget, and it's is a budgeting tool that teaches you how to manage your money using four basic rules:
Rule 1: Give every dollar a job. This is zero-based budgeting – you take your income and subtract your expenses until you get all the way down to $0. The idea is to allocate money to everything from household and living expenses, savings, and debt.
Rule 2: Embrace your true expenses. Set monthly savings goals to plan for large, infrequent expenses. This can include holiday savings, planning a vacation, emergency savings, and more.
Rule 3: Roll with the punches. Adjust your budget as needed. If you go over-budget in one category, move money from another category. This rule is about flexibility and teaching you that it's okay to move money around as needed.
Rule 4: Age your money. Following the first three rules, you can stop living paycheck-to-paycheck and start living at least a month ahead.
YNAB's entire platform is built using those four rules, and the goal is to change the way you spend, save, and think about money.
This is one of the best budgeting tools partly because it has a cult-like following of superfans who swear that YNAB has changed their life. And YNAB claims that "on average, new budgeters save $600 by month two and more than $6,000 their first year."
Why YNAB works
Zero-based budgeting (the first YNAB rule) sounds strict at first, but when you combine it with the second and third rules, you get a flexible and realistic budget that prevents you from being caught off guard. That's one of the hardest parts of sticking to a budget – something inevitably comes up and throws off all of your good intentions.
Rather than feeling like you've lost control, zero-based budgeting teaches you that you're in control of every dollar you earn. And it's incredibly effective for people who are trying to pay off debt and/or build savings.
Where YNAB shines
Goal tracking
You can set six different types of goals with YNAB, two for spending, two for savings, and two for paying off your credit card debt. You build these goals into your budget, and YNAB keeps track of your progress
Reports
If you nerd out on data, YNAB gives you the ability to run both macro- and micro-level reports on your finances. You can analyze data based on categories, timeframe, and different accounts. You can also run reports on your net worth and income vs. spending.
Education and support
YNAB is known for stellar customer support via email. And they also offer over 100 free, live, online workshops that will help you use the software and manage your money. There's also something called Timed Dives. Based on how much time you have, you can learn from YNAB's step-by-step guides and articles that will help you set up your accounts, learn how to work the rules, and deal with common financial stressors.
Zapier for YNAB
This is a cool feature – with a free Zapier account, you can connect over 1,500 different apps to your YNAB account for an even more personalized experience. Here are a few of Zapier's add-ons:
Get a text if you overspend in a category
Get a text if any of your linked accounts drop below $200
Have all new transactions added to a Google spreadsheet
Create custom workflows with your own triggers and actions
Learn more about YNAB in YNAB Review 2022: The Most Effective Budgeting App Around?
How much does YNAB cost?
YNAB is $11.99 when billed monthly, and you can cancel anytime. You can save some money by billing annually at $84. You can try it out with a 34-day free trial, and students get YNAB for free for the first year.
There is also a referral program that gives you a free month of YNAB for every friend or family member who subscribes through your unique referral link.
Who should budget with YNAB?
YNAB is honestly one of the best zero-based budgeting tools I've tried out, and I highly recommend it for anyone who uses zero-based budgeting or wants to give it a try. It's a great budgeting method for getting out of debt.
There is a bit of a learning curve with YNAB, so you have to be willing to put in the work. Fortunately, YNAB has lots of online education to help you learn the software, and a free trial doesn't hurt either.
YNAB does not track your investments, but the next tool I'm going to tell you about would be a good companion to YNAB.
2. Personal Capital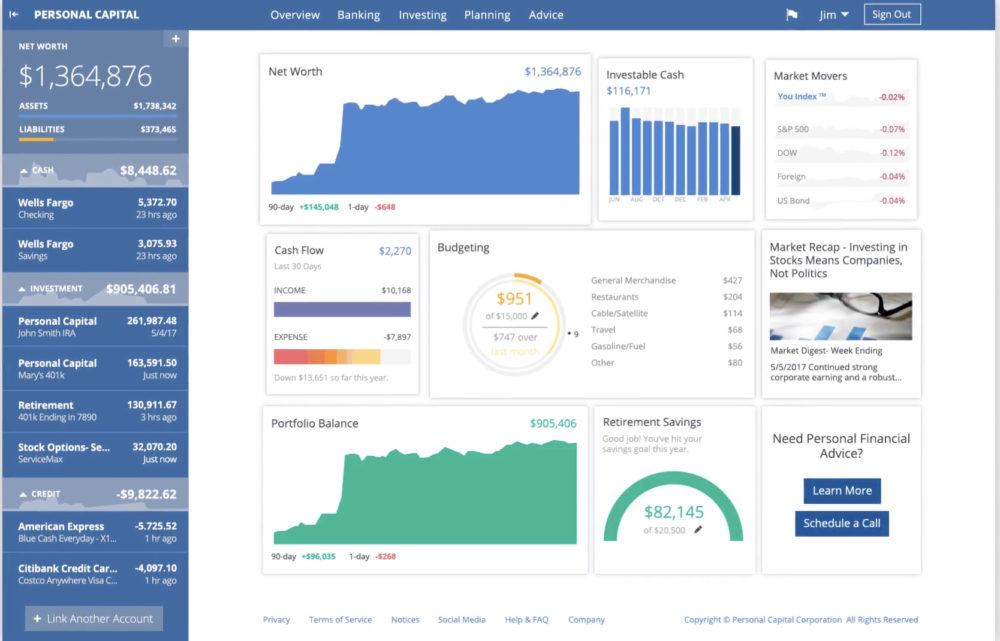 Personal Capital makes my list of best budgeting tools because it has a strong focus on net worth and investment tracking, plus retirement management and analysis tools. These features help you focus on long-term financial planning. It's what my wife and I use to keep track of our portfolio and retirement goals.
Personal Capital was founded in 2009, and it actually offers two services: a paid version that acts more like a robo-advisor for clients with over $100K in invested assets, and a free version. We're going to talk about the free version, which has a lot to offer.
Why Personal Capital works
Like I said, Personal Capital focuses on long-term financial planning – retirement, most importantly. It offers a suite of robust features that help you keep track of how you're progressing towards your financial goal.
These features help you play out different scenarios that will affect your goals and save money on your investments.
Where Personal Capital shines
Budgeting
Personal Capital recommends the 50/30/20 rule for budgeting: 50% of your income to needs, 30% to wants, and 20% to savings. But its budgeting tool does more of a cash flow analysis – showing you how much money is coming in and out of your accounts. You can let Personal Capital organize transactions into pre-made categories, or you can label and categorize transactions yourself.
You can run reports for each linked account, adjust the time frame, or look into specific categories.
Retirement Planner
Personal Capital pulls information from your connected accounts, your age, projected savings information, and planned age for retirement to tell you if you're on track to retire when you want to.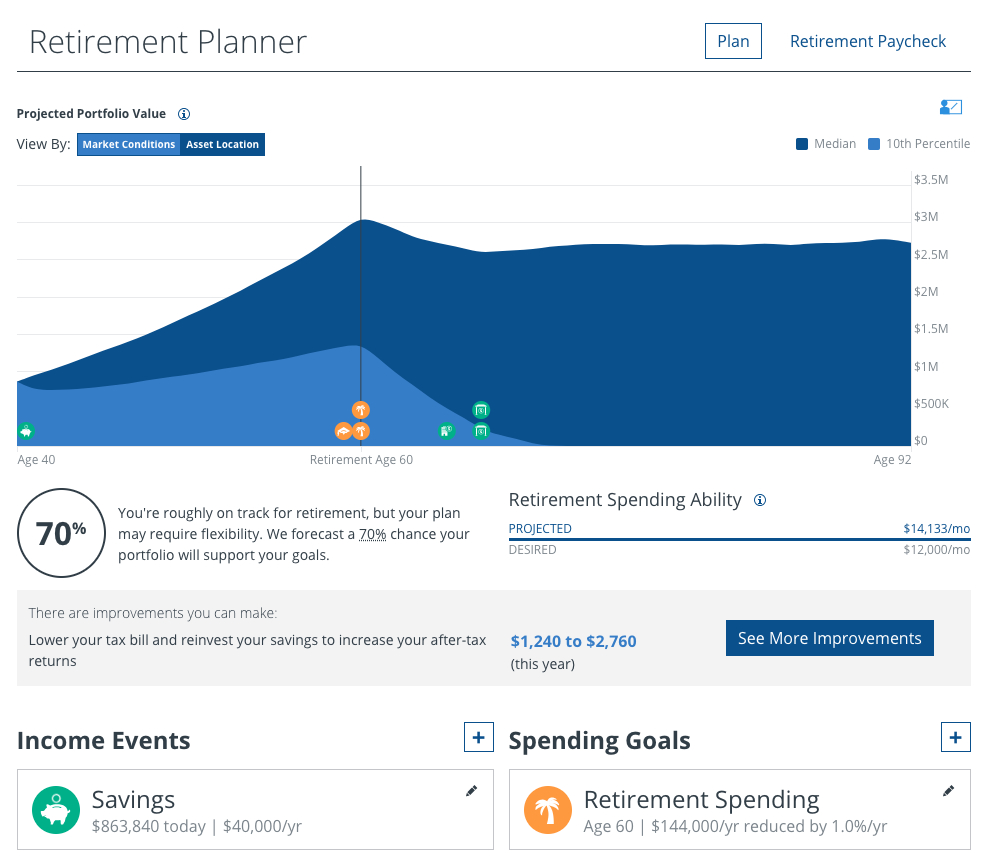 You can play around with what-if scenarios, like having a baby or buying a house, to see how it may impact your projected retirement age and savings. If you're not on track for retirement, Personal Capital will give you some suggestions.
Investment Checkup
The Investment Checkup tool looks at your portfolio's asset allocation to see if there are any ways to minimize your risk and maximize your returns. This helps you invest your money in a way that prioritizes your specific financial goals.
Fee Analyzer
If you have a 401(k), you can connect your account to Personal Capital, and you can use the Fee Analyzer to see different scenarios where you adjust your contributions, employer match, and make assumptions about fees. This gives you a long-term projection of how much you'll have in retirement and how much you'll pay in fees.
Paying too much in fees? Personal Capital will help you research low-cost alternatives, like ETFs and index funds instead of mutual funds, which cost more in management fees. You can use the fee analyzer on more than one 401(k).
The reality is that many retirement accounts have hidden fees, and this feature alone can save you thousands of dollars as you plan for retirement. That's more for you to invest.
How much does Personal Capital cost?
The features I just told you about are all available on Personal Capital for free. You need at least $100,000 to use Personal Capital for its paid investment and wealth management services, which cost 0.49% to 0.89% of assets managed.
Who should budget with Personal Capital?
Personal Capital is by no means a dedicated budgeting tool – it's long-term planning with a budgeting component. But it's great for anyone who wants a place to check in on their spending vs. income. And I can't recommend Personal Capital enough for free retirement planning tools.
You can read more in Personal Capital Review 2022 | Free Investment and Net Worth Tracking. To sign up, use my exclusive M$M link and you and I both get $20 when you sign up.
3. Mint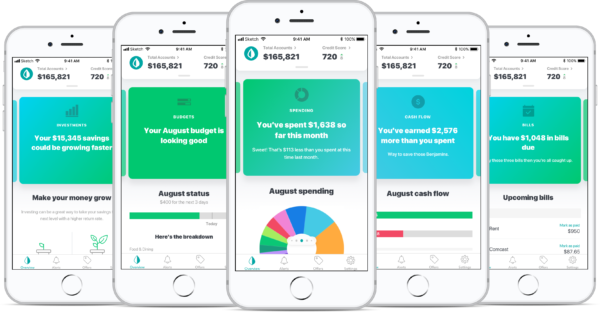 Mint has been around since 2006, has over 15 million users, is owned by Intuit (creators of TurboTax), and is one of the most well-known and best budgeting tools available.
It's popular because Mint works hard to show you all of your finances in one place. You can use Mint to track your spending, set reminders to pay bills, create a budget, check your credit score, and see what's happening with your investments.
Why Mint works
Your financial life is multi-faceted, and being able to see everything in one place allows you to see how everything fits together. You can connect your checking, savings, credit cards, student loans, mortgage, auto loans, retirement savings, and brokerage accounts.
Where Mint shines
Budgeting and tracking expenses
After you've signed up with Mint and connected your accounts, you can start downloading and syncing your transactions. Mint categories your transactions into predefined categories, and you can edit some of them and create subcategories.
If you like to organize your transactions in a specific way, or if Mint miscategorizes them, you can edit them after the fact. Mint memorizes your changes so transactions land in the right spot in the future.
Mint will create a budget for you based on how you spend, but you can edit your budget and get alerts if you go over budget.
Bill pay reminders
This feature allows you to set up reminders for bills, see what's coming up, and mark what you've paid. Mint will send you a reminder when due dates are coming up and if your account balances are low.
You can see what bills are due on the homepage right next to your account balances. This keeps you mindful of what's coming up so you don't overspend.
Credit score monitoring
Mint has free credit score tracking that updates every few weeks. There is an additional sign-up step to verify your identity, but after that, you can regularly check your score and see what factors are impacting it.
This is a soft credit check, so it doesn't hurt your score. And Mint uses the VantageScore model, which ranges from 300 to 850.
Goal setting
You can set goals to eliminate your credit card debt, save for emergencies, buy a new car, and more. Mint's goal setting software asks you questions for each specific goal to create a plan that will help you save or pay off your debt.
Your goals are added to your dashboard so you can see them next to your bills and account balances.
How much does Mint cost?
Mint is 100% free to use.
However, it's worth noting that Mint posts "offers" on the site, which is how Mint makes money. These are offers for credit cards, personal loans, new bank accounts, life insurance, and more. Mint is paid a referral fee if you sign up through their site.
See how Mint compares to YNAB in Mint vs. YNAB 2022 | Which Budgeting App is Best?
Who should budget with Mint?
While Mint lacks strong investment tools, you can still connect your brokerage and retirement accounts and how you're investing your money. You can also keep track of your spending, get bill alerts, set goals, and see your credit score.
Mint is one of the best budgeting tools if you're a casual budgeter who wants an overall picture of your finances.
Why these budgeting apps?
There are lots of budgeting apps out there, but I chose these three for a few different reasons:
How they can help you manage your money
Budgeting style
Ease of use
Reputation
YNAB has a clearly defined budgeting style, zero-based budgeting. And it's that method that helps users pay off debt and reach savings goals. It's a very hands-on approach to budgeting that takes time to learn, but it's incredibly effective. And anytime I ask my readers which budgeting app is the best, YNAB is always one of the top recommendations.
Personal Capital keeps you focused on your long-term financial goals, something that gets overlooked when dealing with day-to-day budgeting. Cash flow budgeting is much more relaxed, and the real goal is to keep you spending less than you make.
The app might feel a little overwhelming if you don't have much invested or haven't started retirement planning, but anyone can use it. It's built a strong reputation in the personal finance community as one of the best free tools for retirement planning.
Mint has been a long-time favorite because it's free and gives you everything in one place. The user experience has gotten better over time as Mint has given the app a cleaner look and feel. While features like investment tracking and budgeting aren't the strongest, Mint has features you won't get elsewhere, like credit score monitoring and bill tracking.
How to find the best budgeting tool for you
There are so many options out there right now, and niche financial apps have started unveiling their own budgeting capabilities (bill negotiation services like Trim and Truebill, for example). But landing on the best budgeting tool really depends on what you want out of the experience.
When researching the options, think about:
How active you want to be in the budgeting process
If you want to use a specific budgeting strategy
Which apps and devices they work on (I actually left Quicken off this list because Mac users don't get the full experience)
What your goals are
You can find this information by reading reviews online and researching different apps and reading through their lists of features. When you land on one that you want to try, go all in. These apps are tools – you're responsible for using them.
The final word on the best budgeting tools of 2022
My wife and I have been using both Personal Capital and Mint for a few years, and it's a combination that works well for us. We get the investment tracking and retirement planning tools I need to keep us focused on our end goal, and we can also check in on our spending and credit scores with Mint.
I hear this kind of thing from lots of my readers. This a la carte approach is a good way to get exactly what you need for your financial life.