For Mac users, Banktivity combines what you love about Quicken with a truly Mac-friendly experience.
And, Banktivity's goal is simple. It wants to "Take the stress out of your finances" by helping you gain financial clarity, growing your wealth, and planning for life's big events.
Banktivity feels a lot like Quicken, but it offers way more functionality for Mac users, and this Banktivity review covers what you can expect from the newest release of Banktivity 7.
What is Banktivity?
Banktivity 7 is the newest Banktivity release from IGG Software. Older users may know Banktivity as iBank, but it was switched from iBank to its new name in 2016.
Unlike Quicken, which recently switched to a subscription model, Banktivity is still a one-time purchase and download.
The app is making some pretty big claims about how it can help users — saying customers average a savings of $500 a year and 40 hours of time when they use Banktivity… that kind of ROI is certainly worth checking out.
One important note, which I will talk about in detail in the features section of my Banktivity 7 review, is that if you want direct synchronization between your bank and the software, you will need to pay for something called Direct Access, which is $44.99/year.
For more budgeting apps and personal finance software, read:
Banktivity's features
Banktivity has a really robust line of tools and features that you can use to track nearly every aspect of your financial life. They've also added some new features in the latest update, which you'll see below.
Account tracking and management
You can connect over 14,000 different banks and financial institutions to Banktivity, and organize them by type and store them in folders to clean up your dashboard. This is really helpful if you have any accounts that you don't use on a regular basis. When organizing accounts into folders, you can see totals based on everything in that folder.
For each account you connect to Banktivity, you can set minimum balance reminders, store account numbers for reference, make notes, and link to each bank's website.
Direct Access
Direct Access is how Banktivity users can sync and automatically import bank and investment account information and transactions, which makes your experience significantly better. The downside is that Direct Access is an additional $44.99/year, but one purchase works across any connected devices.
You can still use Banktivity without Direct Access, but you'll have to import or download data, which is sometimes tricky depending on the types of files your financial institution uses. You can definitely do manual entry without Direct Access.
Banktivity is pretty transparent about why they need to charge an additional fee for this service. To start, Banktivity pays Yodlee (a financial accounts aggregator) to provide this service. And rather than selling your data (what many free apps do), they give you the option to pay for Direct Access or not.
While that extra cost might be frustrating, I do appreciate the choice.
Debt and loan management
Real estate
Banktivity 7 was released with two new real estate features that give you a more comprehensive look at your assets. You can now connect real estate accounts to your mortgage accounts. You can also see the estimated price of your home through Zillow — you need Direct Access for this feature.
Calendar view
The calendar view is new with Banktivity 7. It's customizable and shows you:
Running balances
Posted transactions
Scheduled transactions
Weekly investment performance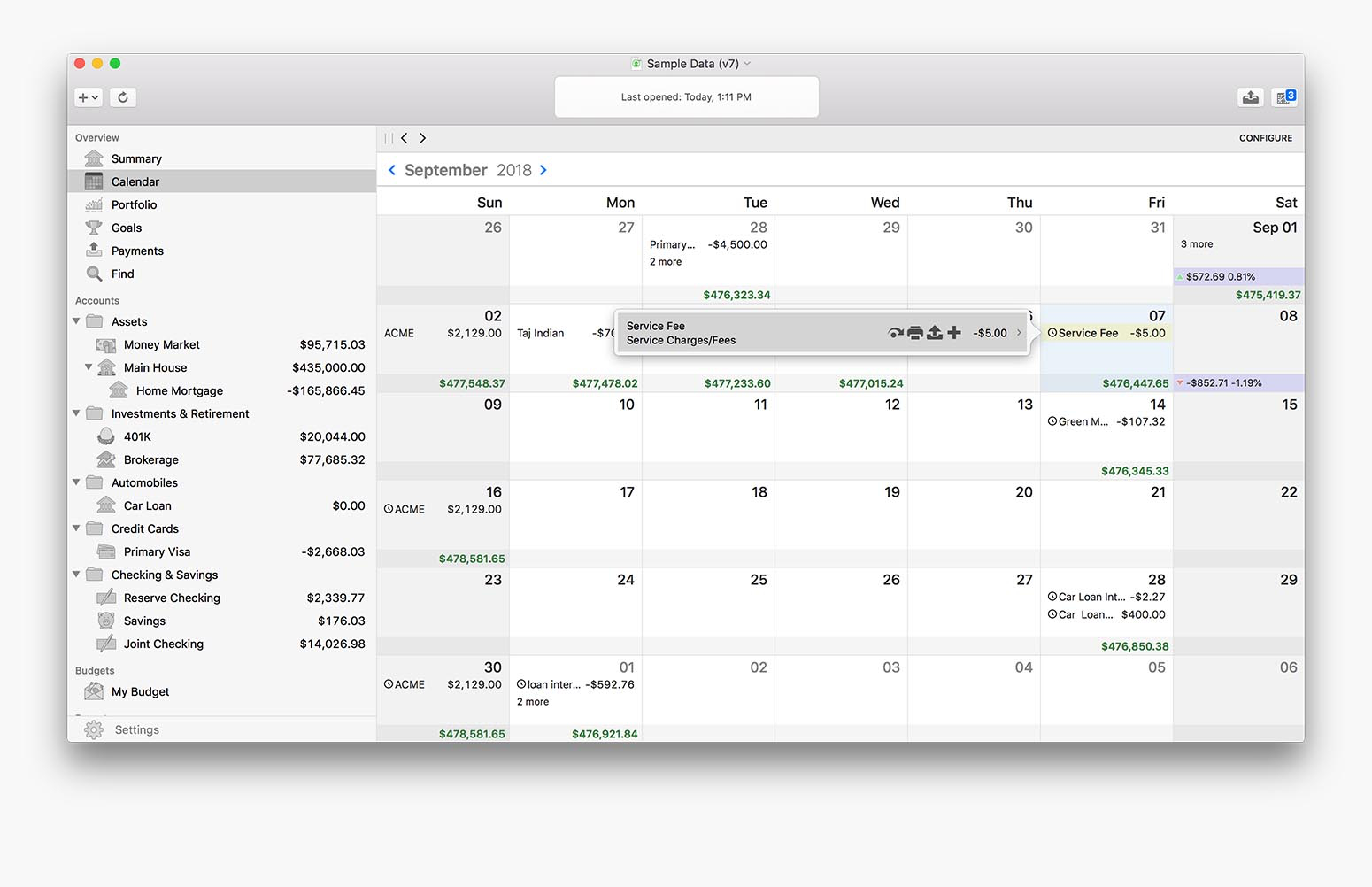 Importing from Quicken and other apps
Unfortunately for Mac users, Quicken isn't as functional as it is for PC users. For Mac users wanting to switch to Banktivity, there is an importing engine that moves data from Quicken to Banktivity. It preserves accounts, transactions, categories, etc.
Banktivity's import tool supports the following file formats: QIF, QMTF, OFX, and QFX. This helps bring your financial data from other software like Quicken Essentials and Microsoft Money.
Related: Quicken for Mac Review 2020: New Features, Pros and Cons, and Alternatives
Tax support
Through Banktivity's categorization and tagging system, you can also assign tax codes to transactions, accounts, etc. Don't know the tax code you need? Banktivity has a complete list with descriptions. There is also an export tool for tax categories that exports as a TXF format that you can with tax software like TurboTax.
Banktivity's mobile apps
There are separate iPhone, iPad, and Apple Watch apps. Cloud Sync keeps data up to date between devices. The iPad app is $19.99 while the rest are free.
Online bill pay
Not all personal finance software supports this, but it's a nice feature for users who want to use software to automate their bill-paying process. Banktivity does support online bill pay. You need to set up your bank accounts with direct downloads/OFX to use it. One really helpful part is that you can set everything up on a schedule and let Banktivity take care of paying your bills.
Reports
Banktivity has some pretty stellar reporting tools:
You can get quick reports on individual accounts, account types, investment highlights, personal savings rate, spending categories, upcoming bills, deposits, account balances, your net worth, etc.
There are built-in templates
Compare date ranges
Run reports as bar graphs, pie charts, and tables
You can forecast account balances
Save your reports based on category
Convert your reports to Excel or Numbers formats
Interface
Banktivity follows the same streamlined and user-friendly interface that Apple products are known for. You can even run Banktivity in Dark Mode for macOS Mojave.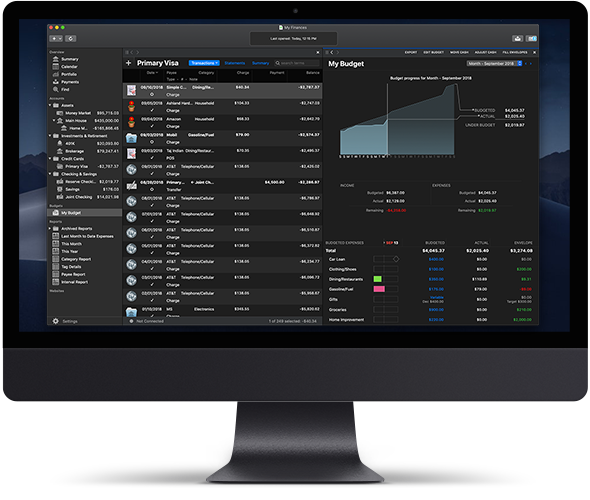 How much does Banktivity cost?
Banktivity is $69.99, and you need macOS 10.12 Sierra or higher. It's a one-time purchase and download. There is a 90-day money-back guarantee, but that's only good when you purchase Banktivity directly through IGG software, not the Mac store or Amazon.
Full-time students and teachers with proof of educational affiliation can get Banktivity for a 20% discount. U.S. military personnel can use their military email address to email a discount request and receive 20% off their purchase.
For Banktivity 5 and Banktivity 6 users, you can upgrade to Banktivity 7 for $34.99.
Remember, if you want Direct Access to automatically download your financial activity, there it's an additional $44.99/year.


Budgeting with Banktivity
Banktivity supports three different budgeting strategies: events-based budgeting, category budgeting, and envelope budgeting. This gives users the option to pick a budgeting system that works best for them, and this built-in flexibility is pretty different from most budgeting apps.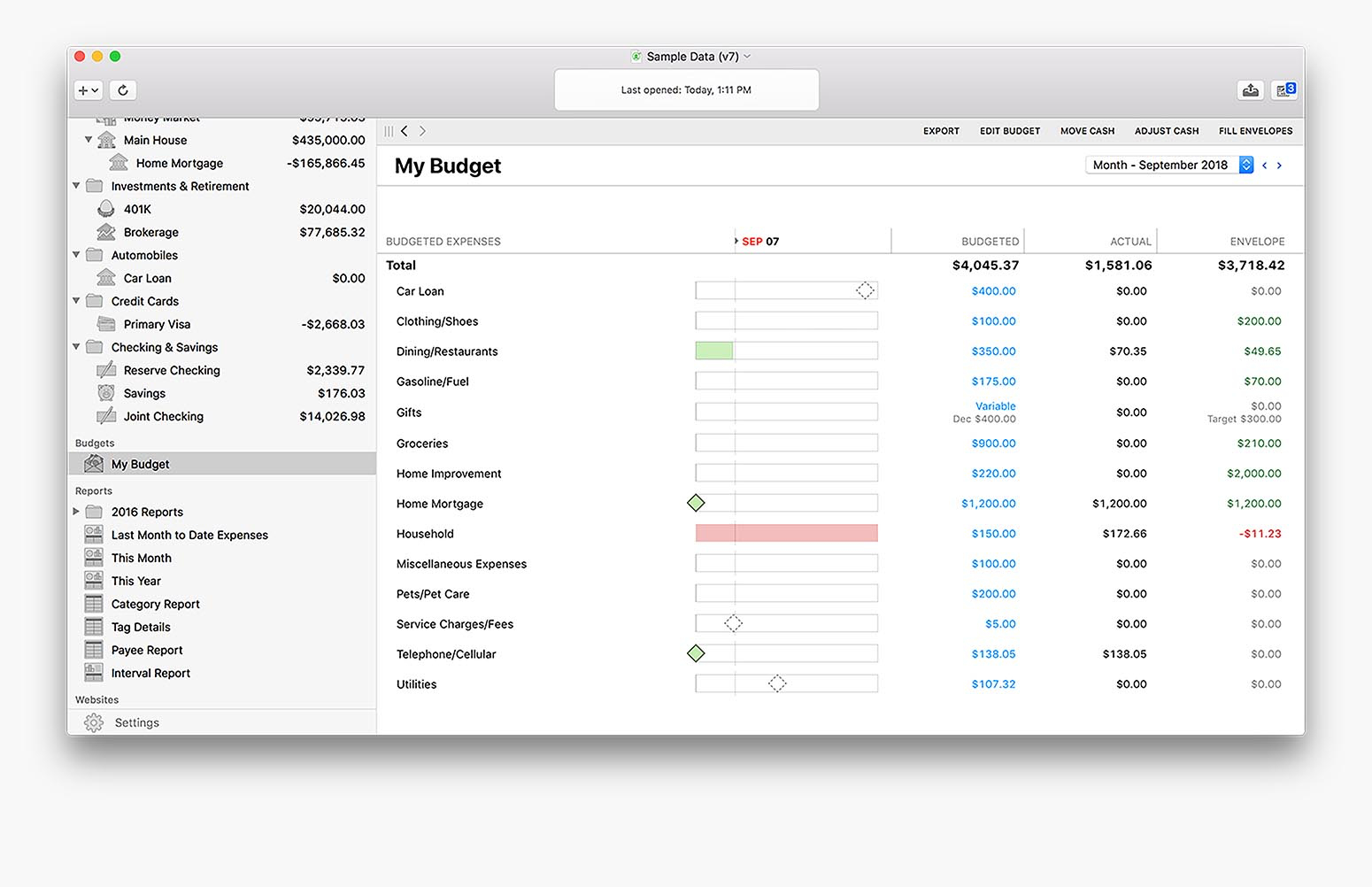 The most popular option on Banktivity is envelope budgeting, which was improved for Banktivity 7. Envelope budgeting is also known as zero-based budgeting, which works by allocating money to specific expenses until you get back down to zero. Banktivity doesn't ask that you use literal envelopes and cash, but you can.
Envelope budgeting is incredibly effective because it forces you to think about individual spending areas. It's easy to see when you need to adopt some frugal habits, like cutting the cord and finding more affordable cable alternatives. And, you can just as easily see how finding a good side hustle can make a massive difference in your monthly budget.
What surprises people the most about zero-based or envelope budgeting is that it's really flexible. Overspend on groceries? No problem! Pull from your going out to eat funds. Underspend? Throw that extra cash at your debt.
Events-based budgeting focuses on planning around regular events building flexibility for unexpected expenses. Category budgeting helps you set goals for earning and spending.
You can even pick different types of budgets for specific spending categories or groups. And with each budgeting style, you can run reports that show you how well you're staying within your budget so you can plan better in the future.
Read more at: Best Budgeting Apps and Personal Finance Tools
Investment tracking and tools
Banktivity comes with several investment tracking tools including:
Lot selection
Security management, which lets you see the current market value and price history for all of your securities, adjust names and symbols, etc. With Direct Access, you'll get up-to-date information on individual transactions, buys, sells, splits, etc.
Generate reports for capital gains, security income, portfolio diversity, and ROI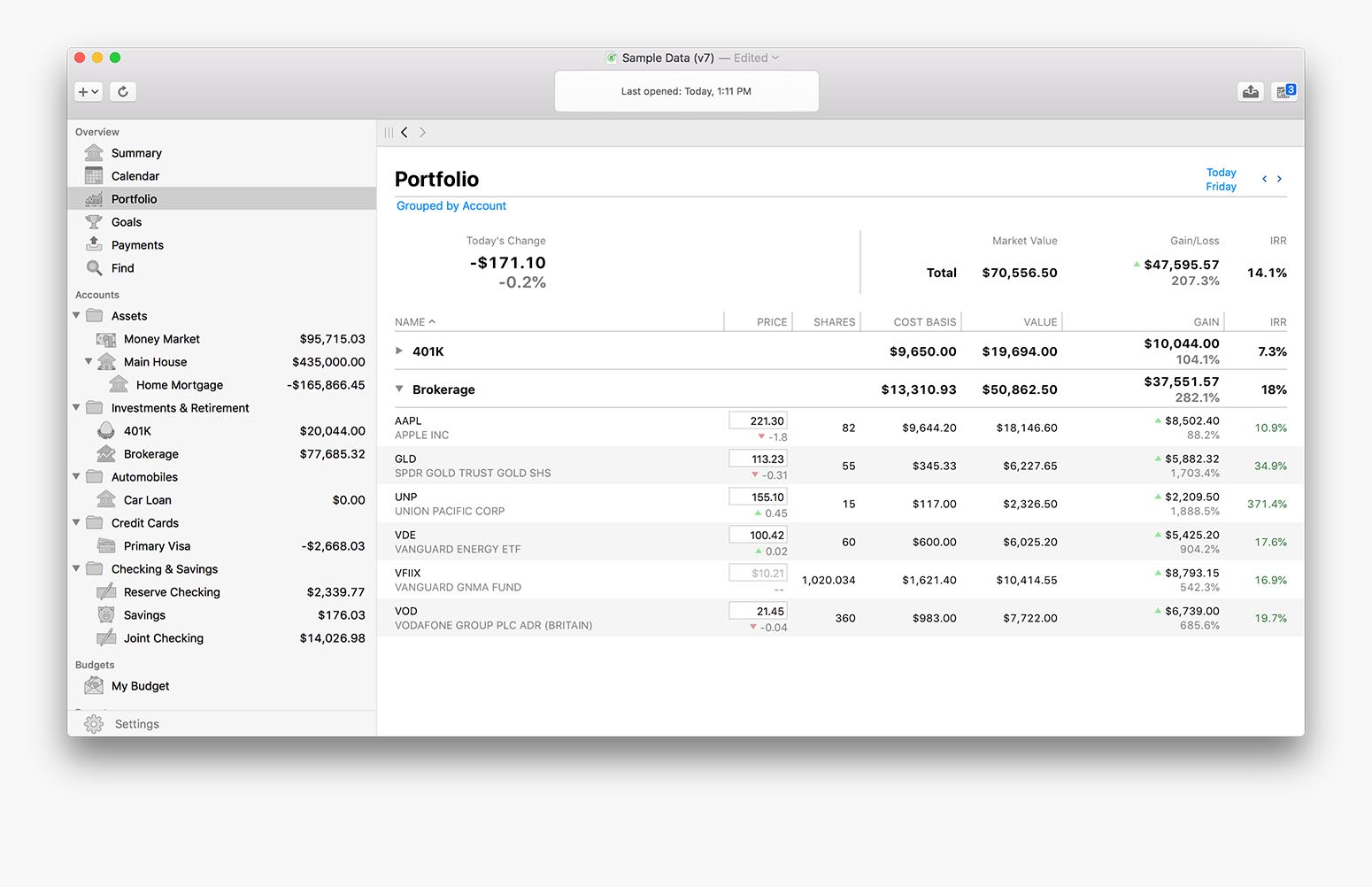 Banktivity does have some great investment features, but it still isn't as robust as Personal Capital. Personal Capital, my favorite personal finance software, which also includes a retirement planner and fee analyzer. Read more about it in my Personal Capital Review 2020 | Free Investment and Net Worth Tracking.
Banktivity support and customer service
For Banktivity specific issues, there is a support center with help articles. You can find help for older versions of Banktivity, going back to iBank 4 — the last version of iBank before IGG switched to Banktivity. There are also help articles for iPad and iPhone users.
There is also Live Chat (9am-5pm EST Monday through Friday) and email support. When I was testing the software, there was an alert about longer than average ticket response times.
There is also a Banktivity learning center, which it's mostly blog posts published every couple of weeks on personal finance topics: picking a mortgage lender, life insurance, budgeting for inflation, etc. Banktivity also offers free webinars, which are live presentations hosted by a Banktivity expert. There are upcoming webinars on how to get started with Banktivity and using envelope budgeting.
The final word in my Banktivity 7 review
If you're a Mac user who is tired of Quicken or you want a personal finance tool that matches the interface you're used to, I would take a serious look at Banktivity. It includes a number of high-quality features, like multiple budgeting strategies, tax support, and extensive reporting.
The features it doesn't come with are all easy to find and free — you can get credit score monitoring with Mint, and Personal Capital is my favorite retirement planning software.