I'll be honest – there are a lot of things that really enjoy about running M$M. But I think the coolest thing is being able to talk to readers that have been following the site since the very beginning.
This thing hasn't just been a journey for me – there are a lot of people that have had their lives change in really cool and inspiring ways since I sat down to create the site at my in-laws' kitchen table a few years ago.
I've seen thousands of student loan payoff stories, investing wins, first-time home purchases, countless car pictures with over 100,000 miles on the dash, readers becoming parents for the first time, and on and on.
The fact that so many people have allowed me to be a part of their life is really special to me. Before I started this whole online business thing, I had never been a part of any online communities. I didn't even read blogs!
Let's take a walk back down memory lane…
First of all, when I started M$M I had no idea what the heck I was doing. The only web design experience I had previously was in some 7th grade class that I probably made a C in (and got grounded afterward because my grades ALWAYS sucked).
So when I had decided to start a blog, I had to figure out what I was going to do for the website.
I started Googling blogs, and actually found my (now) good friend Erin Lowry's blog Broke Millennial. A few more searches and hours of research later, I decided that I was going to create my own website.
Now at the time – I was working like 60 hours per week as a high school band director. I worked from 6:45 am – whenever we were done at night.
Usually I'd get home around 7:30 or 8:00 pm. I'd eat some dinner, hang out with Coral, and then start watching videos on how to build a WordPress website.
Here's what I came up with on my first shot:

I mean…it's not too bad, right? Back then I didn't have very much content to share, so I wanted to go with a "minimalist" type of theme to kinda hide that I guess.
Back then, I used to write some absolute books for posts. I've been fortunate to have some natural blogging ability, but I really hadn't found my "voice" yet. At this point I just had all of these ideas that I needed to get out on the computer.
My mind was racing all the time with new post ideas. 3 years later I still have a lot of ideas, but it's a little more structured in the way that I approach creating content, and I do a lot more documenting things that are happening now (because it's more fun to write that way honestly).
Then true to form, I changed a bunch of stuff haha: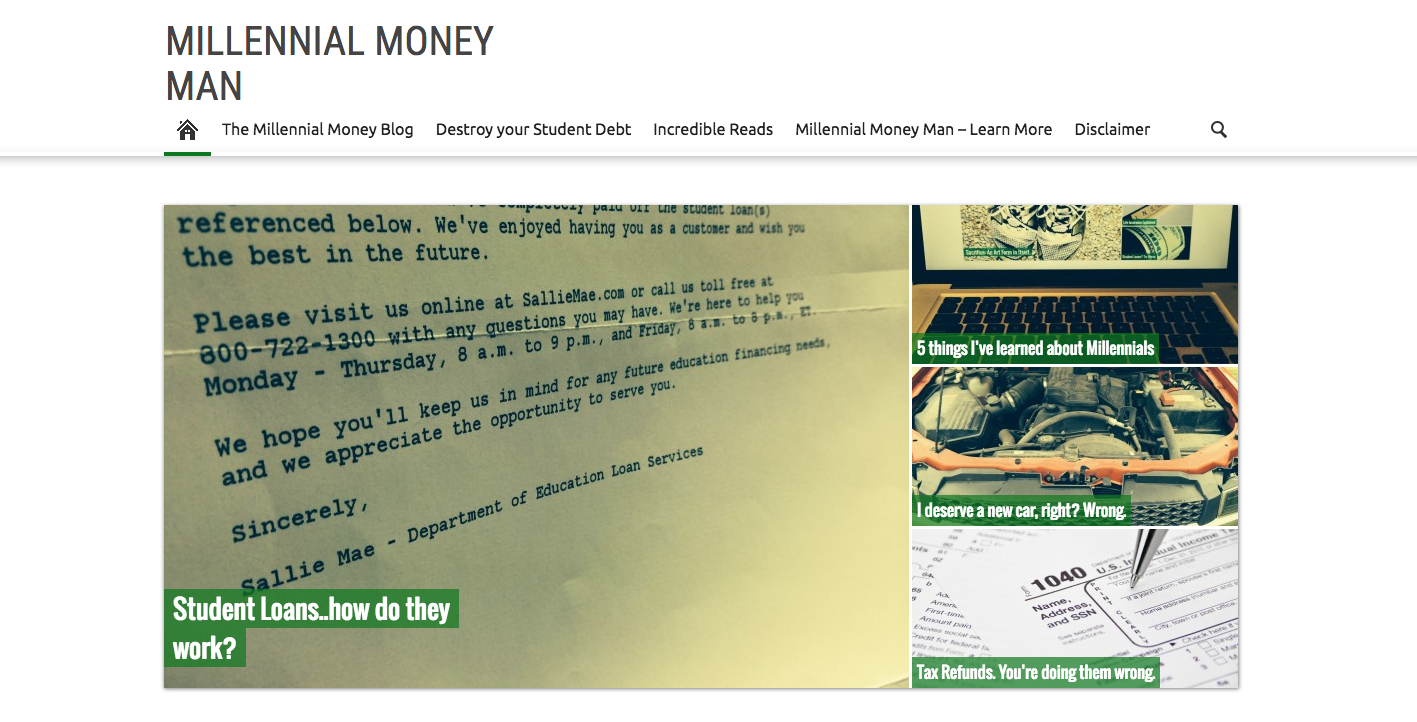 Less than a month later, I picked up a new site theme and completely redid everything. I'll let you guys in on a little secret: I'm pretty sure I have ADHD.
My parents tried to get me tested for it when I was a kid because I sucked at school, but I didn't want to take medicine so I focused as hard as humanly possible when the doctor "tested" me for it. I passed that mofo with flying colors and continued to have terrible grades until I was in college.
#lookatmenow
Fortunately for me, my lack of ability to concentrate on anything for extended periods of time works really well with blogging and running a business in general. There are definitely things I've had to overcome, but I've just learned that I need to hire people to keep me on track.
My assistant Melissa sends me a morning email now with tasks and in general just makes sure that I draw within the lines when necessary. 🙂
Anyways, I moved to this version of the site because I started to get more content and wanted to display more of it. Still no logo (hadn't thought of anything cool yet).
My writing back then was sooooo much edgier. I don't even really like reading it now. This was back before I got thousands of emails from people that were coming from different places in life.
The content on M$M was written solely from my perspective and story of paying off my loans really fast on a teacher's salary. As the site started growing, I softened a lot of my views on personal finance and definitely became more open to listening to other ideas.
I actually kept things the same for about three months…and then I quit my teaching job to run the site: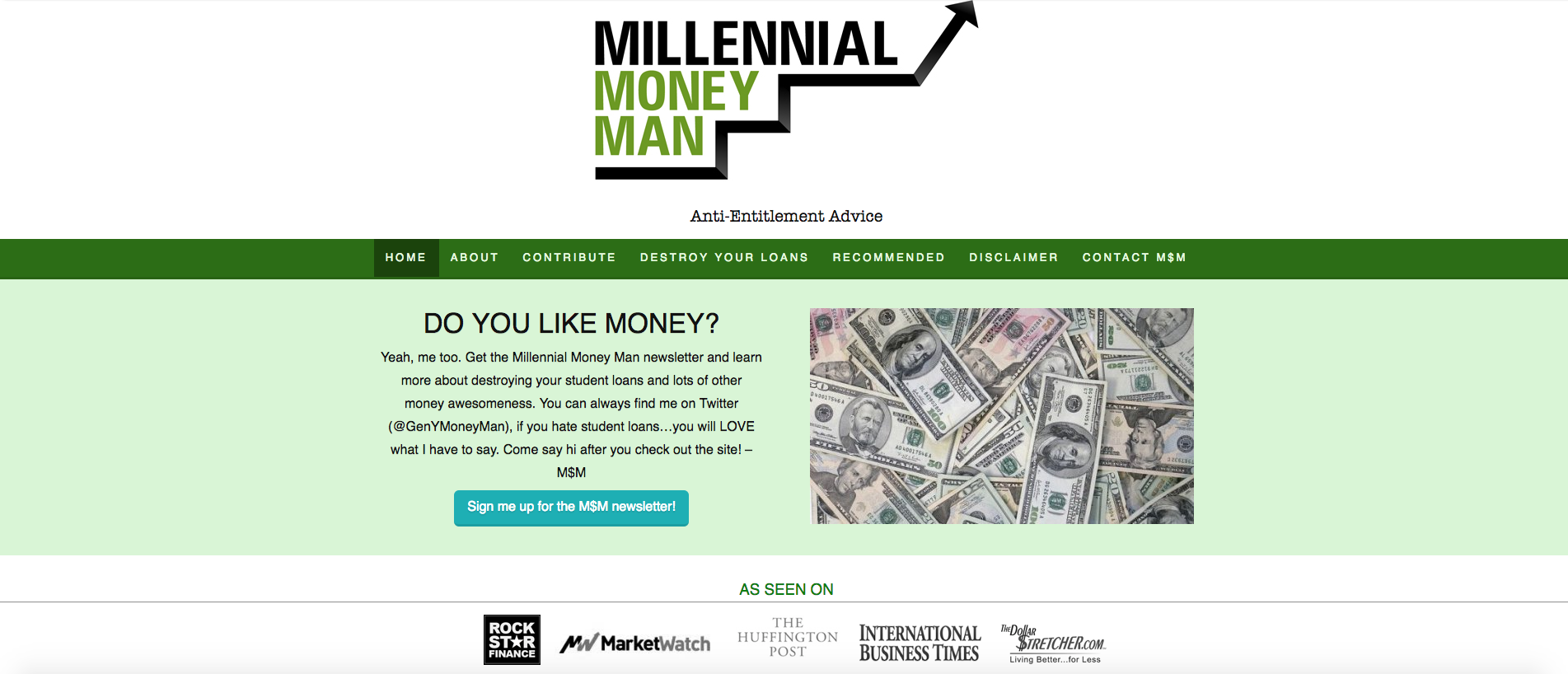 By this time, I had started to have a little bit of success blogging and had a small readership. I was able to get mentions/features on some bigger sites, which definitely helps with credibility.
I actually spent a few hundred bucks on a cool logo and website theme. It took me a little bit to figure out how to actually build this site (it was on a platform called "Thesis").
But all in all, it looked alright. I think one of the best things I did early was get into the habit of putting money into my business…even when it wasn't making any.
At this point in time, I might have made about $300 or so from the site.
This is right around the time I started doing marketing work for small businesses to bring in money while I built M$M.
I kept that theme for about a year, and then…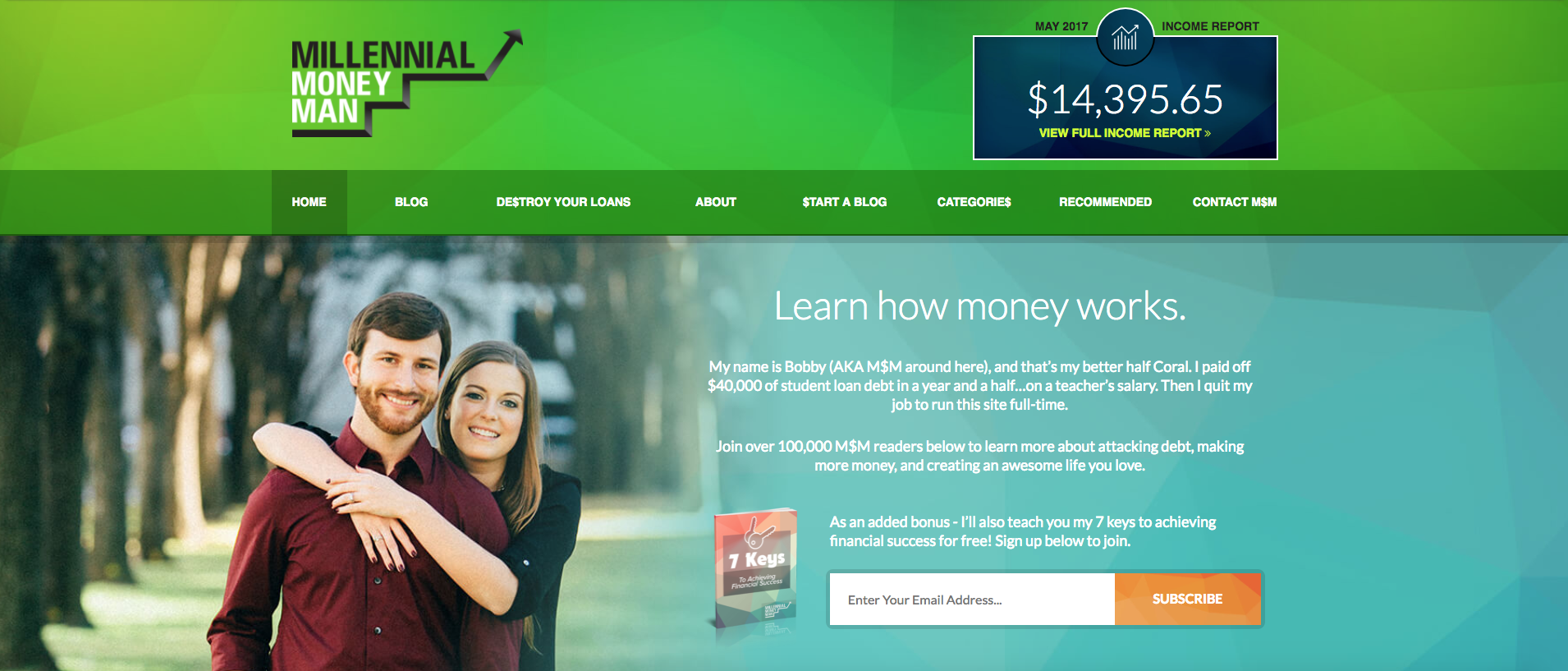 Mmm mmm mmm. I love this site haha.
Really what happened was that my story got featured in CNBC, and then I was able to write for Business Insider and had a few mentions in Forbes.
Not bad for a band director.
I kept with the same theme of re-investing back into my business. I hired a mega-legit web developer named Zach Swinehart to create my site.
It cost about $5,000 to have the site custom-created, but it was so worth it.
The idea behind the site design was actually pretty simple. I wanted something that looked awesome, but had a friendly vibe.
My vision for M$M is to bring people that haven't ever been interested in personal finance, and then give them a great community to be a part of where they can learn and get excited about money free from judgement.
The color scheme of the site isn't an accident. The bright pastel colors and geometric designs were to make it feel welcoming and dynamic.
I wanted the site to feel like happy money. I think it does haha.
I also made the decision to start displaying my income reports so that people could take a look at what I was doing to grow the site.
Zach is like the Mozart of developers, and he created a sweet custom system for me to update the site on my own (within reason).
He lives in Thailand and does the whole digital nomad thing, and we've actually become good friends now and he still has kept me around as a client, which is cool.
Right around this time, I started really kicking my Facebook traffic strategy into gear (dubbed "Unicorn") and have been quickly growing the M$M audience ever since!
Then I dropped multiple courses through the M$M brand: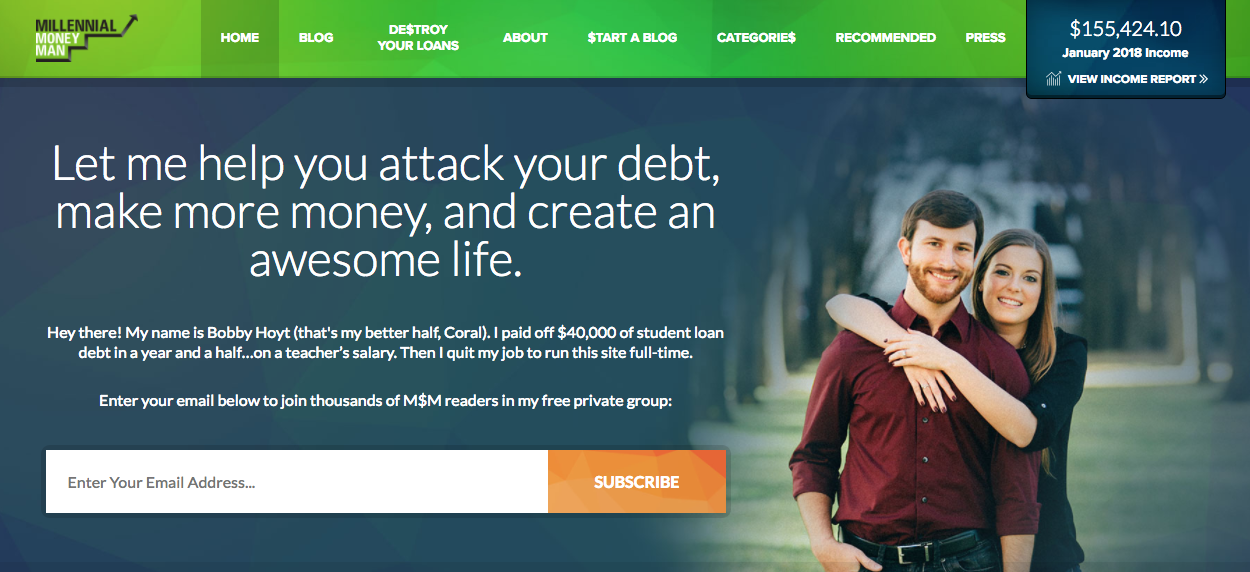 That's the current iteration of M$M, and even though the overall vibe is the same, we did some pretty massive changes to the design to account for all of the courses that I have now.
It has been really interesting to look back and see how much everything has changed for the site. Not too long ago, it was just me sitting in my in-laws' house trying to figure out website design and blogging.
Now I have a team that handles a ton of things for me while I focus on writing and growing the brand. It's pretty freaking sweet.
If you're wondering how I was able to do this in less than three years…it's pretty simple:
I'm willing to outwork anyone in the game. Straight-up. I will hustle to earn every single reader's attention that comes to the site.
Also (and probably more importantly), I aggressively reinvest money back into this brand and I've made that a habit since nearly the beginning.
I'm not trying to build a cool blog. I'm trying to build an empire.
Speaking of empires…

I hope you're ready, because I'm about to drop something pretty huge in the coming weeks. 🙂
(I'll tell you more as we get closer.)
Here's what you can take away from this:
Building a business is a journey, just as much as paying off student loans, building your net worth, or seeking financial independence is. I changed and grew a ton after paying off my student loans, and the same thing has been happening while I've grown my business.
If you're stuck in the grind right now and getting discouraged with whatever you're working on…there's nothing wrong with that. It happens.
The way that you continue to move forward is by always keeping the end goal in mind. For me, it's what I mentioned earlier: I want to build an empire.
For you it could be as simple as seeing a certain number in your bank account or getting to your debt-free scream (shout out to my Ramsey readers ;)).
Be willing to outwork everyone around you, push yourself out of your comfort zone as often as possible, and always keep moving towards your vision.