My goodness. I wish I was kidding. According to a mind-boggling survey by GoBankingRates.com, 22.4% of young millennials aged 18-24 don't even have a savings account. While that number might seem scary and a bit ridiculous, the daunting reality of Gen Y's financial situation actually gets much worse.
It might be understandable for college students and recent high school grads to not have their collective stuff together, but older millennials like me (aged 25-34) aren't doing a whole lot better. According to the study, 18% in this segment don't have any savings either. 26.3% of us have an account open with apparently NOTHING IN IT. There is also a 10.6% segment of the same older millennial group that only has the minimum required balance in savings.
For those keeping track at home – that minimum balance is anywhere from $25-$300 at the large banks like Bank of America, Chase, and Wells Fargo.
What's more fascinating is that income levels don't seem to have any drastic changes in how many millennials are cash-poor either. 19.6% of millennials that make $24,999 or less don't have a savings account, compared to 21.1% for those making $75,000-$99,000. The only millennials that are doing well with their emergency savings funds are young people making over $100,000 a year.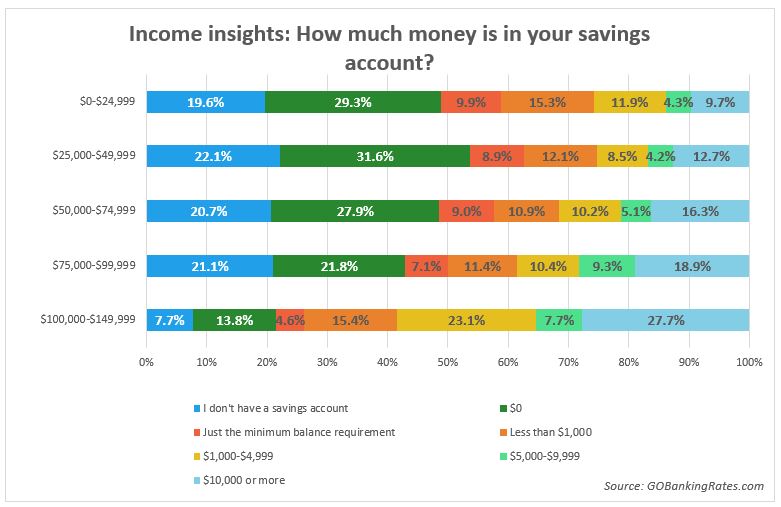 Here's maybe the scariest part of all: go back to the first graph and check out how millennials compare with older generations. If we don't start changing something, we may end up in the same retirement situation that Boomers have found themselves in (mostly screwed).
Why is an emergency fund so freaking important?
It's simple. $**t happens. I'll give a perfect example – my wife got pretty sick last week, so we went to the emergency room. If you've ever been in that situation, you know what comes next…tests. And lots of them. We have decent insurance, but I KNOW the bill will come out to somewhere in the $1,000 range.
The cool thing is that we aren't sweating it. We made the decision early on to drive old cars and be mega frugal, so now we have a NICE emergency fund saved up. $1,000 isn't chump change, but it won't have much of an effect on us.
But it's not just about health expenses. If our car breaks down, one of our cats tries to eat the other one, or one of life's many surprises hit's us – we're covered. It definitely helps us sleep better at night.
Make the tough choices now to save $$$.
Saving money on a starting level salary isn't easy for sure, and even harder on one income if you're single! But that doesn't mean that it's not possible. You just have to let people pass you up. While you watch your friends buy the new car and plaster the picture of them in front of their rolling debt-burden for all of Facebook to see, just bide your time like we did.
Be the person that doesn't have cable. Pass on the invites to eat out. Get another roommate, or *GASP* rent a room from your parents. All of these suck, but a few years from now you'll have cash in the bank while a fifth of your millennial peers won't have a savings account.
What's the right amount to save?
It's different for everyone. My wife and I were on the extreme end and put away an entire year of my teaching salary so I could leave my job, but you don't necessarily have to be like us. The popular figures are 3-6 months of salary, but I really like $10,000 as a solid emergency fund.
The 50/20/30 Rule
This is an EASY way to decide how you should prioritize your spending every month by percentage of income! This is the model that LearnVest uses, but really you could put any number set in that works for you (there are a few versions out there).
50% of your income – All your living expenses. Simple.
20% of your income – Retirement and debt payoff. Stop buying new cars please.
30% of your income – The fun stuff (vacations, etc.). This should be smaller if you have debt or haven't hit your emergency savings fund goal yet.
A quick note – I fully believe that if you are working off student loans or any other type of nagging debt, you need to have your emergency savings fund set up first! I'd even make minimum payments until you hit your saving goal. That was one of the first financial mistakes I ever made! I started making major payments towards my $40,000 in student loan debt before I had any savings, which could have screwed me over early on.
If you have your own saving goal or strategy, share it below!!!!
Don't be like the bottom fifth of millennials. Be smarter and save. Live Differently. Your bank accounts will thank you later. ~ M$M