One of my main missions on this site in the coming year is to help people figure out how to create successful side hustles that will help them get ahead financially. After starting my own side hustle (this site) that turned into my full-time job, I want to help other people do the same.
I came across a ton of great side hustle stories from readers in 2017, so I've updated this list to reflect what I think are the best side hustles to start in 2018!
For a lot of people, the beginning of the new year is a great time to start new things. Whether you're trying to pay off debt, add to your savings account, or invest a little more every month – a side hustle could be a great vehicle to hit your financial goals.
Before I get to the list, I want to make sure one thing is VERY clear. Side hustles aren't easy. Anyone who tells you that making money on the side is simple is either lying or shadily trying to sell you something. Any business (regardless of size) takes organization and hard work, but it is possible to do well with a side hustle.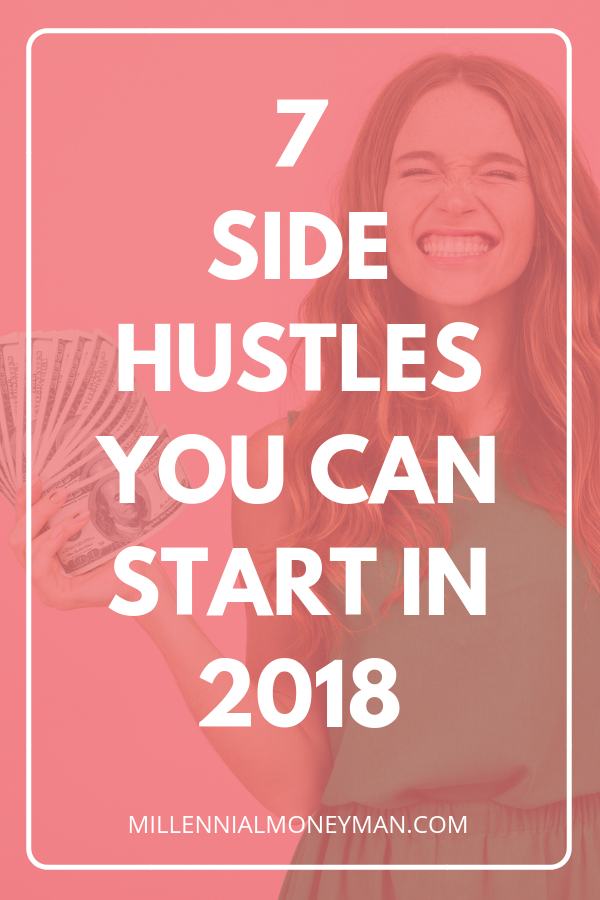 7 legitimate side hustles you can start in 2018:
1. Create and manage Facebook ads for local businesses
In addition to running this site, I also own a marketing business that is dedicated to helping local businesses reach more customers online. The most requested service I see right now is Facebook ad management, and it isn't going away anytime soon.
Every small business owner sees Facebook ads on their personal Facebook page but doesn't know how to effectively run them.
The crazy thing? They really aren't that difficult to manage and effectively drive leads to businesses. That's why I've created an affordable course for my readers to learn how to start their own Facebook ad agency on the side in 2018. It's industry standard to charge anywhere from $1,000 – $2,000/month per client, and you don't need any website or marketing experience to get started.
I was a band director before I started providing this service. If I can figure it out, you can too.
This side hustle also doesn't take very much time. After you onboard a client and do the initial ad creation and audience testing (only takes a few hours), the ads essentially run on autopilot from then on.
The course is currently open for enrollment. If you've been thinking about making extra money to pay off debt or invest a little more every month, the FB Side Hustle Course is definitely for you.
You can learn more here: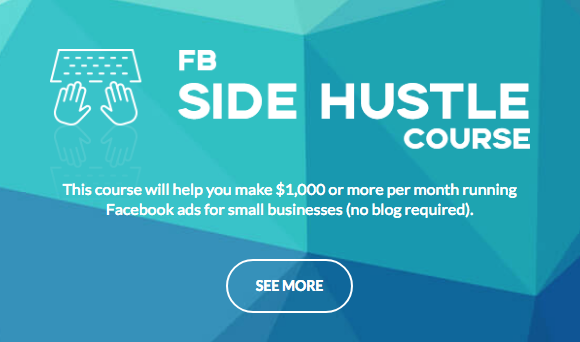 2. Teach English from home through VIPKid
VIPKid is actually one that I stumbled onto just a few months ago, and I quickly found that I have hundreds of readers that swear by this side hustle.
The premise for this side hustle is actually pretty simple: You teach Chinese children English online in your spare time.
You do not have to be a certified teacher to do this side hustle! All you need is experience working with children. That could include any of the following:
Raising your own children
Working at a daycare
Tutoring
Babysitting
Basically, anything that constitutes as working with children
With VIPKid, you spend time either in the mornings or at night (most of my readers do it before or after work) teaching English lessons to students overseas. There is no lesson planning, and VIPKid walks you through the entire process.
You can learn more about VIPKid here.
3. Become a virtual assistant
There are a couple of routes you can go with this type of side-hustle, but the most successful one I've seen is helping bloggers and small businesses complete online tasks. One of the easiest ways to market this service is to create your own blog, and then offer your virtual assistant services on your website!
There are also services that you can apply to work for like Fancy Hands, which allows you to make your own schedule and get paid $2.50 – $7.00 per online per task that you complete.
I currently have two virtual assistants, and it has been a huge help for my business. The great thing about this side hustle is that you can also specialize in certain areas. For example, my friend Kristin Larsen (the go-to side hustle expert on CBS) has an incredible Pinterest Virtual Assistant course that will teach you how to make extra money managing Pinterest accounts.
This is a service I have used before, and have actually hired one of Kristin's students. If you already enjoy scrolling through Pinterest, you will enjoy her course and learn a great way to make money online.
4. Start a pet sitting or dog walking business
I'm a pet lover, so I bring this one up pretty often!
If you legitimately care about animals and enjoy taking care of them, you can start a pet sitting business. Take some time to start volunteering at local pet shelters to build a reputation. You'd be shocked how much business you can get through referrals from volunteers and veterinarians!
*Pro tip*: Create business cards and ask if you can leave them at your vet's office.
You can also sign up to work with an app like Rover. Rover allows you to list your services and get clients, all while keeping 80% of the revenue that you earn through the app.
If this side hustle is something you are interested in, take a look at this article to find more pet care services that you can work with.
5. Start a blog
I'm obviously a little partial to blogging, but it really can be an avenue to open up a lot of doors in your life. I started my blog back in 2015, and have been able to create a great income and lifestyle that I would never have thought was possible.
It's important to understand that blogging is not a get rich quick business model. It's actually fairly slow as far as side hustle income goes. It's completely reasonable to not see income through a blog for at least six months.
But with that said, it is possible to have success with a blog if you understand monetization, building an audience, and finding your "voice" in the niche that you choose to focus on.
If you're interested in blogging, take a look at my free blogging course that over 1,500 M$M readers have taken so far:
The Free M$M Blogging Course
You'll learn how to start and run a successful blog in just 8 days!
6. Handle social media/marketing for small businesses
This side hustle actually goes hand in hand with blogging.
When I first quit my job to run this website, I needed to find a way to make money quickly. I realized that all of my skills from blogging actually translated directly to digital marketing for small businesses. Small businesses often have blogs, social media channels, and need to show up in Google.
If you have a large social media following or build a decently sized blog (5,000-30,000 views per month), you can freelance as a social media manager or provide marketing services for small businesses.
You do have to have some experience running websites to make this side hustle work, but if you've been blogging for 3-6 months, this is a viable side hustle you can use to monetize your skills.
In addition to the Facebook Side Hustle Course that I mentioned earlier, I've also created a course designed to teach bloggers how to build a small digital marketing firm and make money through their site.
If you're willing to put the work in to build a marketing business, you can sign up for the course below:
FB Ads for Bloggers Waitlist
Learn how to grow your blog and audience quickly with inexpensive FB ads. (Launches late August 2018)
7. Make money by flipping furniture
Any time a reader asks me for an accessible side hustle, I like to start with flipping furniture. In my opinion, it's one of the easiest side hustles to get started with because the cost of inventory is so low.
It's very common for people to put old furniture out on the curb as trash. The surprising thing is that a lot of furniture only needs a few coats of fresh paint before it can be sold again to a willing buyer.
Like any side hustle, there are different levels of skill and niches that you can dive into. Antique furniture tends to be an area where the prices and the amount of expertise required to flip inventory are much higher.
As far as sourcing inventory – Facebook groups and neighborhood forums are excellent places to find and sell furniture. You can even charge more for delivering furniture to customers or for custom work.
I recently interviewed a professional furniture flipper and discussed the ins and outs of growing a furniture flipping side hustle here.
Observe your surroundings and find a need
That's really the key to ANY business. I started M$M because I felt like young people needed a place to come learn more about personal finance, student loans, and now entrepreneurship. If you have a skill that you think could fill a need for someone else, you can start a side-hustle. It's honestly that simple sometimes.
Be aware of the market when considering side hustles
When you start your side hustle, you need to understand this above all else: The market doesn't give a damn about what you want. The market only cares if you can produce. Period.
If you can't put in the time to produce a great product or service, you'll probably want to avoid starting your own small business! I don't say that to be mean, but to be realistic and filter out the people who aren't really willing to put in the time to make extra money on the side.
But, if you can put in the extra time after work you can definitely make a successful side hustle!
Question for you:
How are you going to make extra money this year? Please share below – I want to know!