It's been a little over a year and a half since I quit my band directing job, and I have to admit that it feels like it was almost 10 years ago. My career and life are so much different now than they used to be that it's almost hard to imagine that I had a "normal" job not too long ago.
I spend a lot more time reflecting now than I used to, mostly because working online gives you the opportunity to think without interruption more often than not.
Related: The Best and Worst Things About Being a Full-Time Blogger
One day about my former career really stands out to me
Before I go on – I do want to say that I really enjoyed being a teacher. I've had readers email me that felt I was being a little too harsh on teaching. It's a great career – no doubt. But…it ended up not being right for me.
A major part of my job was to drive around to the jr. high schools and teach percussion classes to the 6th graders that were coming up to the high school eventually.
On one random day, I had an argument with another teacher (and I honestly don't remember what it was about or even who it was with) about something related to the 6th grade class. As I was driving back to the high school from the jr. high, I got so freaking stressed out about it that I actually felt physically ill.
I'm sure a lot of you have had an experience like that at a job in the past.
People who are close to me know that I HATE confrontation. It just seems useless to me in most situations. A stupid argument about something that probably didn't matter at all in the grande scheme of life had me sitting at a stop light feeling light headed.
That moment was one of the first ones where I started to think I needed to do something else. Fast forward a few years, and this is what I'm doing: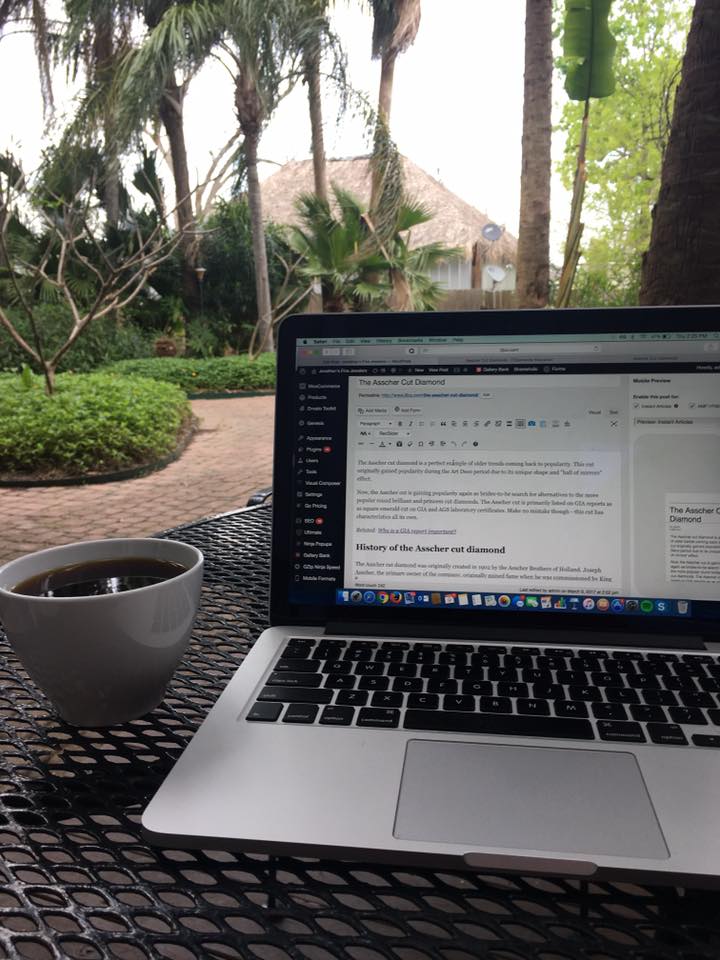 Needless to say, I don't have those moments too often anymore. 🙂
Here are five ways that blogging has changed my life:
1. I get to be creative AND have a higher earning potential
Unfortunately with a lot of fields in the arts, people have to choose whether they want to make a lot of money or enjoy their profession. While blogging probably isn't an "art", it absolutely scratches the itch I have to be creative.
It's also super scalable. If you can reach tens of thousands of people, you can probably make a lot of money. At some point it really just comes down to a numbers game, especially with affiliate products or courses you might offer on your site.
Related: February 2017 Online Income Report: $13,453.34
2. There is no real "office" (if you don't want one)
As you can tell by the picture above, you don't really need a designated office space to make money. I tried to work from an office when I first started my online business, but I just found that it was way easier to write from cool coffee shops or even on the couch.
Wifi and my laptop is basically all I need! And coffee. Lot of coffee.
3. My work hours are linear
I know that using "linear" for working hours may seem a little weird, but that's the way I think about it now.
Most people think that bloggers don't work at all or only a few hours a day, but I can tell you that it isn't the case. Now – you can definitely choose your hours and make time in the day for certain things, but I really have a low key constant stream of work now.
I'll write some stuff, check emails, write, look at affiliate accounts, etc. and basically cycle through it all day. If I hit a creative road block, I'll shut the computer and chill for a little bit and come back to whatever I was working on later.
4. I have more fun
I've meet cool people online, have the option to go to blogging conventions like FinCon (yes blogging conventions are a real thing), and have a job that makes people say: "whoa…that's freaking cool".
Work used to feel a lot more like a chore, but now it's something that I wake up and actually look forward to. I really hope all of you are able to find the job that makes you feel that way as well.
5. There's less stress…kinda
This is where there is a little bit of a caveat. Blogging in itself isn't really stressful at all, but owning a business definitely is in the beginning. The cool thing about it is that most of your stress is something that you can control, whereas in a normal job it's probably coming from a boss or coworker that you can't do anything about.
Once you get past the whole non-guaranteed income thing and learn how to actually run a business, the stressful parts tend to fade away.
You don't HAVE to be trapped at a job you hate.
I don't think everyone can become a blogger. It would be wildly irresponsible to preach something like that. However, I do think that the internet has made some pretty incredible things possible that our parents and grandparents couldn't have even imagined.
If you have an idea for ANY kind of online business or blogging as a second income stream or potentially your future full-time gig, please give it a shot! It's at least worth finding out if it's something you would enjoy.
Save