Hey everyone! Today I have a great guest post for you by Kelan from TheSavvyCouple.com. Everyone that reads M$M knows that I NEVER advocate for quitting your job the way I did to start an online business or blog. Kelan totally ignored my advice and is now making money as a full-time blogger and digital marketer after leaving his job earlier this year haha. Enjoy! ~M$M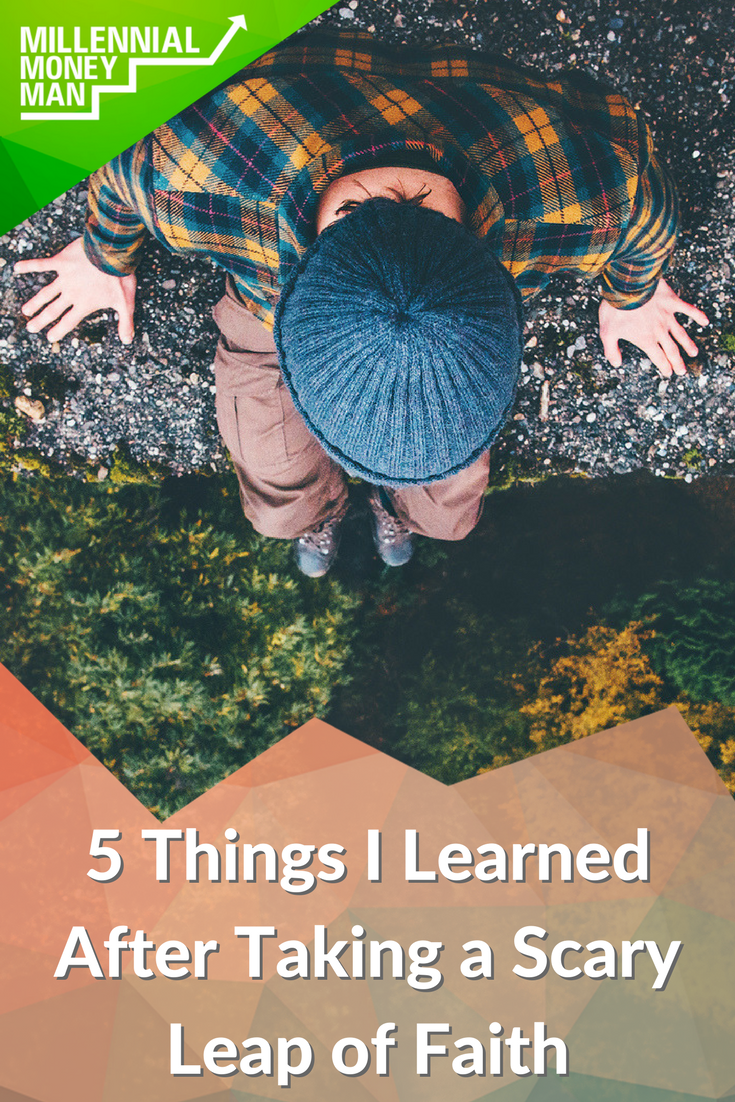 I'll just come out and say it from the start, I am 100% one of the "scary" readers Bobby talks about.
May 2017 I quit my day job to pursue being a full-time entrepreneur. I don't think writing that sentence will ever get old. I remember leaving a comment on one of Bobby's articles saying I was quitting my job to run our site full-time.
I thought it would be fun to scare him a little.
Let's be honest though, becoming a full-time entrepreneur is frightening! It's completely out of the norm to leave a "safe job" and try to earn money on your own.
After a year of running our blog, I have learned a TON about the journey into entrepreneurship.
How my full-time entrepreneurial journey started
My wife Brittany and I started our blogging journey July 25th, 2016 as a part-time side hustle. We did not start taking our site seriously until April when we got an email asking for a "sponsored post." We asked the company what their budget was for such a thing and they replied they would be willing to pay us $100.
After being completely shocked that someone was willing to pay us to be on our site, we naturally replied saying, "$100 is more than generous, $50 will work this time."
Yes, this is a true story and so began my full-time entrepreneurial career.
After our blog made our first $50 in April I knew that blogging was something I was going to make happen. A month later I convinced Brittany that our blog NEEDED me full-time to make it work. Luckily Brittany is always in for a good adventure =).
Here are 5 lessons you will learn your first year as an entrepreneur:
1) You only live once
After I graduated college in May of 2012, I had jumped from job to job many times. From Insurance Salesman, Amazon Store Owner, UPS Driver, Jail Deputy, and Office Manager. You name it, I probably tried it.
Every single job felt the same. The beginning was awesome (it was new), the middle got boring, and the end became dreadful. Every single job I had I felt like I was being suffocated.
It wasn't until I realized YOU ONLY LIVE ONCE that I got enough courage to take the jump. This is when I found my true happiness.
In your first year of entrepreneurship, you will learn how exciting life can actually be when you are earning money for yourself and not someone else.
Here's a quote I love: "you either work for an entrepreneur or you become one".
2) Start with a side hustle
In our first 7-8 months of blogging, we were doing it because we had a passion for personal finance. We enjoyed spending time together creating instead of consuming. We agreed that watching less TV and focusing on our site together was a priority.
We are so glad that we waited so long for me to quit my job and run our site full-time.
Those first 7-8 months there was a huge learning curve. If I had left my job right when we started our blog, I would have gone 7-8 months without making any income. #NotSavvy
It's always a good practice to learn as much as you can about starting a business before jumping in head first without a plan.
[convertkit form=4985303]
3-4 months after running our blog full-time we are finally starting to see our hard work pay off. Last month we published our very first income report. We are so excited to share our success!
3) Having a financial plan is key
Having a financial plan before starting your own business is a must! The last thing you want to do is worry about money when you are trying to grow your business.
In the first year of blogging, we have spent well over $1,000 on equipment, courses, hosting, software, and monthly subscriptions. The saying "you have to spend money to make money" has a ton of truth in it.
If you want to grow your business quickly, then you need to have the right mindset. Being The Savvy Couple we are always looking for ways to save money and make good decisions. One of our mistakes when starting our blog was being too cheap.
We waited to take certain courses like Making Sense of Affiliate Marketing. This was a very bad move as it delayed us taking our blog serious and learning how to monetize it.
Before I quit my job in May, we had a years worth of salary saved. So technically we would be fine without making any money for an entire year. Obviously, that would not happen, but we had it as a backup plan.
4) You will make it happen
The hardest part of becoming a full-time entrepreneur is actually starting. It's scary to "take the leap" and venture out on your own.
One thing I learned is that entrepreneurship is an emotional roller coaster. Each and every day you will question yourself. You will never really know what is the "right" answer.
The biggest thing is believing in yourself. Have as much grit as possible and know that no matter what nothing is going to stop you. Fight each and every day for your dream to become a reality.
Within a week of quitting my job, I landed a remote digital marketing job on Upwork. It was such a blessing to find a flexible part-time job that was closely related to blogging.
Once you make the leap, have faith that YOU WILL MAKE IT HAPPEN. Because let's be honest, you don't really have any other option.
5) Burnout can and will happen
Last but not least – burnout can and will happen when you become an entrepreneur!
I remember listening to a podcast Bobby was in that he mentioned his first day after quitting his band director job that he had an anxiety attack. I had something very similar happen to me.
The first day I was finally working for myself I was sitting at my computer at 6 am (I thought this was a rule for entrepreneurs) and I felt completely lost. I remember saying to myself "what the heck were you thinking".
I was scared, nervous, and super motivated all at the same time.
That first day I worked somewhere around 15-16 hours straight. It was probably the most unproductive day I have had yet.
The lesson I learned is burnout can and will happen. It happened to me my first day working for myself.
Pace yourself and know that each day is another opportunity to crush your goals.
Final thoughts on entrepreneurship
You live once! Life is too short and precious to not be following your dreams.
Becoming an entrepreneur is an incredible journey. It's one that will test you every day. It's an emotional roller coaster that is unavoidable. Having a solid plan and learning from others will make your journey extremely enjoyable.
Remember "you either work for an entrepreneur or you become one." Enjoy the ride!