Hey everyone! I have another great post by Jen from Frugal-Millennial.com for you today! This is a subject that's near and dear to me – my wife and I rented a room from her parents while I paid off my student loans.
There are so many Millennials that are going through this right now, and it's way harder (and more embarrassing) than people on the outside think. A lot of young people that have been crushed by the student loan machine are staying home longer than they ever thought they would so that they can pay off their debt and be done with it. 
This post has some great information about moving back home if that's the route you choose. Enjoy! ~M$M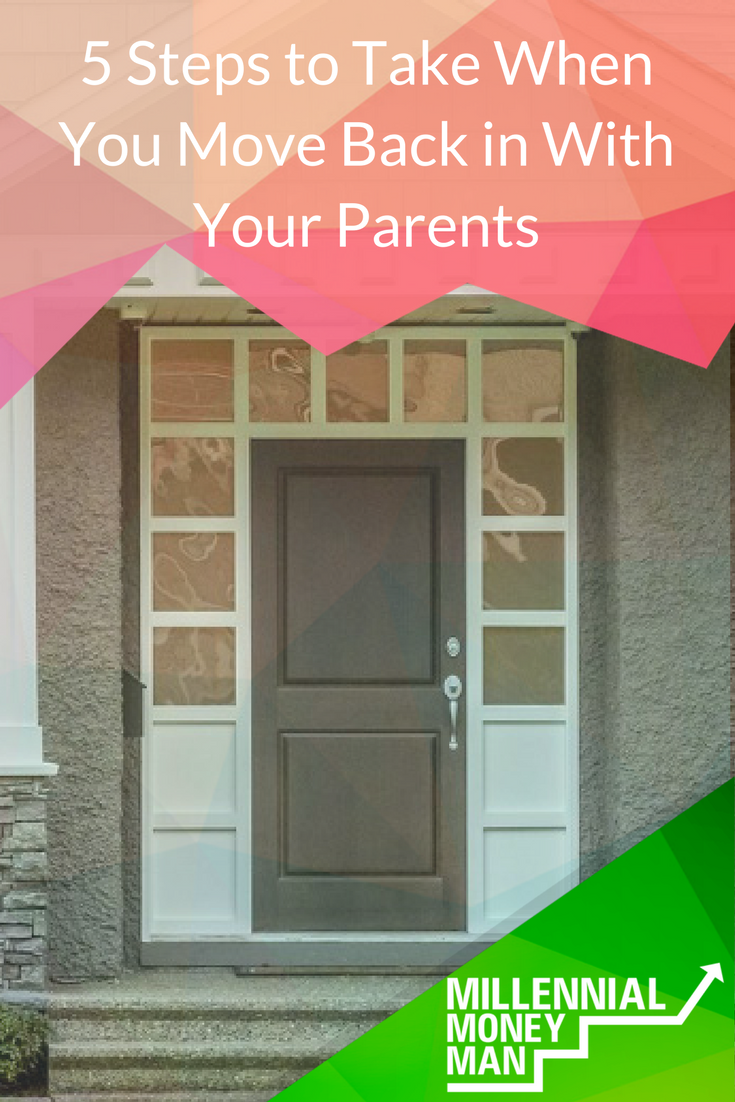 1 out of 3 Millennials lives with their parents after finishing college. Many young people graduate with tens of thousands of dollars in student loan debt and struggle to make ends meet on entry-level salaries.
Moving back home can allow them to pay off debt, build savings, and get back on their feet. Living with parents is a smart decision financially, but it's not easy for anyone involved.
Here are 5 steps you need to take if you are going to move in with your parents:
1. Have a game plan.
You probably don't want to live with your parents forever, and let's face it – they were probably looking forward to being empty nesters. Becoming a "boomerang kid" – or living with one – generally isn't part of anyone's life plan. Unfortunately, life can take some unexpected turns.
Having a game plan with a set "move out deadline" will help you and your parents to feel more positive about the situation. For example, you might tell them that you plan to live with them for two years until you have x amount of debt paid off and x amount of dollars in savings.
Read also: Why I Didn't Move In With My Parents After College
2. Know the expectations.
Do your parents want you to pay rent? If so, how much?  If not, do they still expect you to cover your own expenses, such as your groceries and gas?
Would they like you to contribute to the grocery budget and eat meals with them, or would they prefer it if you purchase and cook your own food? Do you need to ask them for permission before you invite a friend or significant other over?
These types of questions should be discussed in advance to prevent any future arguments or frustrations. It is much better to be proactive and to address beforehand rather than waiting until someone is upset about the way you handled one of these issues.
3. Set a cleaning schedule.
One of the biggest challenges of living with anyone – a roommate, a spouse, a parent – is that different people have different expectations when it comes to cleaning. If you're disorganized and hate cleaning, but your parents are neat freaks (or vice versa), you might drive each other crazy.
Because your parents are doing you an enormous favor by allowing you to live with them as an adult, it's appropriate for you to follow their expectations.
Even if you feel like you're doing your part and following their rules, they may still feel resentment and frustration if they perceive that you aren't doing as much of the cleaning as they are. A good way to fix this issue is to implement a cleaning schedule.
Have a meeting about it and agree on a plan for who will do what and on which days. Put it all on a calendar, and stick to the schedule.
Read also: Simple Ways to Save Money On Cleaning Supplies
4. Keep the communication open.
Depending on your particular situation, it may be a good idea to have a monthly or weekly family meeting. This would be the perfect time to proactively discuss minor issues that arise before the issues spiral into bigger problems.
It is much healthier to calmly communicate about issues early on, rather than to wait until the frustration builds and leads to disagreements.
If you can keep the communication open, you can make the situation more pleasant for everyone involved.
5. Pay off debt and/or build savings.
The purpose of living with your parents should be to improve your financial situation. If you're saving money on rent, you should be able to put a large portion of your income toward repaying your debt or building savings.
Don't blow your money on things like eating out, going to bars, or other non-essentials. You don't need to try to keep up with your friends or the "Joneses" (who might just be racking up credit card debt).
One Last Thought
If you move back in with your parents after college, it's important to have a game plan, understand the expectations, set a cleaning schedule, and keep the communication open.
Living with family should be an enormous help with your financial situation, so you should pay off debt or save as much money as you possibly can. None of this is easy, so you should at least make it worthwhile!