OK…I could NOT pass up this guest post idea by Carmen from Make Real Cents!!!!! Straight-up, I don't know jack about Tinder, which makes me feel like a grandpa but oh well. I met my wife in high school, which is great because I think I would be horrifically bad at dating in 2018. Like it just seems so…hard haha. Kinda like budgeting if you've never done it before. 🙂
I love this post, you'll love it, and we'll all learn about Tinder together. Enjoy! ~M$M
The New York City subway is full of all different types of interesting characters. From people screaming at each other, to kids hustling Welches Fruit Snacks to guys interrupting your quiet commute home by banging on paint buckets with sticks for money; NYC has something for everyone.
With all the hustle and bustle of a big city, naturally, one can only imagine the different types of conversations you tend to hear over the course of a 45-minute commute. Most of the time, you can't help overhearing a convo because the person or people talking are so loud that they might as well announce all their problems on the front page of the New York Times.
One day after work, on my commute home, I casually overheard two girls talking about a tinder fiasco. It went something like this:
Girl A: So you swiped and what?
Girl B: We totally matched but IDK, I'm not super psyched about going on another date.
Girl A: I know what you mean, Tinder takes a lot of freaking work and you meet a bunch of psychos – remember that one guy I met at The Smith?
Girl B: OMG, yes!!!!! hahahaha
Girl A: : eye roll:….
I laughed to myself because I was all too familiar with the swipe left culture of NYC. In a different era and time in my life, I too used the app because I thought it would be a good way for me to meet people. Turns out, the only people I ended up meeting were a bunch of weirdos that I didn't have much in common with. And while Tinder totally sucked, in the beginning, it eventually turned out to play a major role in my life today. As the Chatty Cathys were continuing their descent into a dark, deep, self-loathing wormhole, it oddly hit me that budgeting is actually a lot like Tinder.
Here are some parallels between Tinder and budgeting:
1) You have to figure out your type
For starters, the dating and budgeting game are more alike than you think because you have to figure out your budgeting style/type the same way you have to figure out your dating "type". Thanks to the internet, there is a plethora of budgeting information at our fingertips just waiting to be consumed. The problem becomes that there is so much information out there it becomes hard to sort through to find out what your type truly is.
Just like dating, there are a ton of people out there and you usually find out your type through trial and error.
You've got to decide if you're a software kind of person who likes to plug in numbers and have pretty charts appear like the ones in Personal Capital? Or do you prefer to keep it simple and go after your budget with pencil and paper? Maybe you don't like any of the above and are the type of person that's found success budgeting via apps like Mint and Every Dollar.
Whatever your style, it takes time and patience to figure out your type/style and what works best for you as an individual.
2) Looks can be deceiving
If you've never used Tinder, to paint the picture for you, you are given a stack of digital pictures/profiles to sort through and you swipe left if it's a no or you swipe right if you think someone is cute.
Once you stop and say "ohh, he's/she's cute", then and only then, do you proceed to check out their bio. Budgeting, like a bio, can be all good and great at first glance but can be a total disaster come execution time. Similar to actually going on a date with someone who's profile you liked.  Based on their profile, at first, you think they are totally hot and super sweet because they rescue kittens on the weekend. Then you finally meet them in person and find out they hate babies and old people.
Budgeting can work the same way. A lot of people when they first start out budgeting are all gung-ho about doing it until their numbers don't start to add up. Then they become hard on themselves because their budget says one thing and their grocery column for an additional $200 says another. Just because you have it on paper and it fits nicely into your plan for the month doesn't necessarily mean it will turn out that way. Kind of like the date that went completely wrong.
You have to be flexible and realistic when it comes to budgeting and understand that adjustments will need to be made along the way. Just because you put $50 dollars down for groceries that doesn't mean it's a realistic number for your family of 4 with one on the way.
Don't get too caught up in being inflexible that you miss the whole point of budgeting to begin with, which is to tell your money where to go and to use it as a game plan for your money.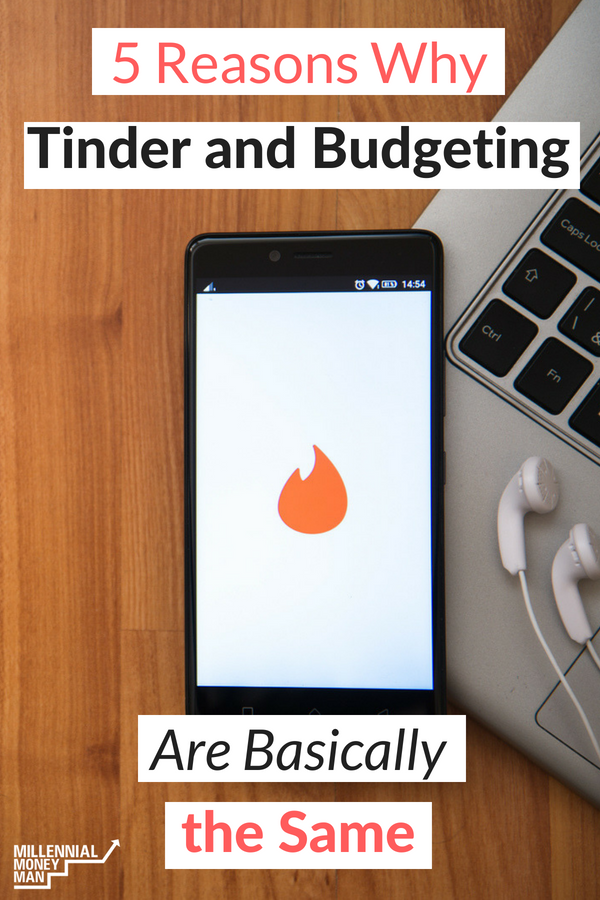 3) Trial and Error
Tinder boils down to a numbers game. The more you swipe right, the more likely you will eventually match with someone…which makes it more likely for you to snag a date. But the process/success formula is largely rinse and repeat. You'll have to snag and go on several dates before you end up meeting the right one and even then, chances are iffy.
Similar to Tinder, your Budget will always be under construction. It will take a ton of trial and error to eventually get it down to a semi-successful plan. And even when you think it's going great, you may need to tweak it a few times to account for unexpected expenses or to make up for a previously terrible budgeting month.
4) You'll get frustrated
You will get frustrated. It's not a matter of if, but when.
There is absolutely no way around this. Like Tinder, the endless search for the perfect match can sometimes feel like a fleeting one. You will get bored, frustrated because things aren't going the way you planned, and you may even want to give up.
When you get to this point in budgeting, you have two choices:
1.) Give up because that's the easy thing to do
2.) Suck it up and keep after it until you get it right.
I can tell you one thing though; giving up won't get you to the finish line of your goals.
5) Eventually, you'll find the one; what you seek is seeking you
Eventually after all the tears, cheap wells drinks, your thumbs hurting from endless nights of swiping left, and all the boring conversations held over causal dinners, you will find the one. I can tell you from experience because I did. Remember when I mentioned earlier that Tinder played a big role in my life? Well, it's part of the reason why/how I met my fiancé.
We are getting married in less than 2 months and long story short, it all started because of Tinder but that's for another post.
Like Tinder, you will eventually find what works best for you and you'll get your budgeting system down to a science. It takes a lot of patience to get through the points of discouragement, trial and error, and a lot of being able to look past what you think your plan should be.
Right around the same time I met my fiancé, I had just started budgeting for the first time in my life. It's now almost 3 years later and I'm still reworking/tweaking my budget similar to when I first started. While it has taken some work, budgeting has completely turned my financial situation around. It's the biggest reason why I was able to pay off more than $38,000 dollars of debt in 18 months.
Next time you're on Tinder or working on your budget, remember this story and how investing your time and energy can pay off greatly if you stick with it.