Welp. I'm old now.
Ever since I started M$M, I've always joked about how much I dreaded turning 30. I guess it's just weird to realize that most Millennials like me aren't the helpless kids that the world still thinks we are. I know everyone thinks that we're only concerned about Coachella and avocados, but a lot of us have been grinding.
In the last decade I got a degree, paid off $40,000 of student loan debt, changed careers, started multiple businesses…and I'm just getting started. I definitely don't feel like a kid (but I do love avocados though). I also know a lot of people my age that have achieved even more than I have.
The truth is that I've actually enjoyed getting older because I think I'm a lot smarter than I was a decade ago. I felt like this would be a good time to reflect on some of the life lessons I learned. Honestly, I think the list turned out pretty well!
Here are some of the things I've learned about life and money (in no order):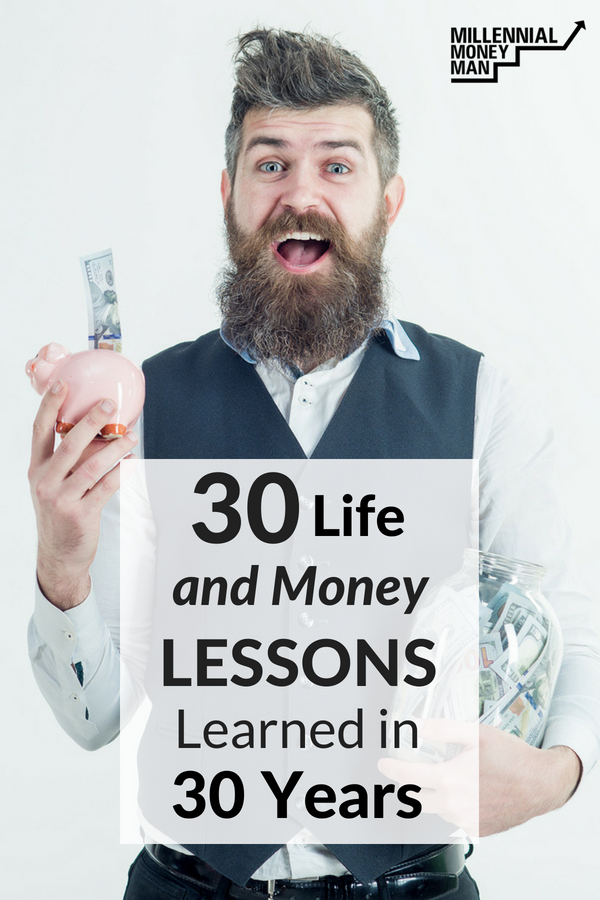 Life lessons
1. Helping people is a lot of fun
Some of the best moments I've had in my life were the ones where readers sent me their success messages. It's so much fun to see how excited someone gets after paying off their student loans or making their first side hustle dollars.
2. You can help a lot more people than you think you can if you want to
Back when I was a band director, I would never have thought that I'd be running a website that helps thousands and thousands of people. If you feel like you have a message to share, there are a lot of ways to spread it to massive amounts of people.
3. Life can be really hard sometimes
In my earlier 20's, there was a time that my mom was really, really sick at the same time that my wife's dad was diagnosed with what turned out to be a fatal illness. It was horrible. Those few years may have been some of the worst times I've ever gone through, and it never seemed like it would get better.
4. But life doesn't always stay hard
It really ebbs and flows, but for every hard time that you're going through, there's a good chance that you can find 10 awesome things to be happy about.
5. Being grateful is the most important mindset you can have
We all get wrapped up in stupid crap all the time. It's human nature to worry about things that ultimately don't matter in the grand scheme, right? But when you go back to the basics and start every day being thankful that you were able to wake up again…everything is just…better.
6. Some people are jerks, but that's not your fault
I love working on the internet. I really do. But man…you get exposed to some really crappy people sometimes. I used to take negative comments about me or the site personally and it was super-draining. But after a while, I realized that some people are just mad about stuff in their life and choose to take it out on the first available person (which just so happens to be me sometimes haha).
7. Fortunately, there are waaaaay more good people than jerks in the world
I mean seriously…it's pretty crazy. For every one person I talked about above, there are probably 500 that I've talked to that are the nicest people you'll ever meet.
8. People can smell bull**** from a mile away
That's why you should be honest. It's so much easier than pretending to be something that you're not.
9. It's important to know what you're actually good at
Speaking of being honest…you should do that with yourself too. I used to think that I was supposed to try to be the next money "guru" in the personal finance world. Then I realized that money "guru"-ing isn't what I'm good at.
I'm just good at motivating people to do cool stuff like pay off their student loans or start side hustles.
10. You have to get better at things you suck at
I'm basically a walking case of ADHD. The only reason I wasn't "diagnosed" is that I really didn't want to take medicine and kept it together long enough while a doctor was testing me in 7th grade or so.
It's extremely hard for me to focus on tasks and get things done, but I still work really hard to make sure it happens. You can either use the stuff you suck at as an excuse or try to improve yourself.
11. Nobody really cares if you complain
I mean, maybe they'll care in a "surface-level" way, but what I'm trying to say is that complaining won't magically fix your problems. The people around you won't just bend over backward to make your life problems go away. You have to take action and fix things yourself.
12. It's good to admit when you're wrong about things
There are a lot of people out there who waste time trying to convince everyone that they're always right about everything. I don't see the point in that. It takes so much less energy to say you're wrong and move on to the next thing.
13. Family becomes more important as you get older
In my 20's, I worked really hard on creating the lifestyle that I wanted for myself and my wife. But now, my focus is shifting. I want to be a better uncle, son, brother, cousin, etc.
14. People will doubt your abilities
You have to understand that there will be people in life who won't believe in you. They'll tell you that your ideas are bad, or that you can't achieve the things you want to achieve in life. You can't listen to those people.
15. The people that doubted you will ask for your help once you've "made it".
Funny how that works, isn't it? 🙂
Money lessons
16. We all should have started investing earlier
I feel like it's the most-overused personal finance advice ever, but it's true every damn time. You can never start early enough. I'm still mad at myself for not putting more money away when I was a teacher.
17. Someone will always have more money than you
It's way too easy to get caught up in the comparison game when it comes to net worth or fancy stuff that people have. But whoever you are trying to catch up to is likely trying to catch up to someone else. It's a never-ending cycle. It's easier to just focus on you.
18. I don't know what retirement actually means anymore
Every time I write or speak about retirement, someone (a FIRE blogger friend usually) comes along and tells me that I have the definition wrong. Even when I change it, it's still wrong somehow haha.
I don't know if it means you're working on stuff you like, working on stuff you don't like part-time, not working, a full-time blogger, live on a paddleboat, or choose to ride a bike everywhere. I'm sure someone will tell me a new definition to use soon.
19. Student loans suck
I mean I guess that should be obvious by this point, but I genuinely feel bad for people that have student loan debt. I know exactly what it feels like to make a choice when you're 18 and then realize that it might not have been the right one.
When I was a teacher, I saw parents and the school system push kids towards college all the time that probably shouldn't have gone, or at least needed to know way more about debt and how crippling it can be.
Also please don't @ me if you're one of those "they were 18 and made that decision as an adult" people either. You're wrong and I don't have time for your nonsense in my life.
20. Paying off student loans is the best feeling ever
Outside of getting married to my wife, making that last student loan payment was the best thing I've ever done. I've been very fortunate in life so far and have had a lot of success, but that last payment still sits near the top of the list for me.
21. You should travel more if you want to
I think it's a good use of money if you don't have to borrow for it. I'm really trying to travel as much as possible in my 30's.
22. ETFs are the bomb
Shout out to my VTI and SCHB homies. You know what's up.
23. Credit cards aren't evil
I feel like I'm pretty good at personal finance, and my wife and I use credit cards for literally everything. Now if you don't feel like you can use them responsibly…don't. That's cool. But you probably shouldn't shame people like me that just want eleventy-bajillion travel points to take free vacations with.
24. If you want to start a business, you should
Entrepreneurship certainly isn't for everyone, but there are so many ways that you can try it out now and see if it's for you with little risk. The internet has changed the game. If I hadn't taken a shot on a blog or started doing digital marketing work a few years ago, my life wouldn't be nearly as awesome as it is now.
25. Entrepreneurship is freaking hard
I don't care what people like Lie Topez say – what people like me do is not for the faint of heart. I was able to build this relatively quickly, but it was three of the hardest years of my life to get to a point where I can really enjoy my business like I do now.
Just keep that in mind if you do feel like you're going to jump into entrepreneurship.
26. There's nothing wrong with having a normal job
I feel like we (personal finance bloggers) really hate on W-2 employees a lot sometimes, even though it's way more normal to go that route than become a…blogger. There are plenty of days where I envy people that can go home and turn their brain off or actually enjoy a vacation like a normal human being.
27. Invest in things you like
There are all of these debates about real estate vs. equities vs. marijuana startup angel investing (just kidding on the last one), but the answer is to just do what sounds fun to you. There are a lot of ways to grow your money.
28. Gurus are not Gods
I really like people like Dave Ramsey. I think they help a lot of people and put a ton of good into the world. But…it's OK to think that they are wrong about stuff sometimes.
29. You should always have a healthy fear of taxes
I make jokes all the time about hating taxes, but the reality is that I take them very seriously. You should, too, because the government don't play no games with "their" money.
30. Money doesn't change you – it just amplifies who you already are
The person I was with $40k of student loan debt and no emergency fund is still the same person that became a 1% earner this year. I just have more money to give to other people now and make sure my wife has an awesome life.