Wow.
Just like that, the year is over. It's pretty unbelievable to be honest – 2017 was an incredible year of growth for both me personally and Millennial Money Man as a brand.
I'm going to do a full recap of the year, share my wins and losses, and the best posts from 2017. But first, I need to make sure we are all on the same page with the two course launches that are coming around the corner here next month.
I am launching both the Make Money Marketing Course and the Facebook Side Hustle Course in January. Here's what you need to know about them:
The Make Money Marketing Course
Summary:
The Make Money Marketing Course (also known as M$M Course) will be the first course to launch in January 2018.
This course is specifically for bloggers that have been doing it for a while or people that will be getting serious about blogging in 2018. There are obviously a lot of ways to make money blogging, but from personal experience, I can tell you that they all take a lot of time to get rolling.
MOST bloggers stop before they get to the end of their first year blogging.
Why? Pretty simple. They aren't making money.
Affiliate income, sponsorships, and ad revenue are all great ways to make money with a blog. But the reality is that none of those income streams grow quickly. Blogging (the traditional way) is a very long game.
When I quit my job to run M$M, I wasn't making any money at all and didn't have enough traffic to create a sustainable income through the site with the normal blogging revenue streams that I mentioned above.
So, I started providing marketing services to local businesses. That included helping businesses show up in Google, writing freelance content for their blogs, and managing their social media channels (specifically Facebook pages).
I used the money that I made from those marketing gigs to grow M$M quickly, and now I make great money online with multiple income streams.
In the Make Money Marketing Course, I've put all of that foundational information together for bloggers.
If you have been struggling to make money blogging and/or want something you can do relatively quickly to bring in money, this course is for you. It will take work though – so please don't take the course if you aren't serious about making money online.
Here are the details of the M$M course:
Price: $197 with an option to split into two payments
Who the course is for: Bloggers (or soon to be bloggers) that want to make money online
When it will launch: Early January
Private Support Group Price: Free
Course outline:
Module 1: Introduction to Marketing/Why Blogging and Marketing Go Hand in Hand
Module 2: Understanding Client Aquisition and Sales
Module 3: Local Search Engine Optimization for Small Businesses
Module 4: Local Freelance Writing
Module 5: Local Social Media Management
Module 6: Running Your Marketing Business
Bonus Material:
Advanced Local SEO Strategies with Michael Cottam (Michael is one of the top local SEO experts in the country – this literally cost me over $1,000, and you'll get it included in the course for free)
Access to the affiliate program for the course with a 40% payout per sale
Access to the private Make Money Marketing Facebook group, where I'll use course revenue to bring in marketing experts for live trainings to further your education at no additonal cost to you
Affiliate sales strategies with Michelle Schroeder-Gardner from MakingSenseofCents.com
Pinterest management strategies with Kristin Larsen from BelieveInABudget.com
If you are serious about taking the course and want first access at the lowest price it will ever be, jump on the waitlist here:
[mmm_convertkit form=5034013 color="green_colorful"]
The Facebook Side Hustle Course
Summary:
*UPDATE*
The course is currently open for enrollment. If you've been thinking about making extra money to pay off debt or invest a little more every month, the FB Side Hustle Course is definitely for you.
I run a ton of Facebook ads for both this site and my marketing business, so I've gotten to know the Facebook ad platform very well over the past few years.
After doing a consulting call with a good friend that owns a dedicated Facebook ad agency (and currently makes over $30k a month doing it), we both realized that we were sitting on the perfect opportunity to team up and help people that wanted to make extra money online.
We both had student loans and started marketing businesses after more traditional careers (I was a teacher, he was a lawyer), so we are both living proof that you can make money providing marketing services with no prior experience and get ahead financially.
This course is great as a standalone course, or an add-on to the Make Money Marketing Course so you can provide an additional service through your marketing business.
You do NOT need any blogging or Facebook ad experience to master this course. If you can log in to your personal Facebook account, you'll be fine.
Here are the details of the F$H Course:
Price: $397
Who the course is for: Anyone (both regular readers and bloggers)
When it will launch: Late January
Optional Private Support Group: Free for the first month, and then $47/month after with dedicated troubleshooting on ads and client acquisition
Course Outline:
Module 1: Setting Yourself Up
Module 2: Landing Your First Client
Module 3: The Funnel
Module 4: The Ad
Module 5: Facebook Ad Fundamentals
Module 6: The Finer Points of Facebook Ads
Module 7: Walkthroughs
Module 8: Troubleshooting Your Ads
If you are serious about taking the course and want first access at the lowest price it will ever be, go here to learn more: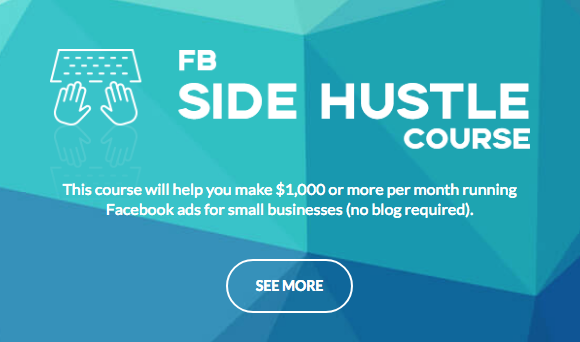 Just a quick thought on the pricing methodology – I wanted both courses to be priced much lower than similar courses on the market (Local lead generation Facebook courses easily go for over $1,000), but high enough to where people will have to really commit to taking the courses seriously and putting in the work to start a real side hustle.
If you have any questions about either course – feel free to ask in the comments or hit me up in my email inbox: [email protected](dot)com
2017 Recap for M$M
This year has been freaking awesome for my business and the M$M community. I don't really know where to start because there is so much, so I'll just go through all of the growth in social media, revenue, traffic, my new team, and then talk about my goals for this project going forward.
Social Media:
Overall, I saw a ton of growth across all of the site's social media platforms. I really focused the most on Facebook, and probably the least on Instagram.
Facebook likes: 32,448
Twitter follows: 17,177
Pinterest follows: 1,950
Instagram follows: 1,290
A good amount of the site traffic for M$M came from Facebook this year, which was cool. I really feel like this will continue to grow throughout 2018, but I have seen a decline in organic reach with my posts (Facebook being all sneaky and trying to get people to pay more for ads).
That basically means I need to diversify quite a bit more moving forward. I always tell bloggers to get really good at one social media platform before moving on, so that's basically what I did this year.
Twitter kinda sucks for driving traffic, but it is good for engagement with readers and other bloggers. I didn't actively try to grow my Twitter following like I did in 2016, but I saw a good amount of natural growth as the site has become more popular.
I went through a weird phase with Pinterest in 2017 haha! I tried to do these weird pins that I thought would stand out…but they didn't at all. Just a month or two ago I asked my wife Coral to come up with some new pins, and she killed it.
Check it (old on top vs. new on bottom):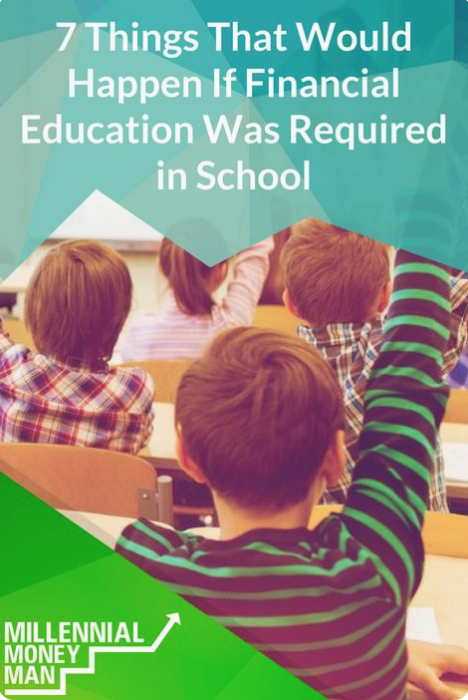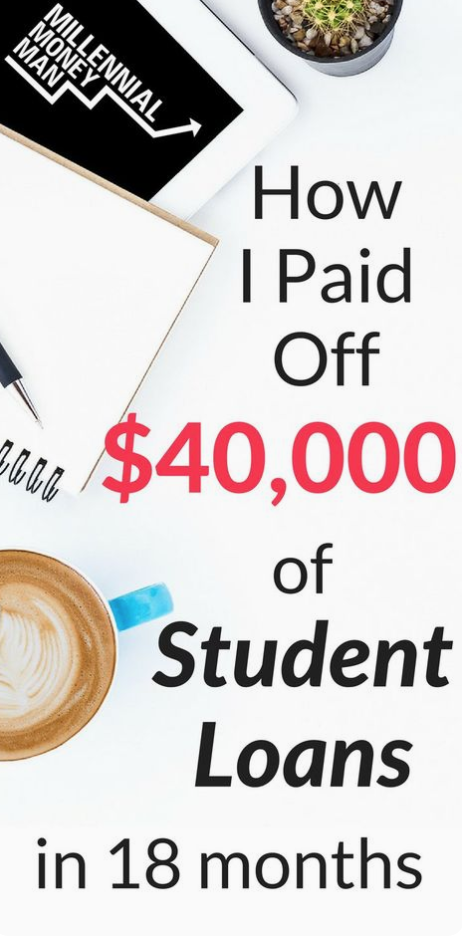 Almost immediately after she started making new pins for my older content with the style that she liked, one of them went viral. Funny how that works.
From a conceptual and functionality standpoint, I still think Pinterest is really random and takes some luck to get the right people to share your pin with their audience. But I think the newer pins will continue to perform better because quite honestly they look good. So…there's that. Maybe I was overthinking it the whole time?
Instagram is hard for me to focus on. I don't live on a sailboat, walk around aimlessly in the desert *cough Michelle Schroeder cough*, or live somewhere that is breathtakingly beautiful. Texas is cool and all but I live in the most suburbia spot you can imagine.
I plan on doing a lot more traveling in 2018, so I'll try harder to grow my Instagram following. I have a feeling it's easier to do when you have really cool/interesting pictures to share.
I will say though – I think my stories are funny at least. Not sure if it's cool to think your own stuff is funny, but oh well.
Private groups:
This was an experiment that I tried out in the last part of the year, and I was actually pretty shocked at how well it worked out.
I made two groups – the Millennial Money Man Community, and the Millennial Money Man Blogging Club. They both grew a ton this year!
Millennial Money Man Community: 5,457 members
Millennial Money Man Blogging Club: 774 members
The community is for my most dedicated readers, and I'm really proud of it. It legitimately has a family vibe, and I've been able to direct a lot of my readers there so that I could cut down the number of emails I was getting (more on that shortly).
The blogging club is for new (or more experienced) bloggers to get help with things and grow their sites. I want to focus on this club a little more next year because the growth and engagement weren't quite as impressive as the M$M community.
Revenue:
I actually don't have the final numbers this year since the month isn't over, but it was pretty killer for the business.
For now, I'll just focus on affiliate income (I'll hit the rest in my December income report), because that is the most passive type of income that I have and one of the coolest ways that I make money now.
In 2017 so far, I've made $55,703.76 in affiliate income. The number will probably be a touch higher when December is over.
Two thoughts come to mind:
Holy crap
That's more than I made in a year as a teacher
If I hadn't taken Michelle Schroeder-Gardner's Making Sense of Affiliate Marketing course, I wouldn't even be close to that kind of affiliate income. If you're a blogger and haven't taken it yet, please stop procrastinating and take it right now. It's that good.
Overall between my marketing work, sponsorships, affiliate income, and staff writing gigs throughout the year, I brought in roughly $185,000 (might be closer to $190,000…haven't done the final numbers at the time of writing).
If I had decided to put out the Make Money Marketing Course this year like I had planned, the number would have definitely been over $200k.
Those numbers still seem like monopoly money to me honestly.
One thing for sure is that I'm the most grateful person you'll ever meet. I never ever ever thought I would make money like that in my twenties. Crazy.
Traffic:
M$M grew so much this year (reached over 1,000,000 people)! The site also had 2.4 million page views in 2017. It really came from all over the place, with a mix of direct, organic, Facebook, Pinterest, Twitter, etc.
December is actually turning out to be an awesome month, so it looks like we are finishing the year out very strong.
Here is the traffic for all of 2017: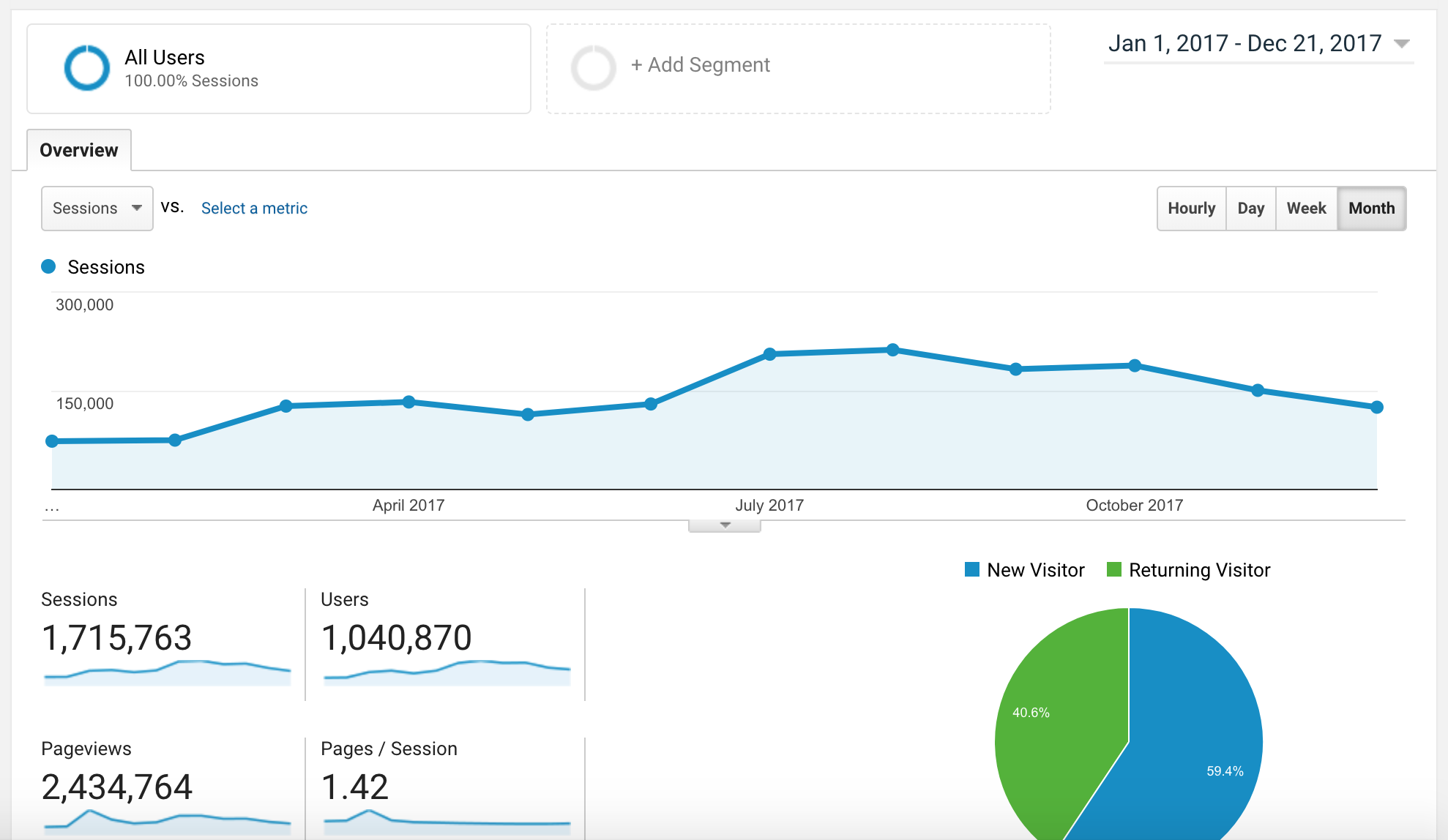 Also, the site is hitting what I would consider the right demographic. Mostly Millennials (that's good haha), and actually slight edge to the ladies. My wife says that more women probably come to the site because I'm nice, so I'll take it.
I've found that women tend to be more conversational/interactive/less confrontational about money ideas, which makes for a more enjoyable community experience. Imagine that – better at communicating than guys haha.
Also, shout out to my 65-year-olds. I love you.
Here are the demographics for M$M in 2017: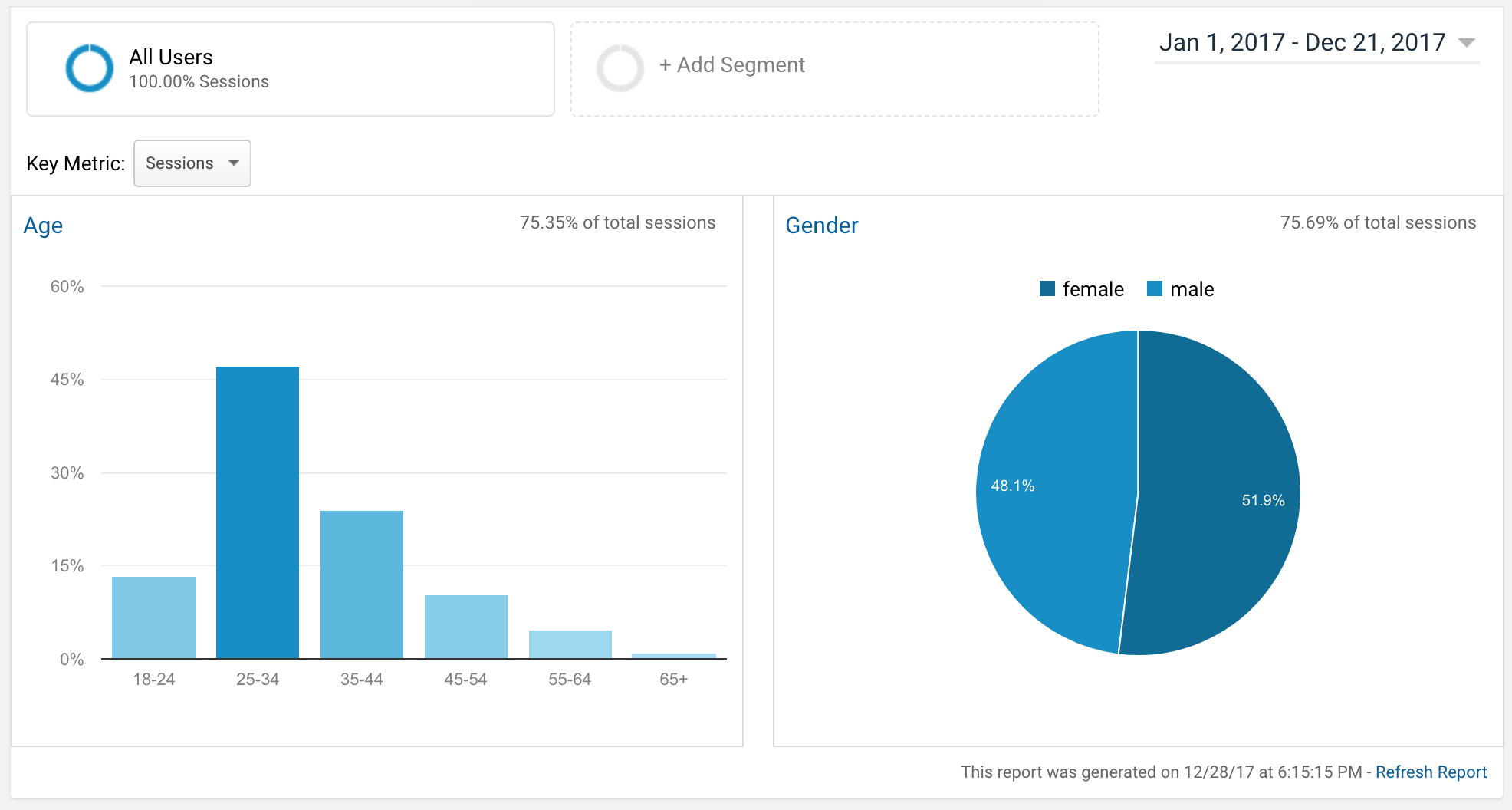 Again, I look at those numbers and just kinda laugh a little. Can you imagine what one million people all in one place would look like?
I can't even wrap my head around it. That's 10+ NFL stadiums full of people that let me yell at them about personal finance and side hustles.
Just a couple years ago, this was all some stupid pipe dream that I worked on after I got home from my band director job.
The funny thing is that I am just now starting to figure out what the heck I'm doing. If there was any real cut-throat competition in blogging I would say people need to watch out because I'm coming, but everyone is so nice to each other that it doesn't really matter that much haha.
Top M$M posts for 2017:
I was able to put out a lot of really good posts this year! This year I tried to get more interviews going, as well as guest posts. I had a couple of times throughout the year that I didn't feel like I was writing my best stuff due to potential burnout.
That's just part of the process though. I still love writing, and I know it's something that I'm good at. Obviously, I'm not a classically trained writer or anything like that, but I do write from the soul and am very proud of that.
This year, you'll see more long-form posts periodically. There are a lot of topics that readers have asked me to write about, and they will have to be more technical than conceptual.
I'm also making a concerted effort to write more content that ranks well in Google because it's just something I need to do to continue to grow the site.
I've added people to the M$M team!
As the site has grown, I've had to realize that I just can't do everything by myself anymore. I got to the point where I was getting buried in emails, messages, etc. from people that were fans of the site.
I LOVE talking to readers. It's my favorite thing about doing this for a living. However, the volume can get overwhelming, especially when you still have to focus on the business end of things as well.
So I hired a couple of virtual assistants! Some of you have already had contact with them by emailing me, so I figured it was best to formally introduce them to everyone haha.
Pete is helping me schedule out social media posts and schedule guest posters for the site, and Melissa is helping sort all of my emails, along with a ton of other tasks that I ask her to do daily.
They both rock.
It really has taken a lot off my plate so that I can focus on growing M$M and managing all of these courses that are about to come out in 2018.
Don't worry though – if an email says that it's from me, it legitimately is. I don't believe in having someone ghost write my email responses.
On to 2018!
So obviously 2017 was pretty sweet in a lot of ways. As I got to the end of this year, I realized that I didn't really have an overarching mission for the site.
That forced me to sit down and really think long and hard about what I want from this project. I've spent so much time grinding every day just trying to figure out how to grow, that I'm not sure that it's been as focused an effort as it could be.
2017 was basically:
Get people to come to the site and care what I'm talking about. Also, survive.
2018 and beyond will be:
Reach people that are struggling with debt or feeling lost financially, introduce them to my community of people who are actually getting ahead to stop the bleeding, and then provide them the tools (whether it's information, products, or courses) to help them make more money and reach financial independence.
I feel like I have a really clear vision for M$M, not just for 2018 but for the next 5-10 years.
Now it's just time to go there.
Here are my goals for 2018:
Double all of my social media channels and private group membership numbers
Do $500,000 in gross revenue between my courses, affiliate income, staff writing, ad revenue, and sponsorships
Reach 2,000,000 people
Diversify my traffic and focus more on Pinterest, SEO, and Instagram
Cut the number of ads on the site in half
Start local meetups for the M$M private community
Never lose sight of where I came from
Of course, there are a ton of micro goals, but those are the big ones.
Thank all of you so much for the incredible year – I can't wait to see where we take this thing! I have a feeling that 2018 is going to be a really good one.