Hey everyone! Today I have a great guest post for you from Sami over at EatPrayBudget.com! She and her husband paid off a ton of debt with solid strategies that anyone can use. Enjoy! ~M$M
My husband Dallas and I started our debt freedom journey on January 20, 2016, and after 18 months we've paid off $195,000 of debt and can finally say "WE'RE DEBT FREE!!!!" This achievement has been great, but it didn't come without a lot of hard work and sacrifice.
Today I want to share how we did it!
My hubs and I are normal folks. Well…fairly normal depending on who you ask. We just set a plan, worked the plan and the payoff has been incredible.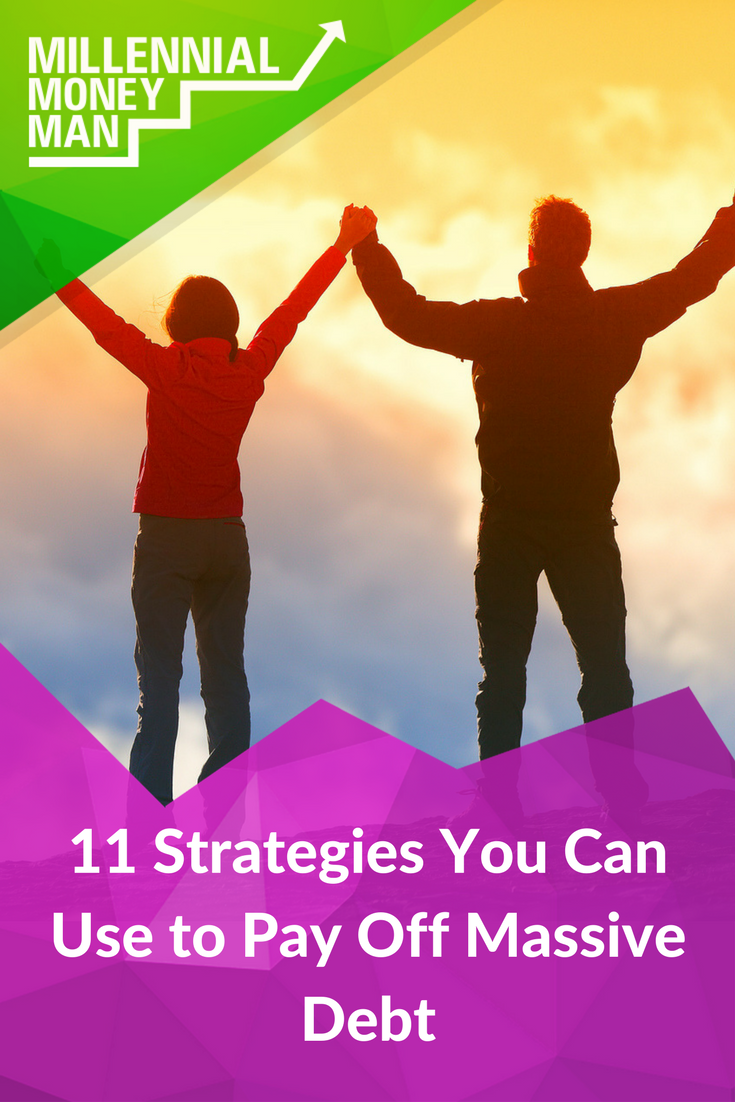 Here are 11 things you can do to become debt-free:
1. Admit you have a problem
Just like going on a diet, we had to realize that we had a problem and needed to make some serious changes. We were blissfully ignorant and had no idea how bad our financial situation was.
We were paying every bill on time, but we were living paycheck to paycheck and were swimming in debt. A LOT of debt. I have a Bachelors in Accounting and an MBA with an emphasis in Accounting and Finance.
Back in 2016, my overconfident-self knew exactly what I was doing and didn't need to change a thing.
Boy was I wrong!
Once we (and by "we" I mean me) admitted that we could learn a thing or two about managing our finances, we were ready to make some serious changes.
2. Stop comparing yourself to others
This one is important in so many aspects of life.  When it comes to personal finances you have to remember; it's personal. Your situation is uniquely yours, and we had to figure that out pretty quickly.
Not only did we have to stop comparing ourselves to the folks going on vacations or buying a new house or car, but we also had to stop comparing ourselves to those paying off debt.
It was so easy to look at another couple and say, things like "they probably make more money than we do," or, "they just sold their cars, of course, they're paying off debt a rapid speed."
Comparing our situation to others was just a way to make excuses or justify our poor financial situation.
Instead, we took responsibility for where we were financially and more importantly where we were going.
3. Budget like it's your job
As an adult in your home, you are hired! Setting and sticking to a budget each month is hands down the reason we were able to pay off debt so quickly. We had to stop the money hemorrhaging, and budgeting made that possible.
We started zero based budgeting each month. This method helped us to budget every cent of our income and left no gaps for waste.
Seriously, every cent.
To see exactly how we budget each month and to get my free budget templates, head over to my Budgeting 101 blog post.
4. Stop going into debt
Queue the scissors.
We cut up every last credit card and canceled them. If we wanted to get serious about ending our long term dysfunctional relationship with debt, we had to cut ourselves off from the source.
We saved up $1,000 for an emergency fund as soon as possible and destroyed those credit cards pronto.
Once we did, we had no choice but to stick to the budget.
We also made the decision that we would never go into debt again, unless for a home. We enjoy our purchases a lot more now that they aren't clouded by debt.
5. Start using cash
To our shocking discovery, cash works just as well as a debit card. We started paying with cash for things like groceries, fun money, and clothing. Paying with cash helped us stay on track and not waste money that could be otherwise allocated to debt.
I cannot even begin to think how much money we saved at the grocery store by paying with cash.  We would take our weekly cash amount to the grocery store and stay within that allotment.
We'd take a list and stick to it. If it wasn't on the list, we wouldn't buy it. Period. Paying with cash sets a necessary boundary with yourself and can save you money in the long run.
6. Pay off debt frequently and quickly
Oh, how our paychecks came and went.
Since we were zero based budgeting, we paid off debt as soon as we got paid so that we couldn't waste that money on anything else. We used to leave the extra debt payments for the end of the month and would end up wasting that money on junk instead of paying off debt!
Paying it right away forced us to stick to our budget and not spend on frivolous items.
We also wouldn't use left over money from other budget items for anything other than debt. So if our grocery budget was $100 and we spent $96, we would pay $4 to debt instead of using that money for our next trip to the coffee shop.
Yes, you go that right – We made multiple payments to debt for less than $5. Sounds crazy, but it worked!
7. Cut your expenses
It's truly incredible how much stuff you don't need. We looked for any way we could to save money in the budget, and it was amazing how much we were able to accomplish here.
We stopped eating out as often, negotiated our insurance rates, dropped some monthly memberships and stopped shopping online.
This was a fun game and taught us some valuable frugal skills that we will continue to use.
8. Keep giving
Say what?! Yep, you got that right! Giving stayed in our budget.
We gave 10% of our income and even included fun money in our budget, all while paying off all of this debt. Who said you have to be miserable on a budget?
Our budget just helped us tell our money where to go. Sure it limited our wasteful spending, but it also allowed us to work smarter and not harder.
9. Sell all of the things
At one point, I was afraid my husband would sell my dog! Just kidding, but we did go crazy selling stuff. We started out small with some designer purses, some stuff laying around the garage and some brand name clothing.
Eventually, we sold my motorcycle (it wasn't worth much, only $2k and wasn't ride-able)…and then we listed the hubs motorcycle. This was a traumatic decision and one we changed after much deliberation!
For us, that motorcycle is our freedom; it's something we do together and love.
It was our reprieve from the otherwise difficult work we were doing. We decided that since we could pay off the motorcycle within the year that we'd keep it and include it in our payoff. Some would say that was a poor choice, but we knew the consequences of our decision either way.
A portion of our debt was paid off via the sale of our condo. We had moved to a neighboring city a few months before the start of our journey. We had a condo that we had turned into an investment property and were renting out.
When we looked at the numbers, it made more sense to sell the condo and forgo that extra income. We eliminated that mortgage ($82k) from our debt and were able to pay off a nice chunk of debt ($45k) with the equity we had in the condo, but with over $60k left in debt, we still had some work to do!
Many would (and did) disagree with us selling that condo; we certainly got some grief for it…but that decision gave us an incredible boost to slaying our debt.
Remember, it's a personal journey. You have to do what is right for your situation.
Outside of the condo sale, we paid off over $66k, including interest and we know can always buy another investment property.
10. Choose a debt payoff plan
Whether it be the debt snowball (by balance) or debt avalanche (by interest rate), set a plan to paying off your debt and stick to it! We used the debt snowball method.
Our total minimum payments on all of our debt were about $1,700 a month. Yuck! With the debt snowball method, we ordered our debt by balance from smallest to largest.
Then we took all of our extra money and applied it to the smallest debt until it was paid in full. After that, we took all of the money (minimum payment and extra) from that first debt and started paying it toward the second smallest debt.
With this method, we saw small, quick wins and also an accumulation of funds to crush our debt.
Regardless of the method you choose, just be sure to set a plan and write it down.  This will keep you focused on your goals.
11. Get a side hustle
We read somewhere that wealthy people tend to have multiple streams of income. More income would mean a quicker debt pay off and eventual financial freedom. So, I started a side hustle, and Dallas worked hard to continue to grow his.
A side hustle is a great way to earn some extra income to achieve your financial goals. Check out this side hustle post to get your juices going and maybe start your own today!
So what should you do to jump start your debt payoff journey?
Other than the above-mentioned items, read Dave Ramsey's Total Money Makeover and The Millionaire Next Door by Thomas J. Stanley and William D. Danko.
We gained a wealth (haha, see what I did there) of knowledge from these books and followed Ramsey's plan pretty closely.
And don't forget; financial freedom looks differently from family to family. If it takes you ten years to become debt free, that's ok! What's important is that you are working toward goals that you and your family see as pertinent to your financial freedom.
It's not about doing exactly what your neighbor is doing; it's about setting a plan that works well for your family and achieving your own goals.