Only 1 in 3 millennials use credit cards.
Sounds kinda low, right? Honestly, I would have imagined that a little closer to half or 2 out of 3 millennials use credit cards. I use them all the time.
According to a study done in May of 2016, the majority of young people from 18-29 don't have a credit card from the major credit card brands. There is a pretty massive drop-off when you look at young people compared to older people and their credit card usage: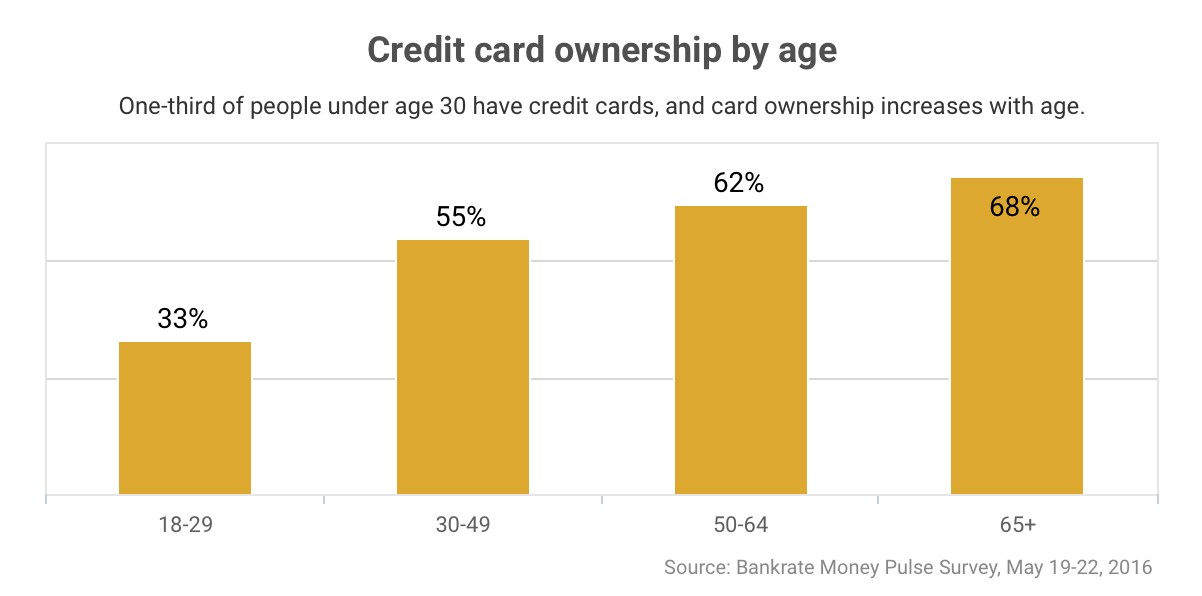 Why don't millennials use credit cards?
We're scared
There are definitely some valid reasons not to use them, but I think the biggest one overall is that we are totally scared of them. Personally…I'm terrified of debt, but not really credit cards in any way. I always pay the balance and used them pretty aggressively to build my credit up (I'll detail my process later in this post).
We're smart….
I truly think that most millennials are generally more aware than previous generations of the dangers regarding revolving debt. That's not to say we are perfect – we suck at student loans (usually not by choice), and car loans (totally by choice), but have done a good job of avoiding plastic altogether.
…because of our parents.
Ouch. The truth is that our parents gave us a front row view to how much credit cards can screw you over. Back in their hay-day, the economy was awesome and people could readily pay off whatever debt they accrued on credit cards, or really just assumed they would always have a job to pay the bills.
That hit the fan in 2008. 
Since we grew up during the wonderful "great recession", we've all been totally shell-shocked out of using credit cards. Our entire childhood was filled with hearing the talking heads blab on and on about how bad the economy was, and millennials are STILL feeling the effects of that via lack of jobs. The last thing my people want to do is starting slinging around cards to make it worse.
Credit cards CAN be useful.
I can hear the hard-core credit card hating bloggers out there right now grinding their teeth. The majority of personal finance thought leaders (especially Dave Ramsey enthusiasts) HATE them. I get it, but just respectfully disagree.
I like to think that the majority of my readers are smart people and know that credit cards are really really really dangerous (if you use them the way credit card companies WANT you to)!
The problem is that most young people's credit sucks, and mine did too a few years ago. Here are two examples:
I got declined for my first credit card after college, which was totally a bummer. Lack of credit = bad credit.
A few years later I had a grant that turned into a student loan, which completely screwed my credit. I was devastated because I wanted to start flipping houses at the time and needed a great credit score!
The second one was an honest mistake, it was just confusing for my small 22 year old mind and I blew it. This grant I had turned into a loan, and I wasn't living at my parents house at the time where the mail was going so I didn't catch it when it happened. My parents had some serious life stuff happening at the time and couldn't deal with my stuff too, and it wasn't their responsibility anyways.
Basically I blew it and it all resulted in a mid 500's credit score for me. Womp womp.
So, I used the easiest tool I could to build my credit…a credit card.
I've already written my process for helping your credit score recover quickly before, but the basics are that you pay off your entire balance the day AFTER the credit card company reports your balance to the credit bureaus. The end result is no debt, a great credit utilization rate AND lots of travel points! Pretty simple. 🙂
Without using any other type of "debt", I was able to get back to the high 700's where I currently reside today.
I truly truly believe that all of you are smart enough to use credit cards and pay back the full amount. You just have to make sure you don't spend more than you ACTUALLY have in the bank.
Featured picture via Spirohq.com